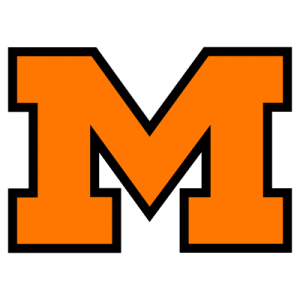 Tigers victorious on final drive
Morgan's TD clinches it
By BRIAN RICHESSON
Independent Sports Writer
There were shouts filled with anxiety, shouts emitting from the stands that showed something wasn't right.
For 48 minutes, 9,000 Massillon fans, all clad in their orange and black, watched as the improbable almost took place Friday night in Paul Brown Tiger Stadium.
But the improbable didn't happen.
The Tigers wouldn't let it happen. Christian Morgan, playing with a broken bone in his right hand and wearing a cast, wouldn't let it happen.
They were pushed to the limit by a Garfield team, just one week after falling to the defending Division I state champion Lima Senior Spartans.
But Morgan, shaking off two straight fumbles on the Tigers' first two possessions, took a handoff from quarterback Tip Danzy, who was starting for the flu stricken B.J. Burick, and trotted one yard for the game­ winning touchdown with just 1:32 left.
After last week," said Massillon head coach Jack Rose, "I was going to take any­thing ‑ 7‑6 would have been fine with me."
After junior Jamie Allman dove to intercept the sailing sideline pass of Garfield quar­terback Mitchell Moss with 25 seconds left to play, the Tigers (2‑1) could finally rest. They defeated the Golden Rams and veteran head coach Bill McGee, 20‑14.
The 73‑yard game‑winning drive, which took nearly three minutes off the clock, lasted seven plays. Morgan carried the ball all seven times, three off pitches from Danzy. Overall, the 6‑foot‑3, 221‑pound tailback carried the ball 19 times for 83 yards.
The Golden Rams (0‑3), with their full house backfield, uti­lized the running game against the Tigers. When you don't have a lot of players, you have to shorten the game, McGee said. And that's what his team did, keeping possession of the football for 31 minutes. They ran 38 times, amassing 295 yards on the ground. They passed just 10 times.
"It was a patented Garfield game plan," Rose said. "Hold onto the ball, drive it and keep our defense on the field.
"The question was if we were going to hold onto the thing (Massillon had three fumbles, one interception)."
On fourth and inches with 8:39 left in the first quarter, the Rams struck first. Bill Ross (12 carries, 70 yards) took the handoff from Moss and took off through the Massillon defense on a 45‑yard run. With a last effort to stop Ross, Massillon's Josh Wood dove to bring the runner clown but came up short.
"We needed something good to happen early in light of last week," Rose said. "That didn't happen."
Then Morgan, who broke a bone in his right hand in the Tigers' opening win over Cardoza High (Washington D.C.), fumbled after taking a pitch from Danzy. On the sec­ond Tigers' possession, Morgan couldn't hang onto another pitch.
After the game, the senior admitted the cast has been bothersome to him. He is forced to shift the ball to his left hand upon grabbing it.
"My impression was that we would come in and jump on them from the start," Morgan said. "I had a few problems with the pitch."
But Garfield could not take advantage of the two turnovers, missing a 37‑yard field goal and punting on fourth down from the Massillon 49.
Junior Julian Miller got the Tigers on the board on a 9‑yard run with 7:36 left in the second quarter. The score came after the Rams' Chris Guthrie fum­bled and Allman recovered. At halftime, Massillon and Garfield were tied, 7‑7.
"We came (into the locker room), and everyone was yelling at each other, trying to figure things out," Danzy said. "We were kind of new to this."
Rico Person gave the Tigers their first lead (14‑7) with 7:42 left in the third quarter when he recovered a loose ball in the end zone. Moss had to retreat to snag a snap over his head. But he couldn't grab the bouncing ball as he slipped on the turf. Person came out of a pile with ' his hands up and boost of momentum.
But the Rams weren't fin­ished. On third‑and‑two, Garfield's playmaker, running back Dale Knox (14 carries, 116 yards), took a handoff up the middle and disappeared amid a swarm of linemen. He reemerged and took off on an 80‑yard sprint, outrunning Allman for the score with 4:08 left in the game.
That left it to Morgan, who scored four touchdowns in a 36-­6 win over Garfield last season, and the Tigers' offense to pro­vide the dramatics and a much ­needed win.
"Coach (Eric) Schumacher pulled me and Christian aside," Danzy explained, "and let us know that we were the mar­quee guys everyone would be looking at on the last drive. Christian had a couple of nice runs, and we had the game won.
MASSILLON 20
GARFIELD 14
M G
First downs rushing 12 11
First downs passing 2 1
First downs by penalty 1 2
TOTAL first downs 15 14
Net yards rushing 237 248
Net yards passing 45 34
TOTAL yards 282 282
Passes attempted 7 10
Passes completed 4 4
Passes intercepted 1 1
Punts 3 2
Punting average 37.3 47.5
Fumbles/Lost 4/3 6/2
Penalties 4 9
Yards penalized 28 83
MASSILLON 0 7 7 6 20
GARFIELD 7 0 0 7 14
SCORING ‑
G ‑ Ross 46 run (McDonald kick)
M ‑ Miller 9 run (Hose kick)
M ‑ Person fumble recovery in end zone (Hose kick)
G ‑ Knox 81 run (McDonald kick)
M ‑ Morgan 1 run (Hose kick)
INDIVIDUAL STATISTICS
Massillon rushing:
Morgan 19‑83,
Danzy 10‑101,
Hodgson 8‑44,
Miller 1‑9.
Garfield rushing:
Knox 14‑116,
Ross 12‑70,
Moss 15‑8.
Massillon passing:
Danzy 4‑7‑45 1 INT.
Garfield passing:
Moss 4‑10‑34 1 INT.
Massillon receiving:
Clifford 1‑14,
Venables 1‑14,
Morgan 1‑11,
James 1‑6.
Garfield receiving:
Parnell 2‑22,
Ward 1‑14.
Attendance: 9,363.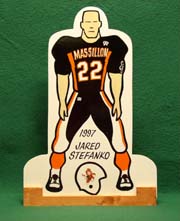 Jared Stefanko