Tigers run over, around Fitch
Hodgson's 3 touchdowns do the trick
By JOE SHAHEEN
Independent Sports Editor
The Massillon Tigers sent a message to the five teams that await them the second half of the 1997 high school football season.
Key on tailback Christian Morgan and Massillon is going to serve up mega‑doses of full­back Dave Hodgson until the defense changes its game plan.
Hodgson, a 5‑10, 205‑pound senior, rushed for 153 yards and two touchdowns in 15 carries to lift the Tigers past Austintown Fitch 34‑6 in front of 7,862 at Paul Brown Tiger Stadium, Friday. For good measure, he added a third TD on a 15‑yard pass from Tip Danzy.
It wasn't as if Morgan was a non‑factor. The 6‑4, 215‑pound senior toted the football 30 times for 151 yards and a touch­down as Massillon's offensive front was in control of the line of scrimmage practically all night long.
But Hodgson was clearly the spark for Massillon, which fin­ishes the first half of the campaign at 4‑1.
"Massillon's known for running the tailback," Hodgson said. "I just want to put our opponents on notice that both of our backs can run the ball. That should take some pressure off Christian. We spread it out a lit­tle bit, the coaches did a great job of picking the right plays and our line did a great job of blocking."
"It's like pick your poison," said Tigers boss Jack Rose. "You want to defend the flanks, we'll just rip the fullback up in there. If you want to close down in there and stop the fullback, we'll come out around the cor­ner with it and pitch it.
"Our line is doing a good job of getting on people who can run and we just run around guys who can't. As long as we continue to do that we have a chance to move the ball."
Move the ball the Tigers did racking up 422 yards of total offense ‑ including 382 yards on the ground. Massillon averaged over six yards per rushing play and converted 5 of 11 third downs into first downs.
For the first time since their opener against Cardoza, the Tigers won the time of possession battle, 25:23 to 22:37.
But the turnover monster continues to rear its ugly head. Massillon had three first half giveaways or it would have held a much more substantial lead at halftime than the 7‑6 tally on the scoreboard. Overall, Massillon fumbled the ball seven times, losing three. The Tigers also had a pass intercepted.
"The way the game started it looked like it was going to be one thing after another," Rose said. "Three turnovers in the first half, two touchdowns called back on penalties. It's frustrating really."
"The nature of this offense is we're going to put the ball on the ground. It's going to hap­pen. When you start tossing that thing around out there with people flying around, its going to happen. What bothers me is the unforced fumbles. It appears sometimes it's a con­centration thing. That's some­thing that has to be change the second half of the season or we're going to give our defense a hole they can't get out of."
The Tigers did just that on the opening kickoff, fumbling the football away at the 1‑yard line, The Massillon defense bowed its neck, stopping Fitch cold on three straight snaps, before quarterback Michael Reynolds swept around right end for the touchdown at 9:58 of the first period. A running play out of PAT formation failed and the Falcons led 6‑0.
The Tigers moved from their 39 to the Fitch 30 on their first possession, but failed to con­vert a fourth and four and turned the ball back over to the visitors.
The Falcons got one first down but punted the ball away and Massillon began its initial scoring drive from its 30. On second down, Hodgson picked up 16 yards to midfield on a counter play out of the offset I.
Morgan added 11 more to the Fitch 35 on a pitch around right end and Hodgson found a hole over right guard for 13 yards down to the 24. Two snaps later, Hodgson hammered into the line, popped out to the left side­line and raced 15 yards to the end zone. Josh Hose's kick made it 7‑6 Massillon at 3:02 of the first.
"We put a counter in this week because the coaches said we couldn't run the trap from the I‑set," Hodgson revealed. "Running off the guard and up the middle worked best."
"The line deserves a lot of credit. They're doing a great job of coming off the ball and moving the front."
Fitch took the second half kickoff, but turned the ball over when Josh Kreider tipped a Reynolds pass and Corey Ball came up with the interception at the Falcons 40.
On second down, Morgan took an pitch from Danzy on an option play around right end, exploded through a seam creat­ed by a fine block by Hodgson and motored 37 yards for the touchdown. The conversion kick failed and the Tigers led 13-6 at 9:45 of the third quarter.
Massillon fumbled the ball way on its second possession of the second half, but marched 77 yards in 11 plays the next time it had the football. The drive was keyed by Danzy's 17-­yard completion to Hodgson and Hodgson's 36‑yard burst off right guard that moved the ball to the Fitch 16.
Three plays later, Danzy ­again found Hodgson in the right flat. The burly fullback looked to be stopped at the 3, but clawed his way into the end zone. Hose's kick made it 20‑6 Massillon at 6:02 of the fourth.
"We ran the boot pass a lot today," Hodgson said. "We weren't running it at the begin­ning of the year. But I got on the coaches to run it. As junior var­sity players last year, Tip and I were successful running that."
Hodgson made it 27‑6 with a 23‑yard touchdown, run over right guard and tackle, capping off an eight‑play, 42‑yard drive with 2:19 left to play.
Junior quarterback Tom Fichter's 33-yard scoring scam­per with 37 seconds left to play put the finishing touches on the Falcons.
As impressive as the Massillon offense was, the defense again was in command. It yielded just five first downs and 75 total yards of offense. The Tigers held Fitch to an average of less than one yard per rushing play.
"I think it was our best game of the season defensively," said cornerback Jamie Allman "We played as a team. No matter what happened on the other side of the ball, we kept our
heads in it.
"We're getting a lot better. Mentally, it's a big thing. When we get our heads in the game, we're pretty good. When the mental part comes, the physical part comes with it."
"The first four weeks we have physically handled every­body," said Fitch coach Brian Fedyski. "Today, Massillon came ready to play and they handled us up front. Credit to Massillon's staff and team."
MASSILLON 34
FITCH 6
M F
First downs rushing 18 2
First downs passing 2 3
First downs penalty 3 0
TOTAL First downs 23 5
Net yards rushing 382 28
Net yards passing 40 47
TOTAL yards 422 75
Passes attempted 8 14
Passes completed 3 5
Passes intercepted 1 3
Punts 2 5
Punting average 28 36.8
Fumbles/Lost 7/3 1/1
Penalties 10 11
Yards penalized 136 93
MASSILLON 7 0 6 21 34
FITCH 6 0 0 0 6
SCORING
F ‑ Reynolds 2 run (Run failed)
M ‑ Hodgson 15 run (Hose kick)
M ‑ Morgan 36 run (Kick failed)
M ‑ Hodgson 16 pass from Danzy (Hose kick)
M ‑ Hodgson 23 run (Hose kick)
M ‑ Fichter 33 run (Hose kick)
INDIVIDUAL STATISTICS
Massillon rushing:
Hodgson 15‑153,
Morgan 30‑151,
Danzy 10‑38.
Fitch rushing:
Wilson 13‑36,
Reynolds 14­-16.
Massillon passing:
Danzy 3‑8‑40 1 TD, 1 INT.
Fitch passing:
Reynolds 4‑12‑36, 2 INTs.
Massillon receiving:
Hodgson 2‑34, Kreider 1_15~
Fitch receiving:
Jarvis 2‑18,
Wellington 2-18,
McDougal 1-11.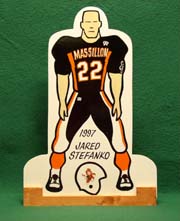 Jared Stefanko