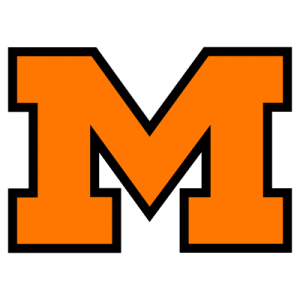 Tigers fall on own
swords vs Spartans
By JOE SHAHEEN
Independent Sports Editor
If Jack Rose has any trouble selling his Massillon charges on their playoff potential in the wake of Saturday's 25‑7 setback at Lima Senior, he need only point toward the Tigers' tormentors.
The very same Lima Senior Spartans who left Paul Brown­ Tiger Stadium one year ago on the short end of a 28-14 final, went on to win 12 straight football games and the Division I state championship.
But the Tigers first defeat of the 1997 season‑was no acci­dent. Lima Senior controlled the game in the trenches, espe­cially during the second half when it denied Massillon a first down until being flagged for running into the punter with 3:05 left in the game.
We got to do a better job at the line of scrimmage,' Rose said afterward. "We've got to block a hell of lot better than we did tonight. We, demonstrated the ability to do that in the scrimmages.
"They didn't break any big plays on us. They were just methodical and consumed the clock. They'd get three or four yards a clip and get out on the option occasionally. They kept our offense off the field, and when we did get there we had a lot of three-and-outs.
Lima played with more discipline than in its penalty-marred opening game loss to Toledo St. Francis in which it committed 12 infractions. Perhaps more important, the Spartans also displayed playoff level intensity for 48 minutes and they used Tiger spirit as motivation.
"Massillon totally disrespect­ed us," said All‑Ohio defensive back Joe Sellers, who shadowed Tigers tailback Christian Mor­gan all night long. "They came here with their signs along I‑75 and that "Welcome to Paul Brown Stadium' stuff. They gave is no respect.'
"They were very emotional," concurred Rose. "They played an emotional pitch. They've been sitting on this one for a year. We were the only ones to hang a loss on them, so I.m sure they thought about this game."
Massillon hurt itself with nine penalties for 111 yards, includ­ing back to back 15‑yard per­sonal fouls on Lima's scoring drive, one for celebrating a tackle and the other for grabbing the face mask.
Sellers punched in the first score from a yard out at 2:21 of ­the second period to make it 6—0. but the fireworks were just beginning.
After a muffed kickoff, the ­Tigers attempted a short pass to the left flat on second‑and‑7 at their own 19-yard line. Lima defensive lineman JaJuan Godsey made a leaping interception at the 14 and rambled untouched into the Massillon end zone.
Massillon was intercepted at midfield on its ensuing possession, and Lima's Quentin Manley ran the ball back to the Tigers' 4-yard line with 21 still left in the half. The Massillon defense came up with a big play as Josh Krieder scopped up a Lima fumble at the 8 to quell the threat.
It appeared Massillon may have a shot at getting back into the game when Tyrie Clifford returned the second half kickoff from his 14 to the Lima Senior 47. But the Tigers offense went three and out leading to a botched punt which set the Spartans up with good field position for their next scoring drive.
"We're down 12‑0 and we haven't played worth a lick," recalled Rose, ".so we get our adjustments in at halftime, get some good field position, then we run an off tackle play and lose two yards and it just crushed our momentum.
"The problem we have up front is we just aren't very big and we got overpowered in some places, at a few positions. We didn't sustain blocks. We didn't get on them and stay on them."
Lima's third scoring drive was a 12-play march that covered 53 yards and consumed 4:14 off the game clock. Sellers ­scored from two yards away, but the key to the drive came at the Massillon 12 when Lima fumbled, recovered and picked up seven yards in the process.
One of the Tigers few bright spots cam late in the third quarter when Krieder returned 59 yards for a touchdown. The senior's heroics came after the Lima punter was flushed by a good rush and got off a line drive kick.
But Massillon again was its own worst enemy, following. the TD by kicking off out of hounds, giving Lima the ball at the 35 yard line. The Spartans put the game away on that possession, taking 11 plays to score on an 18-yard pass from Fred Collins to Nathan Collins on a fourth‑and‑seven play. Once again the hosts got a boost from a Tiger 15‑yard facemask penalty.
Among the more damning statistics for Massillon offense; Four first downs, 1.7 yards per running play, 38 total yards of offense, 0-6 third down conversions.
LIMA 25
MASSILLON 7
L M
First downs rushing 11 1
First downs passing 3 1
First downs by penalty 5 2
TOTAL first downs 10 4
Net yards rushing 151 31
Net yards passing 56 7
TOTAL yards 209 38
Passes attempted 7 10
Passes completed 6 2
Passes Intercepted 2 0
Punts 2 3
Punting average 34.5 41.7
Fumbles/Lost 5/2 O/0
Penalties 4 9
Yards penalized 31 111
LIMA SR. 00 12 06 07 25
WASSILLON 00 00 07 00 07
SCORING
L – Sellers 1 run (Kick failed)
L – Godsey 11 pass interception return (Kick failed)
L – Sellers 2 run (Kick failed)
M – Krieder 59 punt return (Hose kick)
L – Nathan Collins 17 pass from Fred Collins (Oheney kick)
INDIVIDUAL STATISTICS
Massillon rushing:
Morgan, 13‑31,
Hodgson 1-0,
Burick 2‑13,
Danzy 2-(minus)13
Lima rushing:
Nigh 19‑77,
Sellers 16-44,
F. Collins l1‑33.
Massillon passing:
Burick 1‑4‑4 2 INT;
Danzy 1‑5‑3
Lima passing:
Collins 6‑7‑58 l TD
Massillon receiving:
Dean 1‑4,
Hodgson 1‑3,
Lima receiving:
Lepley 2-15,
N. Collins 1-17, l TD,
Sellers 1‑12,
Cannon 1-11.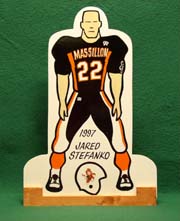 Jared Stefanko