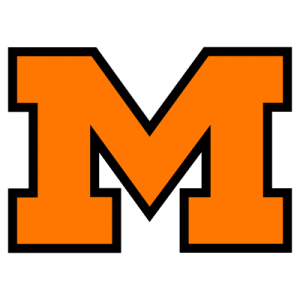 Massillon puts it all together
By JOE SHAHEEN
Independent Sports Editor
The Massillon Tigers started off Friday night's game against the visiting Mansfield Tygers as if it was going to be a repeat of last week's turnover marred­ performance against Akron Garefield.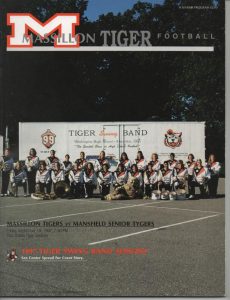 Massillon lost a fumble on its first possession, threw an interception the second time it had the football, and you could almost hear the crowd saying, "Here we go again."
But the Tigers ‑ feeding off the emotion of a big hit and fumble recovery by injured co-captain Jared Stefanko ‑ scored twice in the second quarter and put the game away with a three­ touchdown barrage in the third period in securing a 42‑0 victo­ry at Paul Brown Tiger Stadium.
"We needed this," said a relieved Tigers coach Jack Rose. "The way it started out I didn't know if it was going to be our best performance of the season. We made those turnovers at the beginning of the first half and you can't do that if you expect to win."
Massillon got its offense on track early in the second quarter following a 16‑yard punt return by Josh Kreider that set the Tigers up with a first down at midfield. Tailback Christian Morgan, running with more authority than at anytime during the season, gained 15 yards around left end on first down. One play later, the senior took a pitch from Tip Danzy and gained eight around right end.
After Seth Stefanko fell on a Tigers fumble, Kreider got the football on a flanker reverse and picked up 14 yards around right end to the Mansfield 9. Dave Hodgson bulled through the middle of the Tygers line for the touchdown on the next snap. Josh Hose hit the PAT and Massillon led 7‑0 at 8:36 of the second quarter.
"We've been practicing that play for a while," Kreider said. "The line blocked well and did a good job and when that hap­pens, we're going to have a successful play."
Kreider forced a Mansfield fumble on the Tygers ensuing possession and Jamie Allman recovered at the visitors' 35 to give Massillon the short field once again.
After a holding penalty against the hosts, Morgan ‑ who finished with 179 yards rushing in 18 carries ‑ picked up 15 yards around left end. Three plays later, Tip Danzy kept the ball and swept around right end for 11 yards to the Mansfield 9. Morgan found paydirt on the next play, getting a huge hole over his left guard.
Hose's conversion made it 14-­0 at 5:59 of the first half.
"Our offensive line is step­ping up its game," remarked Danzy. "They've been working hard the past couple weeks and the coaches have been getting on them, so they've got to do their thing."
"As long as I pitch the ball to Christian, I know he's going to get his yards."
Mansfield came out with renewed vigor in the second half, moving from its 23 to the Massillon 30 on just four plays. But on second and 10, Mansfield quarterback Jeremee Butts was pressured by Massillon's Chris Turner and threw an interception to safety Bud Kraft at the 19‑yard line.
Three plays later, on third and one from the 28, Hodgson ran the trap up the middle and exploded into the clear. A Mansfield defensive back tried to steal the ball away at the 35, but Hodgson stiff‑armed him away and galloped the rest of the way, into the end zone for a show‑stopping 72‑yard touch­down.
Hose's conversion kick at 9:23 of the third period made it 21‑0 Massillon.
Rose called that series of plays the game's turning point.
"The way things have been this year, yeah, I had some anx­iety when Mansfield got those big plays at the beginning of the second half," he said. "But were turned the turnover into a touchdown, and instead of it being possibly 14‑7, now they're down 21‑0. That's a 14‑point swing and I think it took them out of their game plan."
The Massillon defense forced Mansfield into a three‑and‑out on its next possession, and the Tigers took over at midfield fol­lowing a 12‑yard punt return by Kreider. On second and six from the Mansfield 48, Morgan found a gaping hole over left tackle and sprinted 32 yards to the Tygers' 16.
Danzy picked up 11 yards around right end on second down and scored a touchdown two plays later on a sneak from the 1. Hose made it 28‑0 at 5:09 of the third.
After another Mansfield series went nowhere, the Tigers mounted their third scoring drive of the third period.
It began with a 12‑yard B.J. Burick keeper around right end that moved the ball from the Massillon 23 to the 35. Three plays later, Morgan took a pitch around right end and raced 53 yards untouched for the score. Hose's kick at 3:12 made it 35‑0 Massillon.
"We made two adjustments at halftime with the blocking on the two plays we broke for touchdowns," Rose reported "We were getting out on the perimeter with the ball a little more tonight and they gave us a couple things inside on certain sets that we took advantage of. Our fullback broke the play up the middle there. Establishing him in there helped."
"I think in the first half we came out a little rusty, worried about turnovers and all of that," Danzy said. "The second half we came out and came together. We played hard and just turned it around."
While the Massillon offense came up with the spectacular plays, the defense set it up by limiting Mansfield to just over 100 yards total offense in the second half.
"We've been expecting this kind of game defensively for three or four weeks," Kreider noted. "We finally accom­plished what we've been work­ing for. We got some guys back and it seemed like we were real­ly clicking out there tonight."
One of the returnees was Jared Stefanko, who didn't play in the second half because of some soreness in his injured right knee.
"He'll be back," Rose said. "He just had a little slippage in there and it got sore on him. They told him that would hap­pen from time to time.
"But Jared made a couple of good plays in there. He's really an impact player. He's really something else. It's just a shame (the torn knee ligament) happened to him. He's a terrific player."
Marc Cleveland closed the scoring with a 13‑yard touch­down run that included second and third effort.
So, have the Tigers turned the corner?
"Time will tell," Kreider said. "We have to come out and prac­tice hard every week. We have to play as a team and prepare to win."
"I think next week you're going to see a better Massillon team than you have up to this point this season," Danzy promised.
As for Rose, well, he sees something in this year's Tigers that reminds him of a past Massillon squad.
"This team reminds me a lot of the 1994 team," he said. "I think it's a team that will con­tinue to get better each week."
MASSILLON 42
MANSFIELD 0
Ma Mn
First downs rushing 21 4
First downs passing 0 7
First downs by penalty 2 0
TOTAL first downs 23 11
Net yards rushing 440 133
Net yards passing 5 142
TOTAL yards 445 254
Passes attempted 6 20
Passes completed 1 10
Passes intercepted 2 1
Punts 3 6
Punting average 28 38.2
Fumbles/Lost 2/1 4/3
Penalties 4 10
Yards penalized 24 85
MASSILLON 0 14 21 7 42
MANSFIELD 0 0 0 0 0
SCORING
MASS ‑ Hodgson 9 run (Hose kick)
MASS ‑ Morgan 9 run (Hose kick)
MASS ‑ Hodgson 72 run (Hose kick)
MASS ‑ Danzy 1 run (Hose kick)
MASS ‑ Morgan 53 run (Hose kick)
MASS ‑ Cleveland 13 run (kick good)
INDIVIDUAL STATISTICS
Massillon rushing:
Morgan 18‑79‑2,
Hodgson 15‑142‑2,
Danzy 4‑24‑1,
Cleveland 6‑51‑1,
Burrick 6‑17,
Kreider 1‑14.
Mansfield rushing:
Butts 10‑43,
Burdette 6‑31,
Lloyd 8‑26.
Massillon passing:
Danzy 0‑3 1 int.;
Burrick 1‑3‑5, 1 int.
Mansfield passing:
Butts 10‑20‑50‑1.
Massillon receiving:
Venables 1‑5.
Mansfield receiving:
Luttrell 3‑64,
Lloyo 3‑29.
Bradley 2‑16,
Jones 1‑18,
Davis 1‑15.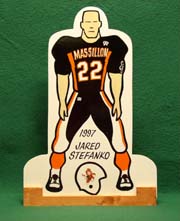 Jared Stefanko