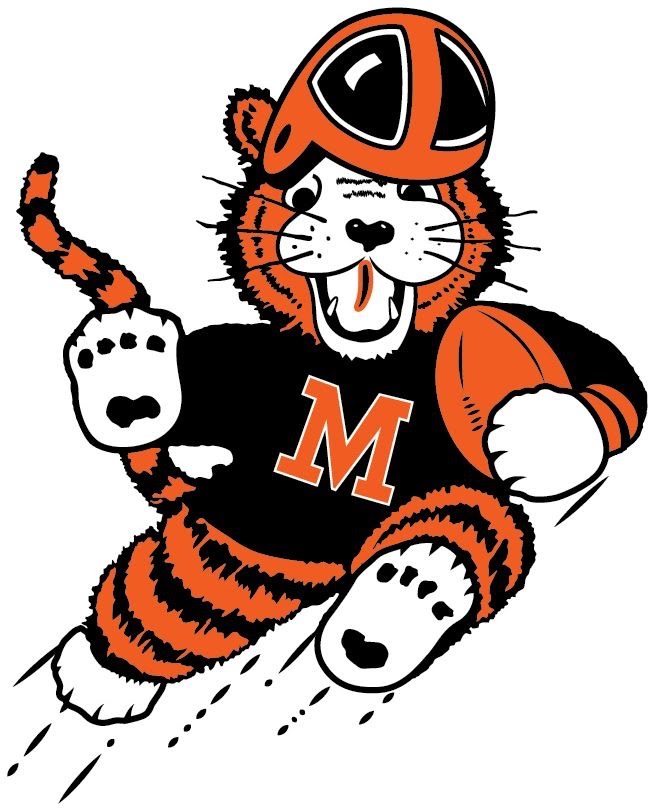 Pre-Season Kickoff Event Has Tiger Faithful Excited for the Season
Tiger football is alive and well!  Last season Massillon, a team comprised of mostly underclass players, fashioned a 12-2 record and advanced to the playoff regional finals where they lost to Akron Hoban.  Now, a year later, these underclassmen have matured and are ready to produce what is believed to be one of the Tigers' better teams in several years.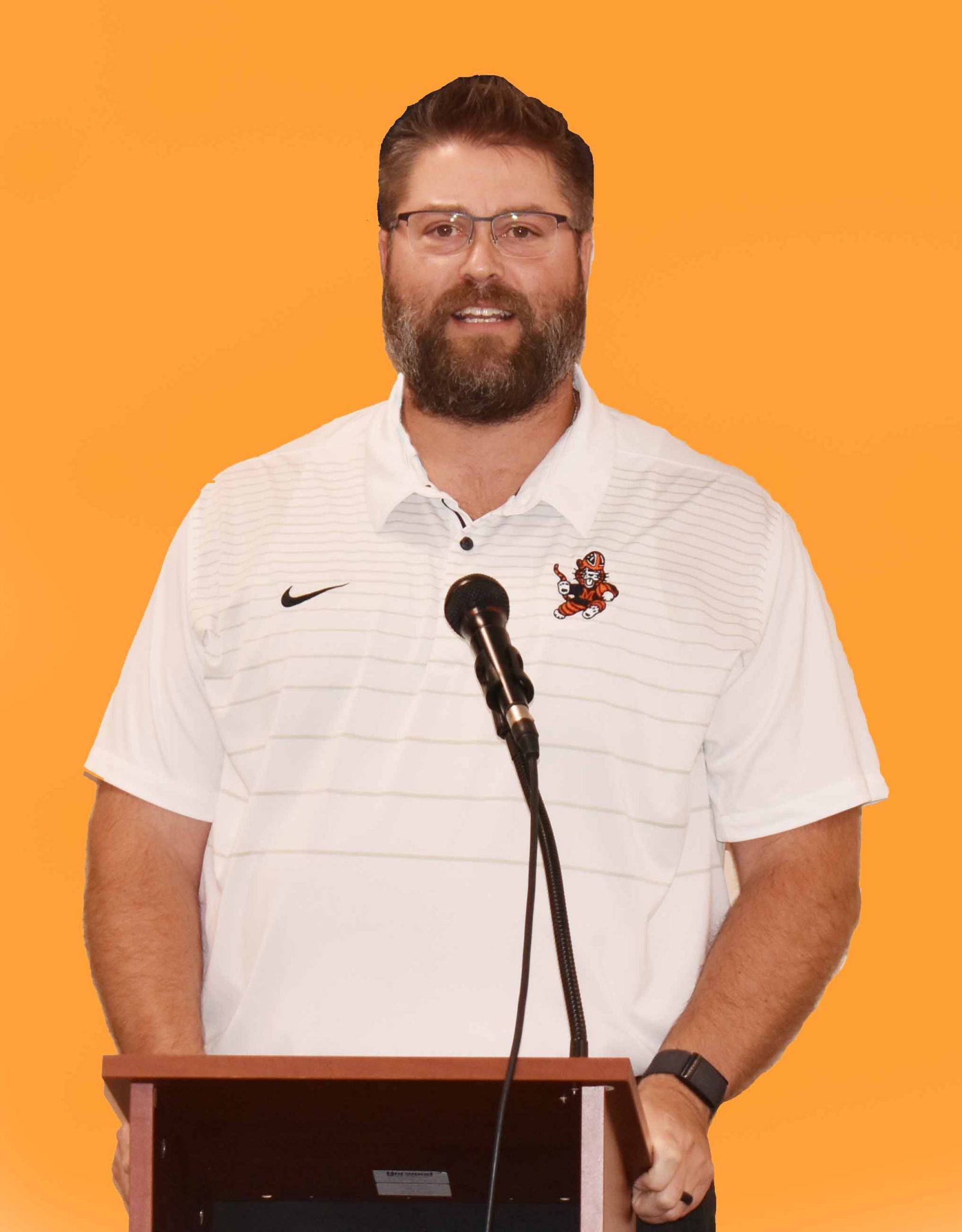 The recent Summer Kickoff Event gave a good crowd of Massillon supporters an early look at the talent many have been talking about throughout the winter months.  "We've had a really nice offseason," said Head Coach Nate Moore.  Beginning in January the players have been working hard in the weight room developing mass and strength and have now added speed drills to their routines.  As 7-on-7 and Big Man competitions enhance the effort the team is beginning to round into a solid football group.  "We are preparing guys to play a football game," said Moore.
Last Saturday the skill players traveled to West Virginia for a 7-on-7 competition.  In round robin play they won five matches and tied a sixth.  Following that was tournament play where the Tigers won their first two, but then lost to U.S. Top 25 team Good Counsel out of Maryland.  Moore thought his players and coaches took a lot away from that contest.
The linemen also had their moment a couple of days later, at the University of Pittsburgh.  After being seeded 8th from among a group of thirty other teams it was time for the final event, the tug-of-war.  Having won the sledgehammer trophy the last two years, their reputation was on the line.  But first, they needed to knock off the No. 1 seed, Gonzaga, D.C., which they did easily.  Then, following another victory, it was off to the finals.  The opponent?  Surprise!  Canton McKinley.  It was a struggle for the first few seconds, but then the Tigers "pulled them right off the carpet," according to Moore.  Massillon now has one more Pittsburgh hammer in its possession.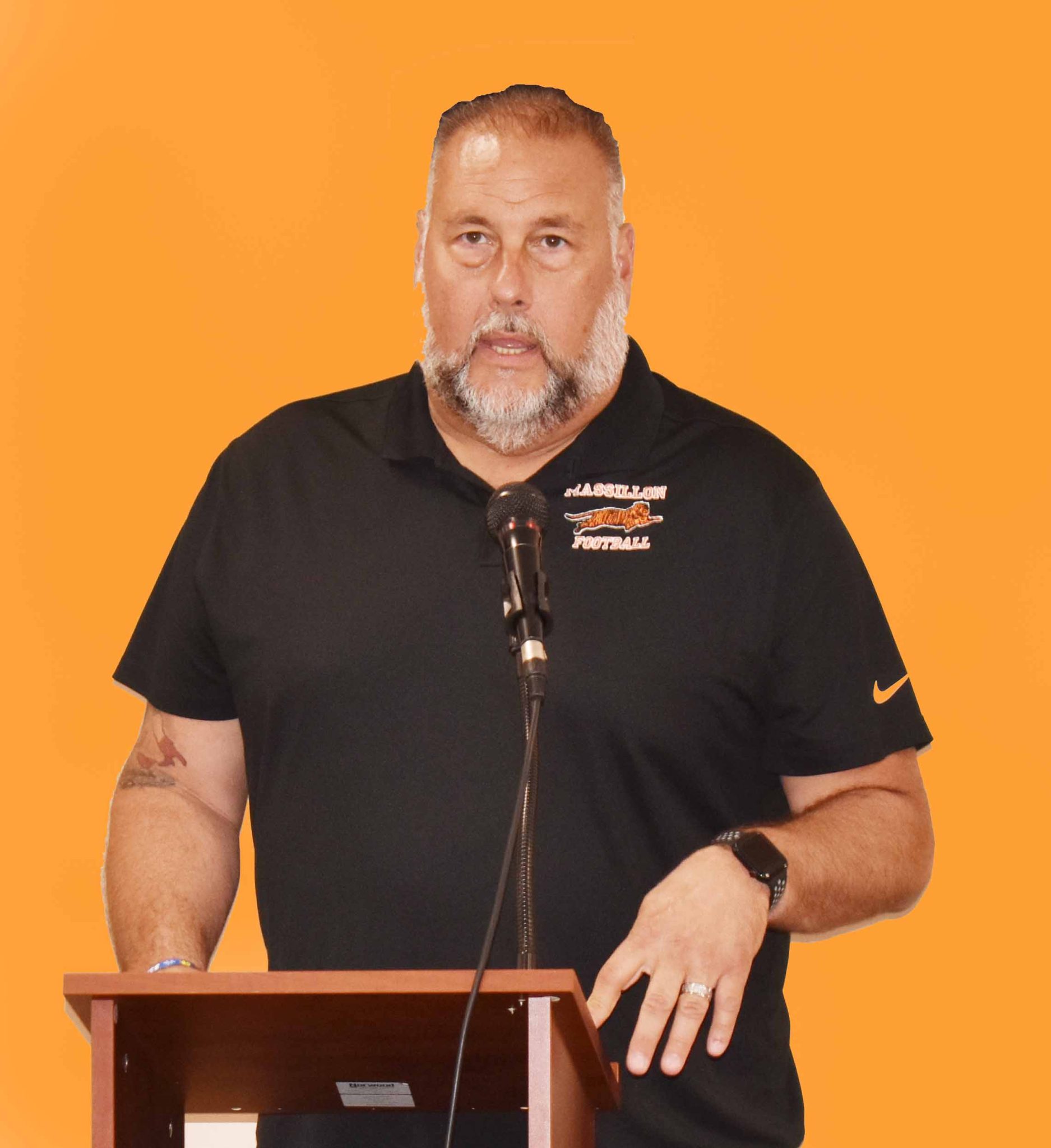 Booster Club President Rob Maylor opened the event with remarks regarding the upcoming season.
The assistant coaches briefly described their individual player groups.  Nearly all of these coaches have been with the Tigers for several years, which creates great synergy within the program.  With eight starters returning on each side of the ball, the Tigers are expected to round into shape much earlier than last year.  They will be bigger and faster and stronger, and ready to face a formidable schedule.  Here are a few of the takeaways:
The inside linebacker position is a senior-laden group, led by Dorian Pringle (All-Ohio), Cody Fair and Shon Robinson. Coach Spencer Leno, who is also the defensive coordinator, is looking for this group to read keys, be tough and stop the run first.  They need to "win on first down, win on third down and provide relentless effort on every play."
The defensive line under J.P. Simon returns five players, including returning starters Chase Bond, Michael Wright Jr. and Malachi Card. Expect this group to be bigger and stronger this year.
Dave Weber's outside linebacker corps is a little thin, with just three proven players returning to man the two positions, including Maverick Clark, Brandon Carman and Vito McConnell. So, it will be important for them to learn both short-side and wide-side techniques.
Safeties are coached once again by Dan Hackenbracht. Several will be available to choose from, including returning starter Ryan Page and first-game starter Tyler Hackenbracht.  This group has added weight and speed.  Given the strength of the front-7, opponents may struggle to move the ball on the ground.  So, it will be imperative that the safeties minimize the big plays.
There are several prospective corners for Coach Bo Grunder, led by returnee Zach Liebler. Grunder describes his group as having "a lot of athleticism."
Jarrett Troxler will handle the quarterbacks and is also offensive coordinator. Two QBs will man the position, including returning starter Jalen Slaughter and newcomer Daone Owens.  Slaughter is maturing at the position, while Owens is really physical and big.  Backups include Eli Moore and Jacques Carter, both of whom are developing nicely.  With no tall receivers and several underclass running backs, Troxler said that the offense will be "very personnel driven."  But it will still be important to be great in the run game.
The offensive line is blessed to have John Mazur and Chip Robinson as coaches. Mazur said their group will have great mentality across the board.  Up to twelve players could receive playing time when the game is on the line.  But they would like to limit the rotation to eight, noting that making that list will not be easy.  There is a lot of experience returning, including Evan Sirgo (All-Ohio), Sam Snodgrass, Michael Looney, Brady Jones and Seth Voshel.  Nolan Davenport is also expected to move to tackle, a position for which he is being recruited by various colleges.
Look for several sophomores and juniors to vie for the running back position under Coach Travis McGuire, with no starters returning at this position.  But all are extremely talented and ready to pick up the torch.  It will be "running back by committee", rather than featuring a single player.
Jason Jarvis handles the tight ends and fullbacks. He has several players available in these spots that are physical, fast and nasty, and can cause havoc.
A host of talented players will man the wide receiver spots under Coach Cale Miller. Many are highly experienced and possess tremendous speed.  In fact, Miller said that they are two deep at every position.  Returning starters include Kyler Wiggins and Braylyn Toles, with Ja-Meir Gamble and Liebler also seeing some action.  It will be important for them to put pressure on the defensive backs on every play.
Following the reports from the assistant coaches, Nate Moore reviewed the schedule, offering these comments:
It's a really exciting schedule with eight home games.
Valdosta, GA – One of the all-time great matchups. No. 1 in all-time wins vs. No. 4 in all-time wins.  To be aired by ESPN+ and Spectrum.  Part of a 4-game classic, also including Lakewood St. Edward, Akron Hoban and Cleveland Glenville.
Lakewood St. Edward – U.S. Top 25 team. Defending Division I state champion.  Was a great win last year by Massillon.
Middletown, DE – Had an unbelievable experience last year. Called us to come back.
John's College, D.C. – U.S. Top 25 team. Loaded.
Austintown Fitch – Will be a tough game; a good test on the road.
Canton McKinley – America's greatest rivalry in high school football.  Road game.
"We're looking forward to a tough schedule," said Moore.  "This is Massillon.  That's what we want.  We couldn't be more excited about our schedule."
Upcoming events:
Tuesday, July 11, 12:30 pm – 7 on-7 at Paul Brown Tiger Stadium
Thursday, July 20, 6:00 pm – Sideliners' Reverse Raffle / Hall of Fame and Wall of Champions Induction at Eagles 190
Wednesday, August 2, 6:00 pm – Media Day at Paul Brown Tiger Stadium
Saturday, August 5, 11:30 am – Scrimmage vs. Avon, away
Sunday, August 6, 12:00 n – Sideliners Picnic at Washington High School
Thursday, August 12, 2:00 pm – Scrimmage vs. Cincinnati Moeller, away
Wednesday, August 16, 6:00 – Downtown Kickoff Rally at Duncan Plaza
Thursday, August 17, time TBD – Pre-game rally event
Friday, August 18, 7:00 pm – Opening game vs. Valdosta at Paul Brown Tiger Stadium
Go Tigers!