Massillon defeats Niles McKinley 25‑12
Tigers cash in on Dragon's turnovers
By ROLLIE DREUSSI
Independent Sports Editor
"We're just glad that one's over with," Tiger coach Mike Currence said after his team's 25‑12 win over Niles McKinley before 8,919 fans Friday night in Paul Brown Tiger Stadium.
"That certainly wasn't our regular crew out there," he added.
The Tigers, going with a patchwork lineup due to numerous injuries on defense, converted three of five Red Dragon turnovers into touchdowns as they raced to a 25‑0 lead.
The Red Dragons refused to fold, however, and rallied for a pair of touchdowns before it was over.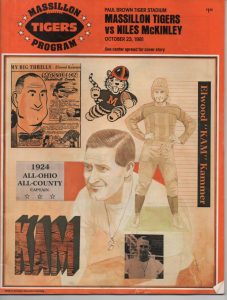 "We're proud of our kids," said Niles coach Jack Pierson. "If it weren't for the dog‑gone mistakes we'd have been in the ball game.
As it was, a couple of mistakes by the Tigers allowed the Dragons to get back in the ball game in the second half.
A blocked punt set up Niles' first score, and a failure to convert on a fourth‑and‑one play from their own 39 cost the Tigers another score.
But the Tigers' last three touchdowns were set up by Dragon mistakes ‑ one fumble and two interceptions.
"We were playing with a lot of different people in there," Currence noted. "For the most part they did a good job. It was our decisions on some of those plays that hurt us."
One was going for the first down on fourth‑and‑one at their own 39.
"We should have punted the ball. But we had it and we wanted to control it. We just overestimated our ability. When you get a big lead, sometimes your willing to take a risk. We should have been more conservative.
Currence said one good thing about the game was he was able to rest many of his injured regulars.
"In a way I'm happy (getting to rest some players), but I'm not pleased with our mental discipline in the second half. Hopefully next week we'll be healthy.
"We've got to start putting it together," he added, referring not to next Friday's game against Mansfield Senior but the Nov. 7 clash with 8‑0 Canton McKinley.
The Tigers are now 6‑2 and Niles falls to 3‑4‑1.
Massillon had control of the game from the opening kickoff when it drove 73 yards in 14 plays with fullback Greg Grimsley bulling over from a yard out. Greg Radtka's kick made it 7‑0 with 5:36 left in the initial quarter.
Grimsley gained 23 yards in eight carries in the drive and quarterback Rick Spielman gained 23 in three carries and also completed a 19‑yard pass to Robert Oliver on a third‑and‑six play.
After an exchange of punts, Tiger junior tackle Sam Clark ‑ starting in place of the injured Joe Peters – recovered a fumble at the Niles eight yard line following a bungled handoff.
Oliver swept left end on the next play for a 13‑0 lead. Radtka's kick was wide right.
Rodney Hill, a senior defensive halfback, set up the next Tiger score when he intercepted an Ed Kurowski pass at his own 15 and returned it 11 yards.
The Tigers then drove 74 yards in five plays as Spielman found Gary Conley wide open in the end‑zone with a 32‑yard TD pass. Spielman's run for the extra points failed and the Tigers led 19‑0 with 6:33 to play in the half.
Key plays in the drive were a 27‑yard pass from Spielman to senior wide receiver Dan Ricker and a 24‑yard run by senior halfback George Roknich.
It took the Tigers only three plays to come up with another turnover at the start of the third quarter. On a third‑and‑five play at their own 46, Chris Spielman intercepted Pat Holmes' pass at the Niles 48 and returned it 27 yards.
Five plays and a pass interference penalty later the Tigers had a 25‑0 lead on Grimsley's one‑yard run. A pass for the extra points failed, and with 7:51 to play in the third quarter it looked like the route was on.
But somebody forgot to tell the Red Dragons they were out of it, and they used some inspired play to get back in the game.
Chuck Canann blocked a punt by Massillon's Scott Zupp, and the ball rolled out of bounds at the Tiger 16.
Following an incomplete pass, Jeff Wrataric rambled 12 yards and speedy little Tim Trifilette (5‑4, 130) covered the final four for the tally with :09 left in the third quarter.
Senior George Nikitenko, the Tigers' offensive center, was in on defense to help fill a hole caused by injuries, and he intercepted Holmes' pass on the extra points try.
The Tigers then decided to grind it out and get the game over with, but the charged up Niles' defense stopped Grimsley on third‑and‑one and Spielman was sacked back at his own 31 on fourth down.
Facing a third‑and‑one at the Tiger 22, Trifilette scooted 21 yards around right end to the one yard line, and Carmen Cicero took it in on the next play with 9:05 to play in the game. A run for the points after failed, and it was 25-12.
The Tiger defense stiffened thereafter, however, and Mark Haubert ended the game with an interception at his own 20 as time expired.
The Dragons had one other turnover, a fumble recovered by defensive end Tony Morelli.
Niles lost its top two quarterbacks to injury as Floyd Davis injured his knee and Kurowski reinjured his collar‑bone.
The statistics were fairly even except for two categories: turnovers and points, Massillon never turned the ball over while Niles did it five times.
The Tigers had 140 yards rushing and 91 passing and Niles had 105 rushing and 86 passing. Massillon had 13 first downs and Niles had 11.
Individually, Spielman completed four of nine passes (he threw only one in the second half) for 91 yards and a touchdown, his eighth of the season.
Grimsley gained 63 yards in 20 carries. Spielman, despite two sacks for 16 yards in losses, gained 31 yards in eight carries. He had 137 yards In total offense in the first half.
The Tigers will host the Mansfield Senior Tygers Friday at 8 p.m.
Fans are reminded that tickets for the McKinley game will go on sale at the Stadium's west ticket window Monday at 8 a.m. There are 1,000 end zone seats remaining and there will be a limit of two per person.
Season ticket holders who have purchased McKinley tickets, but did not pay postage, can pick up their tickets at the ticket office at Washington High School.