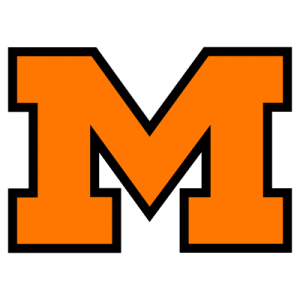 LaSalle to try where Niles failed
By CHUCK HESS, JR
Independent Sport Editor
A group of footballers will be coming out of the Buckeye state's southland Friday night bent on becoming "Bengal Lancers" – not the fabled type from India – at Tiger stadium.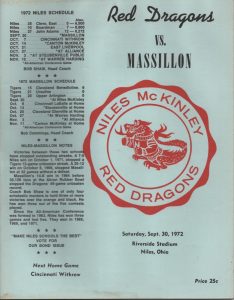 They'll be after the hides of the Massillon Tigers – seeking to do what the home standing Niles McKinley's Red Dragons couldn't do before 14,311 at Riverside stadium last Saturday night. Cincinnati LaSalle high's brand of Lancers has one thought in
mind – knock the Tigers off of "Playoff Coulevard."
* * *
LIKE THE Tigers, undefeated in four games, the Lancers have some impressive credentials – such as a victory over Cincinnati St. Xavier which held Massillon's recent foe, Upper Arlington, to a scoreless deadlock.
"I've been saying right along LaSalle's tough," Tiger Coach Bob Commings said, "but people won't believe it. They're huge! We're going to run right into a hornets' nest!"
As if this isn't enough pressure looking the Tigers in their collective faces, Steubenville's Big Red – tied with Massillon and Canton McKinley for the lead in the All-American conference which opened play last weekend – are slated to arrive Friday, Oct. 13.
Right now Commings wants that "Obie Spirit," as it's known in 1972 and which brought the Orange and Black a hard-fought victory last Saturday – this time 16-6 – to continue. By handing Niles its first defeat in four games and putting a fourth straight win in the Massillon column, the Tigers gave themselves a giant push ahead in the race for the four Class AAA playoff spots in the state's first ever post season presentation.
"I'm proud of our kids," Commings said. "They beat a good team for the second straight week. We came out in the second half and did what we were supposed to do. We didn't lose our cool in the face of a team which had a great running attack in Lou and Clark West."
The only thing which irked the Tiger skipper was that his charges failed to take advantage of two scoring opportunities.
* * *
"OUR BEST football is in front of us," he said. "One of these days we're going to get out there and do it right."
What the Tigers continued to do right was kill the enemy with its mistakes – a Tiger trademark – picking off three of four Niles fumbles and intercepting two passes. One of the fumble recoveries led to the Orange and Black's winning touchdown.
"Our kids did a good job until that last fumble," Niles Coach Bob Shaw said. "We felt we had a good running team and if we could keep the ball and keep Massillon from scoring we'd be all right. If you don't turn the ball over in your own territory, you're okay. I really didn't think Massillon could come back and do it again."
Shaw said the Tigers have good size and speed and a runner with loads of ability in left half Tom Hannon who got a lot of blocking help and running relief from fullback Alex Wood, who picked up some mighty important yardage working up the middle.
Niles' Joe Cicero, a junior quarterback forced into action by the injuries of Rick Tomlin and Jeff Monos, handled the direction of the triple option well under Tiger pressure. Shaw also lauded fullback-linebacker Bob Mannella and defensive end Tom Williams for their play.
* * *
FOR THE fourth straight week Hannon the AAC's leading ground gainer, picked up over 100 yards – this time a net 112, losing only five in 23 carries for a 4.9 average. He scored a touchdown, a conversion and passed to right half Terry Edwards for another.
The Tigers tallied in the first quarter for the first time this year and in the first half for only the third time – after a Niles punt was grounded on the Tigers' 38. Three plays later Hannon gave on snap of his groovy hips and shot through a gigantic hole on the left side for WHS' longest TD run of the season with 3:54 left.
Commings termed it a "power off tackle blocked well" by tackle Mike Green and guard Larry Mayles, one of Hannon's tri-captain mates. Hannon skirted left end easily for the conversion thanks to Kevin Westover's great block.
On the second play after the kickoff, Cicero pitched to Lou West going left and he threw a 39-yarder which the Tigers had covered perfectly by cornerback Jimmy Jackson and free safety Charles Swann, but split end Chris Mackey leaped up a little higher between them and hauled in the aerial with an amazing catch for a first down on the Massillon 31.
With the Wests thundering off both tackles on seven of the next nine plays and the Tigers penalized for illegal procedure, the Dragons scored with 11:55 left in the second stanza as Cicero slanted off tackle. Strong safety Don Muhlbach and end Dari Edwards brought down Macey on an end run to halt the conversion try.
* * *
MOVIES SHOWED Jackson's cobra-like swiftness got the Tigers a Clark West fumble ball on the Dragons' 16 in the third quarter after it was knocked loose by Swann. Two plays later Commings decided to join Shaw in the halfback pass route which both designed especially for this game and had Westover pitch to Hannon going right on third and nine. Terry Edwards made a diving, somersaulting catch of "Tombo's" pass into the end zone with 11:54 left in the last quarter.
Westover rolled right and hit Edwards again for two more points.
Interceptions by Tim Gutshall and Muhlbach halted the last two Niles' drives.
Middle guard Tom Balizet recovered a Clark West fumble at the Niles 46 in the second period and amazing end Brian Bash grabbed another at the Niles 49 in the third stanza.
A second period jaunt was halted by fourth and three at the Tigers' 33 and Niles' Yugoslavian soccer style kicker Greg Cerneka tried a 51-yard field goal which wasn't short by much.
The Tigers lost the ball on downs at the Dragons' 35 and safety Dell Gray intercepted at his 15 in the second quarter. Manella rose up to stop Hannon on fourth and two on the 10 in the third quarter and a fumble, a delay penalty and a procedure penalty killed a drive at the Dragons' six in the fourth period.
MASSILLON – 16
Ends – McCauley, Bodiford, D. Edwards, Sullivan, Bash.
Tackles – Green, Geiser, Csonka, Lee.
Guards – Mayles, Guiffre, Keller, Bozzacco, Graber.
Centers – Cocklin, Studer.
Quarterback – Westover.
Halfbacks – T. Edwards, Hannon, Danzy, Henderson.
Fullbacks – A. Wood, McGuire.
Middle Guards – Balizet, G. Wood.
Linebackers – Ahlstrom, T. Gutshall.
Defensive backs – Muhlbach, Jackson, Swann, Christie, DiLoreto, Groff, Mayor, Dan Gutshall.
NILES – 6
Ends – Mackey, Kaszonyi, Bassett, Lokash, Williams, Gustovich.
Tackles – Biddlestone, Hojnik, Cline, Glancola.
Guards – Soltess, Skocik, Pekarovic, Harris.
Center – Woodford.
Quarterback – Cicero.
Halfbacks – L. and C. West, Malone, McElhaney.
Fullbacks – Mannella, Mowery, Paris.
Middle guard – Miranda.
Kicker – Cerneka.
Massillon 8 0 0 8 16
Niles 0 6 0 0 6
SCORING SUMMARY
M – Hannon, 47 run (Hannon run);
N – Ciceri 1 run (run failed);
M – T. Edwards, 15 pass from Hannon (T. Edwards pass from Westover).
OFFICIALS
Referee – Dr. Larry Glass.
Umpire – Stan Evans.
Head Linesman – Steve Nagy.
Field Judge – Mike Butch.
THE GRID STICK
M N
First downs – rushing 8 9
First downs – passing 3 1
First downs – penalties 1 1
Total first downs 12 11
Yards gained rushing 184 159
Yards lost rushing 12 22
Net yards gained rushing 172 147
Net yards gained passing 49 38
Total yards gained 221 173
Passes completed 3-8 3-9
Passes intercepted by 2 1
Kickoff average (yds.) 3-38.7 2-53.0
Kickoff returns (yds.) 46 24
Punt average (yds.) 3-35.7 2-32.0
Punt returns (yds.) 0 7
Fumbles (lost) 1(0) 4(3)
Yards penalized 7-65 1-15
Touchdowns rushing 1 1
Touchdowns passing 1 0
Total number of plays 57 57