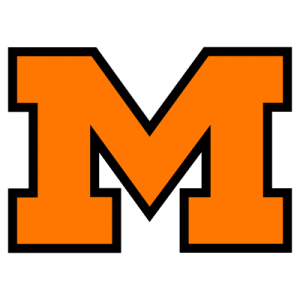 Tigers lose spirited defensive battle
By CHUCK HESS, JR.
Independent Sports Editor
Both coaches called it pretty good when looking ahead earlier this week, but Bob Commings must wish he hadn't been so correct.
He hadn't predicted his Massillon Tigers would be edged 7-6 by the Niles McKinley Red Dragons before 17,458 – the season's largest crowd – Friday night at Tiger stadium, but he figured their strategy well.
NILES' BOB Shaw loves to burn you when you least expect it.
And Shaw must have seen something in his tea leaves for he had said 1971 was his turn. This was his second victory in three seasons over Commings – two here – and his third in four tries against the Orange and Black, the first coming in 1966.
On both occasions he stopped Tiger streaks – 32 games without a loss the first time and 13 this trip. His latest effort put Niles in second place behind Warren Harding in the All-American conference. The Black Panthers are 2-0 in the league and 4-0 overall while the Dragons are 1-0 and 4-0.
Massillon, the 1970 league winner, dropped to 3-1 and an 0-1 AAC record. The loss will also undoubtedly drop the defending Ohio Class AAA champion Tigers out of first place in both wire service polls.
"We never gain when we beat Massillon," Shaw, the boss of the state's 11-ranked team, said, "but other teams do."
Friday's game was a great tribute to both defenses although Massillon outdistanced Niles 14-7 in first downs and 224-158 in total yards gained, posting most of those figures in the second half. Both lines hit hard and the secondarys covered the passing lanes adequately.
The Tigers completed only one of 11 passes and Niles only two of 13 for six and 19 yards respectively. This is not conducive to adequately complementing your ground game.
"They just played good defense," Commings said. "They made the good plays – we didn't." When you give up only one, TD, you're not playing bad football. Once we settled down, we played good football. They did what they do well – spring one once in awhile.
* * *
HE ADDED, "Their linebackers and defensive backs coming up were the toughest part of their defense."
"Both defenses were good," Shaw agreed. "When you get a 7-6 game, it will always be this way. This was the good football we used to play at Niles. For three years back we hadn't stopped them. I think we forced them to pass when they couldn't run. This helped our secondary play good defense. They cut us off with their angle defense. Their backside tackle hurt us."
This would be Glen Weirich or Steve Studer, depending upon which way the defenders were headed.
Niles quarterback Tom Andres, Jr., burned the Tigers with his ball-handling and speed at times, although linebacker Mike McGuire bombed him several times.
"He's the fastest man on the team so we wanted him to run the football," Shaw said. "His good action faking to a back going one way with another coming back, helped. Andres has deceptive speed at 6-3."
The Dragons got off more long runs, although Tigers Willie Spencer, Larry McLenndon, Don Perry and Art Thompson gave it their best. The Orange and Black offense did it in short chops and forced the Niles' defense out of its Notre Dame 4-4 and into an Oklahoma 5-4 early in the contest.
After seeing a team score on them for the first time this season, the Tigers took the kickoff and marched 29 yards in 10 plays in the first quarter but were forced to punt from the Niles' 38.
They moved 68 yards in nine plays in the second stanza to get their touchdown with tailback Spencer starting the drive with a 24-yarder around right end to the Niles 43. He scored for the ninth time in four games – over right tackle on fourth and four form 26 yards away with 4:52 left. A good stiff farm helped.
* * *
QUARTERBACK SCOTT Dingler tried to run the go-ahead conversion, but halfback Pat Burke and ends Mike Weida and Ted Williams hauled him down just short of the mark.
The Tigers had one more good drive – in the fourth quarter. It was a 10-play affair starting after a 30-yard pun t to the Massillon 39. The drive ended on the Niles 25 with four minutes, 10 seconds remaining.
Fullback Don Perry was short of the first down, but the Tigers were called for illegal procedure and offside and the Dragons were detected on a personal foul, nullifying the run and giving Spencer a chance around left end. However, Williams nailed him.
Niles got all of the margin it needed when halfback Bob Sygar intercepted Dingler's toss on the game's first play and raced 26 yards to the Tigers' 29. In six plays, the Dragons had scored as Andres helped with a 13-yard, third-and-eight jaunt for a first down on the 13.
Fullback Tim Monos scored on third-and-four from the seven when Andres threw to the right and Monos grabbed the pigskin on the two. With 8:34 left, Tom Masciangelo kicked the winning point.
Sygar was a thorn in the side for the Tigers. He bolted 71 yards around the left side on a pitchout just after Massillon's first quarter kickoff and was brought down by halfback Tom Jackson on the nine. Hannon threw fullback Bob Manella to the 20 and McGuire intercepted an Andres' aerial on the 15 to halt the drive.
Sygar ran 43 yards to the Massillon 25 on the second quarter, but a clipping penalty called this one off. In the same period, he ran a punt back 28 yards to his 48, but another clip interfered.
He ran 68 yards to the Tigers' 11 in the third canto, but a clip cancelled this scamper too. Sygar also hopped on Hannon's fumble in the third episode to give the Dragons the ball on the 50.
NILES – 7
Ends – Kaszonyi, Rose, Weida, Harris, Ted Williams, Tom Williams, Allen, Mackey, C. West.
Tackles – Biddlestone, Shehy, Thou, Schweitzer, Tackett, Law.
Guards – Baker, Skocik, Pekarovic, Masciangelo, Peterson.
Center – Wilson.
Quarterbacks – Andres, Joseph.
Halfbacks – Sygar, Miranda, Wolfe, Kuhn, L. West, P. Burke, M. Burke.
Fullbacks – Monos, Manella.
MASSILLON – 6
Ends – Matie, McGuire, Stephan, D. Edwards.
Tackles – Weirich, Heath, Geiser, Green.
Guards – Christoff, Graber, Mayles, Heck.
Centers – Studer, Cocklin.
Quarterbacks – Dingler, Muhlbach.
Halfbacks – Spencer, McLenndon, Thompson, Wonsick, Jackson, Weise, T. Edwards.
Fullbacks – Perry, Hannon.
NILES 7 0 0 0 7
MASSILLON 0 6 0 0 6
SCORING SUMMARY
N – Monos 7 pass from Andres (Masciangelo kick);
M – Spencer 26 run (run failed).
THE GRIDSTICK
M N
First downs, rushing 14 4
First downs, passing 0 2
First downs, penalties 0 1
Total first downs 14 7
Yards gained rushing 226 170
Yards lost rushing 8 31
Net yards gained rushing 218 139
Net yards gained passing 6 19
Total yards gained 224 158
Passes completed 1-11 2-10
Passes intercepted by 1 1
Yardage on passes intercepted 3 13
Kickoff average (yards) 2-47.0 2-35.0
Kickoff returns (yards) 29 40
Punt average (yds.) 5-33.8 7-27.4
Punt returns (yds.) 0 7
Fumbles (lost) 4(1) 2(0)
Yards penalized 2-20 5-55
Touchdowns rushing 1 0
Touchdowns passing 0 1
Total number of plays 64 48
OFFICIALS
Referee – Milo Lukity.
Umpire – Jack Werkowitz.
Head Linesman – Frank Wahl.
Field Judge – Del Groezinger.
Back Judge – Ron Giacomo.
ATTENDANCE – 17,458