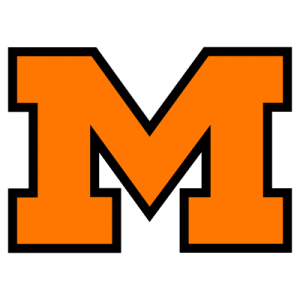 Tiger hopes hinge on game at Niles
By CHUCK HESS, JR.
Independent Sports Editor
If the Tigers don't win this week it could be all over in 1976.
That was the word head Coach Mike Currence had for the Tiger Touchdown Club at its weekly luncheon Monday at the Massillon Club.
AFTER Currence had finished it was announced that senior monster back and Co-Captain Anthony Grizzard had been selected by club members as their Hardnose of the Week. At the end of the season the player with the most votes becomes the Hardnose of the Year.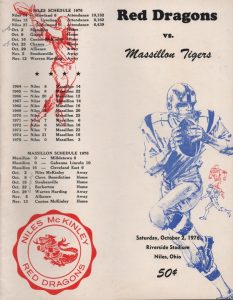 "If we lose Saturday night at Niles we'll be out of things as far as the computer is concerned and maybe in the All-American Conference race," Currence said. "If we lose we won't have a chance of someone else knocking off Niles.
Currence asked for more noise from the fans at Niles to which President Gene Boerner replied, "We'll make all the noise we can. You'll hear Massillon fans yelling louder than the hometown fans."
But club members agreed they didn't need noise such as came from the student section last Friday night at Paul Brown Tiger Stadium when Brown was speaking at half time. One member suggested that a delay in the start of half time festivities had gotten the students restless.
"Nobody has run up the middle on Niles," Currence said, but that doesn't bother us because our offense is designed to attack the perimeters."
CURRENCE is not sure what the problem is with the quarterbacks. He does know they are not getting the pass protection they should be getting. He asked members not to evaluate Bret Traylor's performance to date for that reason, explaining Bret hasn't been that far off in practice.
Members suggested various ways to cut down on fumbles such as having players tape thumbtacks to their fingers or wear rubber thumb grips or just toss the ball into the water bucket during practice. The first two suggestions are illegal and the third is out because you can't get a true grip on a wet ball, according to Currence.
Massillon is
13-8 victor over Niles
By FRED GERLICH
Repository Sports Writer
NILES – Massillon's heralded "run and shoot" offense finally gunned down a noteworthy foe Saturday night, dropping the state's sixth-ranked Niles McKinley Red Dragons 13-8 before 13,000 noisy onlookers at Riverside Stadium.
Tigers' Coach Mike Currence will have an awful lot of "player of the week" awards to hand out Monday as Massillon came up with the big play both offensively and defensively.
Niles, trailing 13-0 going into the final period, forced three Tiger turnovers in the final 12 minutes to make it a ball game.
The loss was the first in four games for Niles and Massillon evened its record at 2-2 in winning its second in a row. The game was a mutual opener in the All-American Conference.
Red Dragons quarterback Curtis Rein threw a 28-yard pass to end Mike Pizzano to get his club on the board with 8:56 left in the game.
Rein then snaked around left end for the two-point conversion that put Niles back in the contest.
Pizzano intercepted a Bret Traylor aerial at the 5:50 mark and teammate Joe Connel ran 30 yards with 1:46 remaining to give the Red Dragons two good chances at pulling off a comeback win.
But the Tigers' defense held on both occasions, stopped Niles at the 26 and 24 yard lines in the final half of the last period.
Paced by Richard Cleveland's 122 yards in 17 carries, Massillon held a 257-54 rushing advantage.
Niles was led by Phil Chelsea who ran 8 times for 23 yards, despite being hampered by an ankle injury. He was injured when he slammed his right foot in a car door 40 minutes before the game.
The Tigers totaled 11 first downs to 10 for Niles and the Red Dragons had an edge in passing, completing 12 of 21 for 141 yards. Massillon hit on one of three for 13 yards.
After a scoreless first quarter, the Tigers were forced to punt on their first possession of the second stanza.
Niles Ken Wiencek fielded the ball at the Red Dragons' 10-yard line, was smacked to the ground by a Tiger tackler and coughed up the ball.
Massillon's John Letcavits scooped up the ball at the four and sailed into the end zone with 7:11 left in the half. Mike Hardwick's conversion made it 7-0. Niles punted after the ensuing kickoff and the Tigers took over on their own 16.
Then the Massillon offense moved down the field like a runaway steamroller, 84 yards in 10 plays, with Bret Traylor completing his only pass of the night, a 13-yard TD toss to Rick Chovan just 1:05 before the band show.
Currence called the win "a great team victory". "No other team in the state could have come into Niles and beaten the type of team Coach Tony Napolet has here.
"But the community of Massillon backed us all the way," Currence said.
The Tiger fans unleashed a roar upon the Tigers' initial appearance on the field and didn't let up until the final whistle, as there were several thousand from Massillon who made the pilgrimage here.
On the Tigers performance, Currence said, "We just made less mistakes tonight. We moved the ball against everyone we played but mistakes have been hurting us until tonight. If Bret (Traylor) ever comes around to being the type of quarterback we think he is capable of being, we'll win some more ball games," Currence said.
Tiger – Niles lineups
Tigers
Offense
ENDS – Sam George (5-11, 165, Sr.); Rick Chovan (5-11, 171, Sr.).
TACKLES – Tim Tournay (6-2, 270, Sr.); Tim Daniels (6-7, 230, Jr).
GUARDS – John Hauser (5-11, 211, Sr.); Mark Lauber (6-1, 212, Sr.).
CENTER – Mike Ramsey (5-8, 180, Sr.).
QUARTERBACK – Bret Traylor (5-10, 159, Sr.).
HALFBACKS – Jay Harper (5-5, 160, Sr.). Greg Carpenter (6-1, 188, Jr.).
FULLBACK — Rich Cleveland (6-1, 180, Soph.).
Defense
ENDS – Frank Sweterlitsch (6-1, 180, Jr.); Dave Engler (5-9, 180, Jr.).
TACKLES – Randy Laase (6-5, 211, Sr.); Jesse Toles (6-0, 190, Sr.).
MIDDLE GUARD – Carl Dorsey (5-9, 185, Jr.).
LINEBACKERS – Kurt Walterhouse (6-0, 170, Jr.); Gary Border (6-0, 203, Sr.).
SECONDARY – Anthony Grizzard (5-9, 168, Sr.); Randy Lash (5-8, 165, Sr.); Bill Henderson (5-9, 160, Sr.); Van Jones (5-11, 155, Sr.).
NILES
Offense
ENDS – Mile Woodford (5-9, 160, Sr.); Duane Thomas (6-0, 175, Sr.).
TACKLES – John Slwinski (5-11, 185, Sr.); Mark Joseph (5-11, 197, Sr.).
GUARDS – Tom Golder (5-9, 170, Sr.); John Blakely (5-9, 180, Sr.).
CENTER – Brian Williams (5-10, 185, Sr.).
QUARTERBACK – Curtis Rein (6-0, 180, Sr.).
HALFBACKS – Phil Chelsea (5-9, 158, Sr.); John Virostko (6-0, 170, Sr.).
FULLBACK – Geoff Tabor (6-1, 205, Sr.).
Defense
ENDS – Joe Bezilla (5-10, 175, Sr.); Ray Rashilla (5-10, 180, Sr.).
TACKLES – Joe Connell (6-0, 250, Jr.); Bob Tenney (6-0, 225, Sr.).
MIDDLE GUARD – Marty Chance (5-8, 185, Sr.).
LINEBACKERS – Tabor; Sam Giangardella (6-1, 210, Sr.).
SECONDARY – Ken Masciangelo (5-9, 165, Jr.); Ken Weincek (5-9, 160, Sr.); Mike Pizzano (5-8, 160, Jr.); Virostko.
WEIGHT COMARISONS
Tigers
– offense (line 206, backfield 171, overall 193);
– defense (line 188, secondary 161, overall 179).
Niles
– offense (line 179, backfield 178, overall 179);
– defense (line 204, secondary 165, overall 190).
Series:
Tigers – 12-4.
Points Scored
Tigers 330;
Niles 133.
Points scored this year
Tigers 16;
Niles 56.
Points allowed this year:
Tigers 22;
Niles 6.
OFFICIALS
All-American Conference rules prohibit releasing
Officials' names to the public before game time.
Currence warns:
beware Bennies
By CHUCK HESS, JR.
Independent Sports Editor
There's one trouble with upset victories such as the Tigers' effort at Niles last Saturday night. If a team savors the win too much, it might not taste victory the next time out.
"Cleveland Benedictine is tough," said Tiger Skipper Mike Currence. "They won 48-0 over Painseville Harvey Friday. We must work hard to prepare for the Bennies. We made too many offensive mistakes at Niles. We're lucky our defense did the job or we would have been beaten.
AUGIE BOSSU'S team (3-1) will face the 2-2 Tigers, who won their second consecutive game last Saturday night, at 8 p.m. Friday at Paul Brown Tiger Stadium.
Saturday's 13-8 All-American Conference victory over Niles McKinley put Washington High into a tie with Steubenville and Alliance for first place. Niles dropped into a deadlock with Canton McKinley and Warren for fourth.
After the Orange and Black had scored twice in the second quarter to stun the Niles fans and elate the Tiger faithful in the sellout house of 13,000 at Riverside Stadium, the "Tiger Claw Defense" continued t6o throw a mighty roadblock – with one exception – in the way of the Red Dragons. Niles played some mighty fine iron curtain ball themselves, led by linebackers Sam Giangardella and Geoff Tabor and minus four defensive starters, injured in the first half.
The Tigers' great defensive effort started after Tabor had picked up a John Traylor fumble in the first quarter. Linebacker Kurt Walterhouse threw quarterback Curtis Rein for an eight-yard loss to the Massillon 26.
Several Obiemen halted Rein at the Tigers' 12-yard line on fourth down in the second stanza after Niles had taken control on the Tigers' 35 when Mark Westover's punt from the end zone was partially blocked.
Co-Captain and monster back Anthony Grizzard intercepted a pass at the Massillon 45 to halt the Red Dragon's furthest advance in the third quarter.
Grizzard, used for the first time on runback teams, carried the pigskin 50 yards after a punt to the Niles 24 in the goodbye canto only to have Traylor and Rich Cleveland misfire on a handoff at the 18. Giangardella recovered at the 24 to set up Niles' only touchdown drive.
TAILBACK PHIL Chelsea, after battling the flu during the week, tossed a pass to halfback Mike Pizzano for 11 yards, dashed for 13 and then the Dragons got the benefit of a disputed 15-yard late-hit penalty, for a first down on the Tigers' 38. Two plays later Pizzano took Rein's pass at the one and stepped in for the score with 8:56 left.
Rein ran the end for the conversion and the fans had visions of another Niles comeback win such as occurred in 1966, 1974 and almost occurred in 1975.
Pizzano intercepted a Traylor pass on the Massillon 41 in the fourth quarter, ran to the 30, but the Dragons were guilty of clipping. Eight plays later end Dwayne Thomas was hauled down short of a first down on the Massillon 26.
On second down from the 34, assistant Coach Nick Vrotsos called a change in blocking assignments which enabled fullback Rich Cleveland, who carried for 100 yards plus for a third straight game, to roll for 56 yards to the Niles 10. But Traylor, while trying to consume time with a keeper run, fumbled. Tackle Joe Connell recovered and rambled to the 40 where Traylor knocked him out of bounds.
The Dragons took to the air, getting to the Massillon 31, thanks to a 15-yard Rein to end Bill Ifft pass. But middle guard Carl Dorsey sacked Rein and linebacker Kurt Walterhouse busted up two passes to end things.
THE MASSILLON offense out-performed the Niles version, 256 net yards to 54. Cleveland carried 18 times, netting 118 yards. Traylor lugged the swinehide 17 times, netting 61 yards, picking up important yardage several times.
He threw only three passes, but one was a 12-yarder to end Rick Chovan, who just eluded his defender in the end zone in the second quarter. Mike Hardwick was wide left on his conversion kick with the clock showing 1:05 left.
Jay Harper, Cleveland and Traylor had set the score up with 14, 26 and 12-yard runs.
The Tigers' first touchdown came with 7:11 left in the same period. Ken Wiencek tried to field a Westover punt at the 12, but was hit an awful whack by Van Jones, the ball popped loose; John Letcavits scooped it up at the three and scored. Hardwick kicked the conversion.
Wiencek was lost for the remainder of the game with a concussion.
IN HIS post game comments Currence was happy with the Tigers' perimeter attack but unhappy that they couldn't run up the middle as they did before, that the fumbles continued and unhappy that the pressure on the opposing quarterback wasn't greater.
"They were tough up the middle," Currence said. "We kept trying and trying and finally Cleveland broke the big one up the middle. We've got to get some sticky glue for our fingers and we must not drop so many people back on passes."
"Our defense had the composure our offense didn't have. When its fourth and one you have to have it and if you don't have it, you don't have a great ball club."
Currence was overwhelmed by the fan backing.
"I've never gone to an away game and had the kind of support we had," said Currence. "The booster club outdid itself. I expect the same treatment every game."
GRIDSTICK
M N
First downs rushing 11 4
First downs passing 1 7
First downs penalties 1 0
Total first downs 13 11
Yards gained rushing 285 82
Yards lost rushing 29 28
Net yards gained rushing 256 54
Net yards gained passing 12 98
Total yards gained 268 152
Passes completed 1-3 14-23
Passes intercepted by 1 1
Yards on passes Intercepted 0 4
Kickoff 3-42 2-58
Kickoff returns 42 35
Punts 4-32 4-44
Punt returns 50 0
Had punts blocked 0 0
Fumbles 3-3 5-2
Yards penalized 4-50 3-45
Touchdowns passing 1 1
Misc. touchdowns 1 0
Total number of plays 55 57
Total time of possession 26:41 21:19