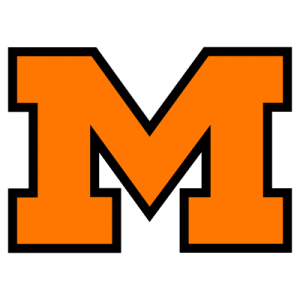 Team effort earns Massillon fourth straight win
Tigers sharp in 33-0 win over Niles
By ROLLIE DREUSSI
Independent S ports Editor
"This was the first time we played this well as a team," Massillon coach Mike Currence said after the Tigers blanked the Niles Red Dragons 33‑0 Friday night.
"The players are starting to forget themselves as individuals. We're starting to become a team. ‑ and a great one."
Niles coach Frank Thomas ‑ one of Currence's former assistants ‑ offered no argument with that statement.
"They're a super, super football team," Thomas said in the, quiet Niles lockerroom. "I knew they were, and I knew they were quick, too. But I didn't know they were as quick as they are.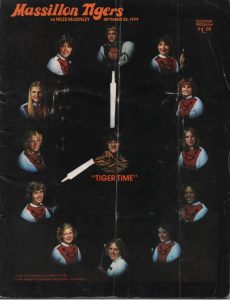 The 9,468 fans in Paul Brown Tiger Stadium who endured a misty drizzle throughout the game saw the Tigers' put on their best performance of the season. The win raises the Tigers' record to 4‑0, with a 2‑0 mark in the All‑American Conference.
Currence was pleased with the performance of his offense and defense, and cited the work of quarterback Dave DeLong, who started in place of the injured Bill Scott.
"I have to give Dave DeLong a lot of credit tonight," he said. "He came off the bench and did a good job. Actually, the whole offense did a good job. We have a great group of seniors, and their concentration and execution was the best it's been.
"We did make a few errors. We got sacked a couple of times and those were errors they weren't DeLong's fault. But we came off the field, changed the blocking assignment's and got it straightened out. In the second half we did anything we wanted to offensively."
DeLong did a fine job directing the Tigers' offense. He took them to a score in each quarter ‑ and a 27‑0 lead ‑ before giving way to substitute Dave Eberhart.
He completed 6 of 9 passes for 94 yards and one touchdown. His only target was wide receiver Marty Guzzetta, who hauled in a total of 7 passes for 128 yards and two touchdowns on the evening.
Guzzetta's second TD catch came on a halfback pass from Bill Burkett that covered 34 yards. Burkett also gained 65 yards in 7 carries.
Sam McDew topped all rushers with 79 yards in 11 carries and Bill Beitel added 61 yards in 10 carries to the balanced Tiger running at tack.
Beitel and Burkett each scored a touchdown rushing and Fred Borck capped the scoring by catching a TD pass from Eberhart.
In addition to his passing, DeLong also ran with the ball several times, including a 13‑yard carry on the first play of the game. He gained 22 yards on four carries, but was sacked twice for losses totaling 22 yards.
Thomas noted that the Tigers didn't pass as much without Scott at quarterback.
"They took advantage of what they had;" he explained. "DeLong is more of a running quarterback, and they came out with the sprint series right off the bat. He runs real well and he threw well, too."
Thomas also praised the Tiger defense, which recorded its third shutout in four games and didn't let the Red Dragons get past their own 45-yard line. They allowed Niles only one first down, and that was on a penalty.
"We just couldn't block them," he said. "We tried to establish our running game but we couldn't catch them. Both their lines (offense and defense) manhandled us. They executed well offensively and defensively and their defense totally bottled us up."
"Our defense was unbelievable the way they held them," Currence added. "I think we controlled the line of scrimmage. We just out hit them, that was, the key."
Defensive coordinator Jim Letcavits also said the whole defense played well and added that Mike Spicer who filled in for injure safety Jamie Schlegel, did nice job.
The Tigers took the opening kickoff and marched from their own 32 to the Niles 14, but lost the ball on downs when a sweep by McDew on fourth‑and‑two fell a yard short.
Niles was forced to punt, and DeLong took the Tigers on a 52‑yard, four‑play drive that began with a 16‑yard pass to Guzzetta and ended with a 23‑yard scoring strike to Guzzetta. DeLong rolled right and eluded the Red Dragon rush before finding Guzzetta wide open. Jeff Fry booted the point after for a 7‑0 lead with 3:16 left in the first period.
The Tigers took over possession again near the end of the first quarter following another Niles punt.
They drove 55 yards in eight plays with Beitel scoring over left tackle with 9:34 to go in the half. Fry made it 14‑0 with his PAT kick.
The Tigers took over after another Niles punt, and were put into bad field position when the offensive blocking broke down and DeLong was sacked at his own 10 for a 14‑yard loss. A draw play on third down got the ball out to the 13, but it appeared the Red Dragons would get the ball in good field position with over five minutes left in the half.
However, Tiger punter Mike Hodgson boomed a 62‑yard punt ‑ a long, spiraling, line drive that sailed over the heads of the Red Dragon return men and rolled to the Niles 25 yard line. Hodgson also added a 50‑yard punt for a touchback later in the quarter.
Niles took the opening off of the second half but failed to move the ball again ‑ and the Tigers took over at the Red Dragon 45 following a 28‑yard punt.
DeLong went right to the air and lofted a long pass down the right sideline to Guzzetta. The senior receiver leaped into the air and made a great catch with a Niles defender hanging onto him. The play was good for 30 yards and a first down at the Niles 25.
Three plays later Burkett swept right end behind some good blocking and bulled over a Dragon defender at the goal line for a 12‑yard TD run. Fry hit his third straight kick for a 21‑0 lead with 8:45 remaining in the third period.
The Tigers got the ball back after a Niles punt at their own eight yard line and proceeded to cover the 92 yards to paydirt in nine plays.
On fourth‑and‑four from the Niles 34, DeLong pitched the ball to Burkett and he threw to Guzzetta ‑ who was wide open again ‑ for the touchdown. The score came on the first play of the fourth quarter. A run for the extra points failed and Massillon led 27‑0.
The Tigers final tally came with 4:13 to go in he game. Jeff Spicer picked up a Red Dragon fumble at the Niles nine yard line and returned it to the three. One Massillon penalty and three plays later, Eberhart hit Borck with a 5‑yard TD pass. Eberhart's kick failed when he had to attempt it from the 15 yard line following an illegal procedure penalty on the Tigers.
The Tiger defense held Niles to minus‑four yards in the first half, and a total of eight for the game. The Red Dragons didn't complete a pass until 2:22 remained in the game, and that was good for only one yard.
The Tigers, meanwhile, rolled up 18 first downs, 226 yards rushing, 149 yards passing (375 total yards) and controlled the ball for 28:19.
Despite being happy with the win and his team's play, Currence was ready to put the game behind him.
"The real test will come next week because there are some men coming to town," he said, referring to unbeaten and unscorned upon Cleveland Benedictine. The Bennies are 3‑0 and will play West Tech today in Cleveland.
"We'll see what we're made of," Currence added.
NILES 0 0 0 0 0
MASSILLON 7 7 7 12 33
Mass ‑ Marty Guzzetta 23 pass from Dave DeLong, (Jeff Fry kick).
Mass ‑ Bill Beitel 3 run (Fry, kick).
Mass ‑ Bill Burkett 12 run (Fry kick).
Mass ‑ Guzzetta 34 pass from Burkett (run fail).
Mass ‑ Fred Borck 5 pass from Dave Everhart (kick fail).
FINAL STATISTICS
MASS. OPP.
First downs‑rushing 13 0
First downs‑passing 5 0
First downs‑penalties 0 1
Total first downs 18 1
Yards gained rushing 252 35
Yards lost rushing 26 28
Net Yds. gained rushing 226 7
Total yards gained 375 8
Net yds. gained passing 149 1
Passes attempted 13 9
Passes completed 10 1
Passes intercepted by 0 1
Ydg. on passes intercepted 0 0
Times kicked off 6 1
Kickoff average (ydg.) 49.8 30.0
Kickoff returns (yds.) 2 104
Times punted 3 9
Punt average (yds.) 49.7 34.9
Punt returns (yds.) 19 0
Had punts blocked 0 0
Fumbles 0 1
Lost fumbled ball 0 1
Penalties 8 2
Yards penalized 80 10
Touchdowns rushing 2 0
Touchdowns passing 3 0
Touchdowns by interception 0 0
Miscellaneous touchdowns 0 0
Total number of plays 55 29
Total time of possession 28 19 19:41
Attendance 9,468