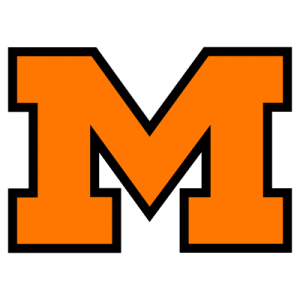 Offenbecher passes, defense beat Niles
By ROLAND A. DREUSSI
Independent Sports Editor
Tony Napolet couldn't find the right words in English to describe his team's 34-7 loss to Massillon Friday night at Paul Brown Tiger Stadium.
"Buona Serra momentum, buona serra ball game." Napolet said as he threw up his hands in the visitor's lockeroom following the game.
Translation: good night momentum, good night ball game.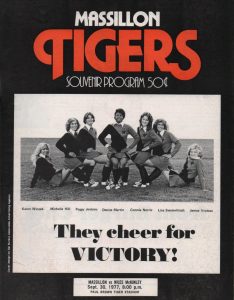 The Niles McKinley head coach couldn't have picked a better phrase to describe a game that was closer than the score indicated – or rather COULD have been closer than the score indicated.
Tiger head coach Mike Currence put it this way:
"Neither team beat the other up, it was just a matter of breaks. And we got most of them."
It was also a matter of junior quarterback Brent Offenbecher riddling the Niles' defense for 12 completions in 18 attempts for 166 yards and two touchdowns.
The 12 completions is a new post 1958 record, and his four game total of 40 out of 67 for 654 yards already ranks him third on the all-time (post-1958).
Getting back to Napolet, he referred to Niles' pass interception by Dan Giangardella that was run back for a touchdown, but nullified by a clipping penalty, as the turning point in the ball game.
"We had the momentum when we scored the second touchdown (on the interception." Napolet said. "We had in the momentum and they have to take it away."
The play occurred with 5:34 to go in the third quarter with Massillon holding a comfortable 21-7 lead. Offenbecher dropped back to pass and was rushed hard.
He tried to loft the ball over the Niles' defenders but Giangardella grabbed the ball at the Tigers 48 and rambled un untouched to the end zone. A clipping penalty against the Red Dragons called the play back, however, and Niles took over on the Massillon 45.
Two plays latter, Massillon's Tony Matie recovered a Red Dragon fumble at his own 48, killing the Niles' threat.
"With a couple more breaks, it could have gone the other way." Currence said. "A couple more bad breaks. I think the penalties were there, they'll see them on the films," he added.
While Niles committed the most costly penalty of the game, the Tigers were whistled for a lot of infractions themselves. Fourteen for 77 yards to he exact.
"I couldn't believe we were those mistakes," Currence said. "I thought it was going to be like the Gahanna game, when they came back. They throw well and the way we were making mistakes the they could have got two (touchdowns) real quick."
Currence noted that the Tigers defensive line – led by tackle Jerry Shafrath and nose guard Carl Dorsey – put good pressure on Niles' quarterback Joe Soda all night.
"We were gambling against them," Currence said. "We set our defense against their strength and they did the same to us."
Napolet admitted his Red Dragons had a lot of breakdowns.
"We didn't block well up front. Their nose man, Dorsey, is a good football player," he said.
"We have a fine quarterback, but how can he throw the ball when he is running for his life?"
"Massillon has a good foot ball team, they're tough to defense." Napolet said.
And Offenbecher is fine quarterback. But I still say the turning point in this football game was when that touchdown was called back. God bless Currence, God bless Massillon, God bless everybody, but that was the turning point."
The Tigers scored the first three touchdowns of the game, and added a safety, all in the second quarter.
With 1:29 to go in the first quarter, Tiger linebacker Steve Dottavio caught a fumble by Niles' halfback Mike Sylvester in mid-air at the Red Dragon eight yard line and returned it to the five.
On the first play of the second quarter, Greg Carpenter crashed over from a yard out on a fourth and one play for the score. Mark Westover's extra point kick was wide and Massillon led 6-0.
Niles took the ball and drove to a first down at their own 39 and on second and eight John Letcavits intercepted a Joe Soda pass at the Massillon 47.
Mike Grove gained three yards and Richard Cleveland rushed for a first down on a 14-yard trap play up the middle to the Niles 35.
Offenbecher then threw a beautiful pass down the right sideline to Mark Pringle who caught the ball as he stepped over the goal line. Pringle had his man beaten by two or three steps. Westover split the uprights this time and Massillon was out front 13-0.
Following a Soda punt, Offenbecher took the Tigers to the Niles' five, hitting four straight passes Grove fumbled, however, and Niles recovered at the three.
However, Marc Longshore intercepted a Soda pass at the Niles' 38 and ran it back to the three yard line with :26 left before the band show.
Offenbecher found Pringle open in the right corner of the end zone on the next play. Offenbecher was tackled attempting to pass for the extra points and the Tigers had a 19-0 lead.
Niles got the ball at their own 24 with 15 seconds left following the kickoff. Soda dropped back to pass and was chased all the way to his own end zone where here a host of Tigers led by Dorsey and Frank Sweterlitsch tackled him for a safety with three seconds left in the half. The Tigers took a 21 0 lead into the lockeroom at halftime.
Following the second-half kickoff. Soda punted on fourth down but Marc Longshore fumbled at his own 23 and it was recovered by Niles' Jack Durig.
Five plays (one a penalty) later Soda hit Shawn Boyle in the end zone for the Red Dragons' only score of the night – that counted. Carmen Butto booted the point after and Niles trailed 21-7.
Then came Giangardella's interception and the ensuing clip which was followed shortly by Matie's fumble recovery.
The Tigers then marched 52 yards with Offenbecher going the last one on a keeper for the touchdown. The big play in the drive was an Offenbecher pass to Curtis Strawder for 38 yards and a first down at the Niles 14. It was a big third and 11 play, and was also important because it was Offenbecher's first pass after the interception He rolled left and hesitated slightly, but his throw was on the money.
The Tigers attempted to kick the point after, but the snap from center was high and Westover tried to pass to Letcavits but was unsuccessful.
Shafrath sacked Soda for a 16-yard loss on a third down play and Marc Longshore returned Soda's fourth-down punt from his own 48 to the Niles 39.
The Tigers then took 13 plays, including six penalties, to march in for the final score.
Offenbecher went the last two yards himself for the score and Westover's kick made it 34-7.
Included in the drive was a 42-yard touchdown pass from Grove to Strawder that was called back because Grove stepped across the line of scrimmage before he released the ball. It was a good pass nonetheless.
The Tigers also benefited from a roughing the kicker penalty, a 15-yard run Grove and a 14-yard pass from Offenbecher to Grove for a first down at the Niles' four.
The Tigers intercepted four passes; with Marc Longshore getting his third of the season and Letcavits, Bill Dodd and Rod Caldwell (who wore number 36) each getting their first.
Pringle caught four passes for 55 yards and a pair of TDs (giving him three for the year), Strawder caught two for. 47 (and had a third catch nullified when the Tigers opted to take a penalty on the play), Carpenter caught two for 25 and Grove hauled in a pair for 25 yards.
Cleveland led all rushers with 46 yards in 10 carries. Grove added 25 in five rushes and Carpenter had 25 in 10 carries.
The Tigers will entertain Cleveland Benedictine Friday night at 8 p.m. at Paul Brown Tiger Stadium. Tickets are now on sale at the WHS ticket office, all Demmer Hardware stores and Hal's Sport Shop.
The win was the Tigers third in a now. They are now 3-1 overall and 1-0 in the All-American Conference (it was the AAC opener for both teams). Niles is now 2-2 (0-1).
GRIDSTICK
M N
First downs rushing 9 4
First downs passing 6 2
First downs penalties 1 1
Total first downs 16 7
Yards gained rushing 156 77
Yards lost rushing 16 86
Net yards gained rushing 140 9
Net yards gained passing 166 72
Total yards gained 306 63
Passes attempted 19 24
Passes completed 12 8
Passes intercepted by 4 2
Yardage on passes intercepted 36 0
Times kicked off 6 3
Kickoff average (yards) 50.7 50.0
Kickoff returns (yards) 80 106
Times punted 3 5
Punt average (yards) 38.0 47.0
Punt returns (yards) 45 0
Had punts blocked 0 0
Fumbles 2 5
Lost fumbled ball 2 2
Penalties 14 6
Yards penalized 77 67
Touchdowns rushing 3 0
Touchdowns passing 2 1
Touchdowns by interception 0 0
Miscellaneous touchdowns 0 0
Total number of plays 56 52
Total time of possession 26:46 21:14
Niles 0 0 7 0 7
Massillon 0 21 6 7 34
M – Greg Carpenter 1 run (Rick fall);
M – Mark Pringle 35 pass from Brent Offenbecher (Mark Westover kick);
M – Pringle 3 pasa from Offenbecher (run fail);
M – safety;
N – Shawn Boyle 9 pass from Joe Soda (Carmen Butto kick);
M – Offenbecher 1 run (pass fail);
M – Offenbecher 2 run (Westover kick)
Attendance: 10,965.
Offenbecher makes up
for interception
By ROLAND A. DREUSSI
Independent Sports Editor
"At first I thought 'on, no,' then I saw the flag and felt relief."
That was how Tiger junior quarterback Brent Offenbecher said he felt after he saw his wobbly pass intercepted and run back for a touchdown by Niles' Dan Giangardella in the third quarter.
FORTUNATELY for the Tigers, a clipping penalty brought the play back and Tony Matie recovered a Red Dragon fumble two plays later.
"It was just a bad pass," Offenbecher said. "I got a lot of pressure and tried to throw it over their heads and it didn't make it. We got a lucky break," he added, referring to the clip.
"I knew when I went to the sidelines my dad (quarterback and receiver coach Bill Offenbecher) would yell at me."
As it turned out, Brent more than made up for his mistake as he set a Tiger record of 12 completions in one game, hitting 12 of 18 passes for 166 yards and two touchdowns.
That broke the mark of 11 completions he set two weeks ago against Gahanna Lincoln.
IT ALSO moves him into fourth place on the all-time completions list for a season, with six games left to play.
How does be take his record‑breaking success?
"My dad told me about it first, but I didn't know whether to believe him or not. Then I read it in the paper," Brent explained.
"Massillon has just never been known for its passing. Then coach Currence brought it in," is how he passed off his records.
"I also have super receivers (Mark Pringle, Curtis Strawder, Bobby Grizzard, Mike Grove and Eric Clendening)."
Brent said he missed having Pringle to throw to in the first two games. "We missed him a lot, He's a big, fast target – he's just super."