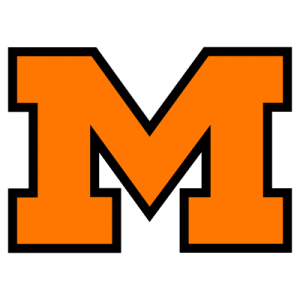 Danzy, Harmon pace Tigers' 23-7 win
By CHUCK HESS JR. Independent Sports Editor
" This could be the start of something big" was the way a popular record of several years back put it.
After three weeks of frustration the Tigers shifted their ground game into high gear Friday night at Tiger Stadium and trounced Niles McKinley's Red Dragons 23-7 before 15,118 the season's largest turnout—in one of the fastest games ever played here.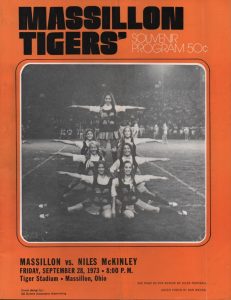 WITH SENIOR tailback Charles Danzy and sophomore full back Bill Harmon both back after nursing ankle injuries, the fans saw on of the best inside- outside show: seen in quite awhile at the "House of Champions." The Washington High School team gained 222 yards to Niles' 88 and ate up 32.18 to the Dragon' 15:42 on the clock.
Danzy, dancing the perimeter, gained 126 yards—losing none in 21 attempts—and ran for two conversions. On his second PAT he dove at junior safety Dirk Abernathy and caromed off him into the end zone.
Harmon, pulverizing the middle, netting 55 yards—losing only three in 16 carries—keeping the Niles defense honest. The Danzy-Harmon panzer attack accounted for 181 yards of the Tigers' beautiful acreage.
Credit senior center Joe Studer, senior right guard Mark Fenton and senior right tackle Bruce Chapman with opening the holes.
Senior tailback Terry Henderson spelled Danzy beautifully when he was given some relief from his tailback-linebacker duties. Henderson also threw a 17-yard halfback pass to senior wingback Charlie Swann to complete the scoring after junior quarterback Greg Wood had sneaked in from the one for 8-7 and 16-7 leads in the second and fourth quarters respectively.
Henderson's halfback pass was the same play on which the Tigers had scored TD on the Dragons last year, according to head coach Bob Commings. He has used this play twice in two years
THE TIGERS might have had three other scores ad not broken plays stopped them at the Niles 27-yard line in the second and third quarters and the clock run out with the ball on the Dragons' 22 after free safety Swann's 19-yard interception runback in the fourth quarter.
The Tigers might not have run out of plays on the second quarter drive had not Mark Pifer's 62-yard punt return to the Niles 21 been ruined by a clipping penalty which set the Orange and Black back to the Dragons' 49.
The Massillon faithful got a jolt in the first quarter when Abernathy recovered Danzy's fumble on the Tigers' 43. Nine plays later senior Jeff Monos boot legged to the left on a counter keeper and scored from the five with 3:51 left. Senior Chris Mackey soccer kicked the conversion for a 7-0 lead.
A scare came when linebacker Clark West picked off Wood's pass to Jeff Huffman at the Niles 45 and ran 43 yards to the Tiger's 12. Two plays later Monos tried to pass from the 18, got hit by end Vince DiLoreto, fumbled and Bill Csonka recovered on the Niles'33.
"That was the turning point of the game," a bitterly disappointed Niles coach Tony Napolet said. "We were in a jet out pass maneuver. I called the wrong play. We were in field goal position and I have every faith Mackey could have kicked one and put us ahead 10-8."
DILORETO PUT the Orange and Black in position for their final TD when he jarred Mackey on an option pitch from the Niles 24 and DiLoreto and strong safety Denny Gutshall leaped on the ball. Three plays later Henderson passed to Swann, followed by Senior Alan Bilks, conversion kick with 32 seconds left.
"We got close to playing a complete football game," Commings said. "We've gone two consecutive weeks with great emotional effort. I think maybe we became a football team tonight."
The Tigers' regular season winning streak is at 16 with four this season. Niles is 2-2 after the All- American Conference opener which was also the defending champions Massillonians' debut.
NILES -7
Ends- Shirley, Williams, Lokash, Montivideo, Paris.
Tackles- Hojnik, Hensley, R. Giancola.
Guards- Chrestay, Jeff Klenvic, Profoto
Center- Bokan, Jim Klenovic.
Quarterback- Monos.
Halfbacks- West, Mackey, DeChristofaro, Malone.
Fullback- Mowery.
Defensive halfback- Cicero, Abernathey, Malone.
Punter- M. Palante.
Massillon 23
Ends- Huffman, T. Gitshall, T. Lemons
Tackles- Lee, Csonka, Chapman, Rich
Guards- Fenton, Schumacher, Graber.
Center- Studer
Quarterback- Wood.
Halfbacks- Danzy, Swann, Henderson.
Fullbacks- Harmon, Waldrop, McGuire.
Defensive ends- DiLoreto, Venables.
Middle Guard- A. Lemon
Defensive halfback- Mayor, Swann, D. Gutshall, Pifer, Dailey, Snell, Herring.
Placekickers- Binks, Limbach.
Holder- Bickford.
Punter- Keller.
Niles 7 0 0 0 7
Massillon 0 8 0 15 23
N- Jeff Monos 5 run (Chris Mackey kick): M- Greg Wood 1 run, (Charles Danzy); M- Wood 1 run (Danzy run); m- Charlie Swann 17 pass from Terry Henderson (Binks kick).
Referee- James Keffer; umpire- Ed Steinkerchner; headlinesman- Milo Lukity; Field judge- Hugh Davis; back judge- Frank Wahl.
M
N
First dwns-rush
14
4
First dwns-pass
1
1
Total first downs
15
5
Yds gnds rush
232
82
Yds lost rush
28
4
Net yds gnd rush
205
78
Net yds gnd pass
17
10
Total yds gnd
222
88
Pass completed
1-6
1-6
Pass intercepted
1
1
Ydg on pass inter
15
43
Kickoff ave (yds)
4-47
5-34
Kickoff ret (yds)
24
46
Punt ave (yds)
2-40
5-34
Punt ret (yds)
52
8
Fumbles lost
1-2
3-4
Yds penalized
3-25
2-10
To num of plays
64
37
Elapsed time
32:18
15:42