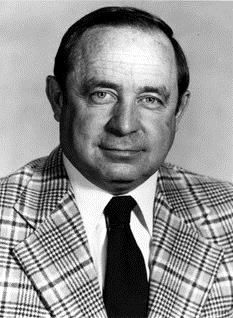 He was only in Massillon for a brief amount of time, but Earle Bruce left an indelible mark on this town with his success on the football field, compiling a 20-0 win-loss record and capturing two Ohio High School State Championships.  He died at 87.
Having prepped with stints at Mansfield, Salem and Sandusky, Bruce took over the Massillon job in 1964, replacing long-time, highly successful coach Leo Strang, who had moved on to Kent State.  But it didn't take long for Bruce to experience the pressure to win.  Following a rocky start against Cleveland East, Game No. 2 was slated against Niles McKinley, which owned a 48-game winning streak and had topped the Tigers in the state championship voting just a few years before when both teams finished undefeated.  The venue was the Akron Rubber Bowl, selected as a neutral site for this intense battle.  After falling behind 8-0 early in the second quarter, Massillon fought back to take a 14-8 lead by halftime.  And that score stood up in front of a near-capacity crowd of 30,128.  After the game, Earle Bruce stated that "it was night I became a Tiger."
The comeback victory was characteristic of several more games to come that season, particularly the one against Canton McKinley.  Both teams entered the season finale with 9-0 marks, with Massillon No. 1 and the Bulldogs No. 2 in the A.P. Poll. The interest in the game was so high that a Cleveland television station opted to broadcast it live throughout northeast Ohio.  After falling behind 14-0 at the half, the Tigers roared back to score 20 fourth-quarter points behind backup quarterback Dave Sheegog to pull out a 20-14 win, capturing the state title and finishing second in the national poll.  For the year, Massillon scored 297 points (a high amount for that era) and gave up just 46.
Season No. 2 for Bruce went a little easier, but again it was a déjà vu struggle against Canton McKinley, with the Tigers again falling behind 14-0 by halftime.  This time, however, the comeback starter earlier and Massillon escaped with an 18-14 victory and another state title.  It was also Bruce's 43rd consecutive win.  Looking back later, Bruce said that he felt more pressure to win the Massillon-McKinley game than he ever did when facing Michigan while at Ohio State.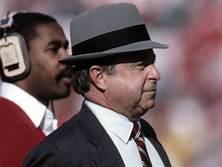 The predominant characteristic of Bruce's teams was defense.  In 20 games his teams surrendered just 126 points or just six points per game.  They also recorded nine shutouts and only one team scored more than twice.  Offensively, no opponent held the Tigers to less than two touchdowns.  His methodical full house T, grind-em out offense was the rule of the day and the "smash mouth" football style seemed to be the right formula for this future Buckeye boss.
Based on his success in Tigertown, Ohio State Coach Woody Hayes hired Bruce away to become an assistant coach.  Bruce stayed six years there and left to become the head coach of Tampa, but stayed for just a single year, finishing 9-1.  This writer particularly remembers his close win in the Rubber Bowl against the Akron Zips.  The next stop was head coach of Iowa State (current position of former Perry player Matt Campbell).  Following Hayes dismissal by OSU, Bruce took over the reigns there for the next nine years.  He finished his college coaching with short tenures at Northern Iowa and Colorado State before moving on to the professional American Football League.
By the end of his career Earle Bruce had compiled high school mark of 82-12-3 and a collegiate mark of 154-90-2.  But for Massillon, he will always be remembered for his two unbeaten seasons and a pair of state titles. And he was also a superb gentleman off the field.  Earl will be missed.