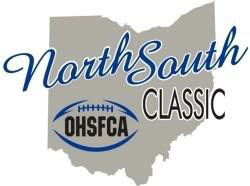 Ohio – The Ohio high school football 73rd annual North South Classic all-star game will be held on Saturday, April 28, 2018 in Massillon, Ohio at Washington High School's Paul Brown Tiger Stadium. The North South Classic is contested between the top senior football players in the state of Ohio as selected by the Ohio High School Football Coaches Association.
Two games will be played. The first at 12:00 noon, featuring senior athletes from high school football divisions IV, V, VI and VII. The second at 4:00 p.m., featuring senior athletes from high school football divisions I, II and III.
Team Rosters:
North Team DI-III Roster     South Team DI-III Roster     North Team DIV-VII Roster     South Team DIV-VII Roster
A $10 ticket includes admission to both games and can be purchased online at massillontigersathletics.org (direct link https://ticketracker.com/store?schoolId=1360&departmentId=190), or at the gates on game day.
First held in 1946, the North South Classic is the nation's oldest-running high school football all-star game. The game boasts a legacy of top athletes who have participated in it over the years, including Pro Football Hall of Famers Len Dawson, Roger Staubach, Jack Lambert, Alan Page, Larry Csonka and Paul Warfield.
The Ohio High School Football Coaches Association operates the North South Classic with the support of Tournament Director Steve Channel, Head Football Coach at Miamisburg High School. The game is supported locally by professional staff and volunteers from Visit Canton, the City of Massillon, the Massillon City School District and Ohio's Region 7 high school football coaches.
Event sponsors from Massillon and the greater Stark County business community include: Visit Canton, The City of Massillon, Pro Football Hall of Fame, Aultman Sports Medicine, Massillon Parks & Recreation Department, The Canton Repository, Massillon Eagles Aerie #190, Donatos Pizza, Buffalo Wild Wings in Massillon, Kimble Recycling & Disposal, Papa John's Pizza in Massillon, Farmers National Bank, New-Talk 1480 WHBC, Massillon Washington High School Alumni Association, Up in Smoke BBQ and Catering, TIG Grille & Catering, Smiley's Ristorante & Pizzeria, Bella Sera Pizzeria, Mid's Homestyle Pasta Sauces, and Farris Produce Inc. For more information on becoming an event sponsor contact Mary Vlahos, Vice President of Sales at Visit Canton, at MaryV@VisitCanton.com or 330.454.1439.
CONTACTS:
Steve Channell, Region XV Director/All Star Game Coordinator, schannell@miamisburg.k12.oh.us
James France, President – Ohio High School Football Coaches Association, james.france@manchester-panthers.org Tony Carr, Region VII Director – Ohio High School Football Coaches Association, Phone, tony.carr@perrylocal.org