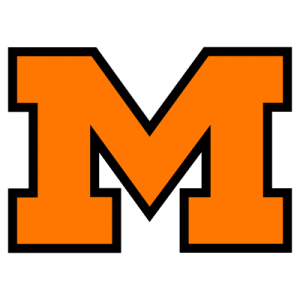 Hard day's night in Tigertown
Garfield rally provides 14‑13 upset
By STEVE DOERSCHUK
Independent Sports Editor
It rained Friday, hard enough, maybe, to wash tomorrow into today. For the Massillon Tigers, 14‑13 losers to Akron Garfield, tomorrow got here too soon.
"I told the team before the season, " Tiger head coach Jack Rose said after his football team fell to 2‑1, "we would face a crisis sometime this season. "Obviously, it got here with this game. It's tough."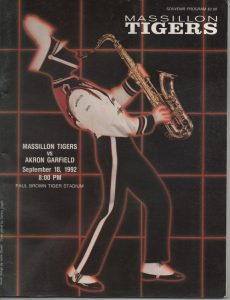 "But," added Rose, "I really feel we'll bounce back. We'll have a good week of practice. Our kids will play hard … they'll play as well as they can against Moeller."
Cincinnati Moeller, 6‑0 in the all‑time series against the Tigers will pay a visit next Saturday to Paul Brown Tiger Stadium, where 9,950 saw last night's game.
Meanwhile, tomorrow couldn't have arrived at a better time for Garfield. "We use a lot of two‑way players," explained Garfield head coach Bill McGee. "We want October to get here. Tonight felt like October." It felt that way because of the rain, because it was cool. Consequently, some of the energy the two‑platoon Tigers might have sapped from the Rams on a hot day hung around.
It was there after the Tigers broke a 7‑7 halftime tie with a touchdown in the middle of the third quarter.
Garfield marched 59 yards after the ensuing kickoff . Junior running back Frank Idley scored from nine yards out with 2:25 left in the third quarter. Since the Tigers had misfired on the previous extra‑point kick attempt, Garfield's Mark Glockner was able to give his team a 14‑13 lead by booting it through when it was his turn.
When the Tigers couldn't keep moving on a fourth-quarter drive that pushed the ball to the Garfield 15‑yard line, the Rams toughened up and rode out the 14‑13 lead until it was the final score.
The rain couldn't wash away yesterday. Not for Garfield's senior quarterback, Joe Nemith. Nemith said a recurring thought kept flashing through his mind throughout the game. "Sixty to 13," was the thought, he said. "That's all … 60 to 13."
That was the score by which the Rams lost to the Tigers in 1991. "Our kids were highly motivated by that 60‑13 theme," McGee said. "It was real embarrassing for us … not that Massillon ran it up, or anything like that. We just had one of our poorer teams."
This year's team is different. It has at least five seniors with a shot at landing a Division I college scholarship. It has sophomores who should keep the 2‑8 nightmare that was the 1991 season from happening again soon .
'
"I've said all along they play harder this year," Rose said. "They have a lot of talent. They have good speed and good balance."
McGee, who says the goal of his team (now 2‑1) is to win the 1992 state title, returned the compliment. "I underestimated how physical a team Massillon is," he said. "That was one of the harder‑hitting games we've played in a long time."
There were a few hard feelings afterward. Most of Garfield's players punctuated their post‑game celebration by dancing on the Obie the Tiger insignia on the middle of Massillon's sand‑turf field.
By that time, most of the Tigers were near the locker room. Some of them saw the celebration and went out to meet it. There was some shoving, but the mini‑melee was quickly broken up. McGee didn't endorse the actions of his team. "Get your fat (butt) back to the locker room," he told one of his linemen.
But he understood it. "That was all about something that happened before the game," he said. "Their players all congregated on the tiger. The problem was, they cross the 50‑yard line and pushed some of our players out of the way to do it."
There were also some hard feelings in the stands. Some directed their anger at Rose, who is in his first year as Tiger head coach. "Go back to Kent State," a few of them yelled. Rose was an assistant coach at Kent State before becoming the Tigers' defensive coordinator in 1991.
The loss was tough on Rose. He looked like a man who had been up all night in the postgame locker room. But he is a tough man. He was composed as he assessed the loss.
"The main thing," he said, "was that we kept shooting ourselves in the foot … penalties … turnovers … mistakes."
The game was tense throughout. Garfield woke up the crowd right away when sophomore sensation Antoine Winfield returned the opening kickoff from his 8‑yard line to the Tigers' 5 before Dan Hackenbracht brought him down. A clipping penalty on the return put the ball on Massillon's 25, but Garfield needed only five plays to run it in. On third down from the 7, Winfield lined up at left halfback in the T‑formation (three back) offense, took an inside handoff, and streaked up the middle for a touchdown. Glockner's kick made it 7‑0.
The Tigers wound up with only three first‑half possessions, which will happen against a good ball‑control team. They made it to the Garfield 15 on the first and to the Garfield 32 on the second, but didn't score until the third.
Quarterback Mike Danzy threw a 31‑yard touchdown pass to tight end Todd Peters with 1:32 left in the half. Peters ran an end zone route and Danzy hit him with a well‑thrown bomb that barely eluded the sophomore, Winfield, who was streaking in front of him.
Jason Brown's kick created a 7‑all halftime score.
Early in the third quarter, Tiger cornerback Scott Brediger recovered a Winfield (yes, the soph plays running back, too) fumble at the Garfield 35.
A holding penalty set up a third‑and‑19, and Danzy tried to hit flanker Alonzo Simpson on a post pattern near the goal line. Again it was the soph, Winfield, arriving on the scene to make the interception; however, Garfield was stuck with the ball on its own 4‑yard line.
Switching to running back, Winfield fumbled on second down and the Tigers' Joel Smith recovered at the 1. Tiger senior Eugene Copeland scored on the next play, but Brown's extra point try was wide left, and the Tigers led 13‑7 with 6:23 left in the third quarter.
Garfield drove 59 yards for the decisive points after the ensuing kickoff. A 9‑yard run by Frank Idley and the conversion kick made it 14‑13 with 2:25 left in the third quarter,
Key plays were a pair of 13‑yard completions from Nemith to senior end Eugene Lewis.
"They were bringing a strong safety to the strong side and I was throwing to the short side," Nemith said. "We were in a spread formation and we'd send the tight end to the flats, up the seam.
Garfield then pulled a stunner by onside kicking, but the Tigers recovered near midfield.
The Tigers spent the end of the third quarter and the beginning of the fourth quarter driving the ball ‑ running it, mostly. A bootleg run of 17 yards gave the Tigers a first down on the 16. But two runs for a total of one yard and a holding penalty stalled the drive, then Danzy was sacked for a 19‑yard loss that was nearly worse than that. Danzy threw while he was going down and the ball was picked off by a Garfield lineman who would've had clear sailing to the end zone. The Tiger quarterback, though, was ruled down, as McGee scolded a Ram assistant coach who blew his stack over the ruling.
Garfield then staged a drive reminscent of 1987, the last time the Rams beat the Tigers. They completed a pass to loosen things up and otherwise used Idley and Winfield on runs. They took the ball from their own 17 to the Tiger 16. There was 2:43 left when B.J. Payne stopped Idley at the 16 on fourth down.
Danzy scrambled for a yard, then threw three incomplete passes. On fourth down, Danzy lobbed what seemed destined for a completion to Peters, but there he was again ‑Winfield ‑ flashing in to knock away the pass.
Garfield took over and ran out the clock. The Rams wound up with a 213‑160 advantage in total offensive yards. They got away with gridiron murder, fumbling six times, losing four of the cough‑ups. Idley was the workhorse, rushing 87 yards in 23 carries. Nemith didn't pass much, but he did it effectively ‑ 5‑for‑6 for 58 yards.
Tiger running back Andre Stinson left the game in the first half with a bruised thigh and was replaced by Hackenbracht. Stinson returned in the second half and wound up with 48 yards in 11 carries. Hackenbracht was the Tigers' second‑leading rusher with 42 yards in eight carries.
"It was a good game," con­cluded Garfield's coach, McGee. "We're a good team. We win here occasionally."
The Tigers, meanwhile, are a team facing a crisis: trying to rebound from a tough loss, and having to do it against Cincinna­ti Moeller.
GARFIELD 14
MASSILLON 13
M G
First downs rushing 8 10
First downs passing 2 4
First downs by penalty 1 1
Totals first downs 11 15
Net yards rushing 116 155
Net yards passing 44 58
Total yards gained 160 213
Passes attempted 14 6
Passes completed 3 5
Passes int. by 0 1
Kickoff average 44.0 31.7
Kickoff return yards 39 111
Punts 2 2
Punting average 33.0 40.0
Punt return yards 8 0
Fumbles 2 6
Fumbles lost 1 4
Penalties 5 6
Yards penalized 44 55
Number of plays 47 55
Time of possession 18:27 29:33
Alliance 7 0 7 0 14
Massillon 7 0 6 0 13
G ‑ Winfield 7 run (Glockner kick)
M ‑ Peters 31 pass from Danzy (Brown kick)
M ‑ Copeland 1 run (kick failed)
G ‑ Idley 9 run (Glockner kick)
INDIVIDUAL STATISTICS
RUSHING
(M) Copeland 4‑12, Stinson 11 48, Danzy 5‑6, Seimetz 3‑7, Hackenbracht 842, Dixon 2‑1.
(G) Idley 23‑87, Campbell 3‑18, Nemith 8‑10, Winfield 15‑40.
PASSING
(M) Danzy 3‑14‑1, 44;
(G) Nemith 5‑6‑0, 58.
RECEIVING
(TD) Copeland 1‑5, Peters 2-39.
(G) Lewis 4‑42, Winfield 1‑16.