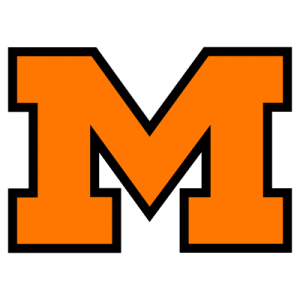 Massillon rallies again Tigers seem doomed, then rally for overtime win
By STEVE DOERSCHUK
Independent Sports Editor
It was over. Walsh Jesuit led 14-0 and had the game in the bag.
Then it was over again. Shut out through three quarters, Massillon caught some magic and led 21-14.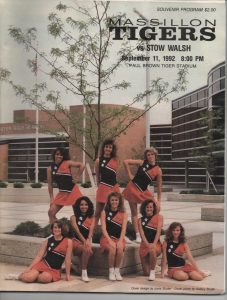 Roll over Beethoven. Walsh drove far and fast to make it 21-all and create overtime. Momentum City. Mo-town. Walsh stormed to the 1 in OT. It was over again.
On the other hand, Socrates (or Yogi Berra maybe), laid down the law long ago: It ain't over "til it's over.
A penalty made Walsh settle for a field goal and a 24-21 lead. Then the Tigers got their turn in overtime, and when it was real­ly over, they had won a 27-24 jaw-dropper in front of 11,731 at Paul Brown Tiger Stadium.
In high school overtimes, each team gets a turn to run its offense 20 yards from the goal line. If they're still tied after each team has taken a turn, they do it again. They could stay all night long taking turns.
However, Mike Danzy and Jerry May turned out the lights on the Warriors. Earlier, they had hooked up on a 59-yard touchdown pass. In overtime, on third-and-five with Walsh up by 3, they hooked up again. Danzy rolled right and threw a strike to May in the right corner of the end zone. All that was left was for May to wind up on the bottom of a flesh pile of celeb­rating teammates.
The Tigers, 2-0, locked them­selves in the locker room, sang the alma mater while standing on benches, and roared through a fire-breathing speech by head coach Jack Rose.
"This game," Rose told them, "is going to make you guys tough to beat."
Walsh, 1-1, has been through this before. In a 1989 playoff game, the Warriors led 24-7 in the third quarter before the Tigers staged one of the greatest comebacks in their history for a 42-24 win.
In some ways, last night's game was more dramatic than the 1989 gut-buster, maybe be­cause the '89 game wasn't close at the end … because the '92 game ended on the last play.
There were a lot of heroes, but then again, just one big Mr. Hero if you take a mouthful from Tiger senior Dan Hackenbracht to heart.
"We were playing OK until the fourth quarter, "Hackenbracht said. "Then everybody started playing for the team. There were no individuals play­ing out there. Just one team. There are no individuals on this " team. It's great to be a part of it.
"This game," Hackenbracht concluded, "really brought us together." A 75-yard punt return for a touchdown by Hackenbracht that created a 14-all tie with 4: 59 left in the fourth quarter helped the cause.
This from a guy who one week earlier couldn't hang on to a punt in a 17-8 win over Alliance. And, yes, the bobbles bothered him.
"I couldn't sleep all week," Hackenbracht said. "I didn't even know I'd be returning punts until tonight."
Rose stuck with him. "He's got a great ability to make that first tackler miss on a return," Rose said. "That's the key to breaking them."
Hackenbracht was playing safety when he set up a Walsh punt by knifing in to break up a third-down pass over the middle. After the play, Hackenbracht faced the Walsh bench and engaged in some pleasant conversation.
"A few of their guys were saying, "They don't want none … they ain't nothin," Hackenbracht said. "When I lined up to take the punt, I looked over to their bench. I saw three guys. Theycalled my name. I winked at them I just had a feeling.
"Then I just concentrated on looking the ball into my hands. I looked up and all I could see was a huge hole on the right. Then I saw gus throwing blocks. Eric Woods…Josh McElhaney. I don't know who else." He sprinted into the right corner of the end zone.
The turning point had come lake in the their quarter. Walsh had a 14-0 lead and was poised to put away the game after a late hit penalty gave the warriors the ball at the Massillon 31.
On first down, Tiger tackle Paul Schroeder intercepted a screen pass in the Walsh backfield and returned it to the Warrior 15, where he was run down by the intended receiver, Walsh tailback Andrae Martin.
"I just had a feeling about that play." Schroeder said. "The coaches told us that if their line looked like it was letting us through to the quarterback, watchout for the screen. The quarterback (Matt Smith) looked me right in the eyes. All I saw was his eyes. Then he looked away. Then he looked back to my side and threw it."
The Tigers took over late in the third quarter and wound up scoring with 9:30 left in the fourth … on fourth down from the 5 … on a diving catch card by Alonzo Simprion in the same spot where Hackenbracht scored on the punt return. And May caught the game winner in overtime.
Simpson's clutch catch, fol­lowed by Jason Brown's kick, made it 14-7.
Walsh's best player, 6-5, 245­-pound tight end/linebacker Mike Vrabel, hopped off the field with a badly sprained ank­le on the next series. Then the tailback, Martin, perhaps the second-best player, was carried off. Still, Walsh drove near mid­field before the Tigers made the defensive stop, setting up Hack­enbracht's punt return.
The breakaway TD ignited the crowd. The defense re­sponded with a quick stop. The Tigers got the ball back at their own 37 on a punt with 3:40 left. Walsh stopped two running plays, setting up a third-and­-six.
Danzy went back to pass and was rushed hard. "I was pretty close to getting sacked," Danzy said, "but God gave me the ability to use my feet, and I broke contain."
Meanwhile, May was getting open. "I started out as a decoy," May said. "I saw Mike was get­ting rushed on my side and watched. I got open and he threw a strike."
May put a nifty move on cornerback Brian Hopkins at the 35 to break into the clear. He dove into the end zone, did a belly smacker, then, as he put it, "puked."
The TD play covered 59 yards. Brown's kick made it 21-­14 with 2:17 left. Massillon athletic official Dave Null went to the locker room to help pre­pare for the victory celebration. He emerged after a few mo­ments saying, "What hap­pened?"
What happened was Smith, a second-year starter at quarter­back, kept his cool, completed some big passes (one a 17-yard completion on fourth-and-10), and drove Walsh 78 yards for a touchdown. Senior Chris McDonald caught a 27-yard touch­down pass with 19 seconds left. Junior Dave Regula converted the high-pressure kick to make it 21-all. Overtime.
The Tigers won the toss and elected to let Walsh's offense – get the first crack from the 20. Martin, back in the game, stormed for eight yards on each of the next two plays. Then Walsh used two plays to pound the ball to the 1 on third down. A critical illegal procedure call ruined the touchdown opportunity. Jake Reed and Woods made the de­fensive stop on third-and-goal from the six. Then Regula booted a 24-yard field goal to give Walsh a 24-21 lead.
The Tigers then got the ball on the 20. Andre Stinson, who wound up with 88 rushing yards after amassing 85 yards last week, hammered for seven yards to the 12, but then was thrown for a two-yard loss on a run around the left side. That made it third and five – third and the ball game.
The Massillon coaches had noticed Walsh's defense was paying special attention to the dangerous receiver, Simpson. They sent Simpson out on a curl.
"They were biting pretty hard (on fakes to Simpson)," noted Danzy. "Jerry was to go out and up (to the right corner of the end zone." "We hadn't run that play since last year," May said. "I was playing quarterback then and it was my favorite play."
The free safety left May and began to run toward Simpson, allowing May to break free. "It was a perfect throw," said May, who caught the ball on the run, alone, in the end zone.
Walsh had managed to take a 7-0 halftime lead despite the fact the Tigers led 17:17 to 6:43 in time of possession.
The Warriors scored with 8:17 left in the second quarter on a 33-yard pass from Smith to senior wingback Mark Mason. The drive covered seven plays and 65 of Walsh's 86 first-half yards.
Danzy's scrambling high­lighted a Tiger drive that seemed destined to tie the game at halftime. It was third-and-­goal from the 1 with 2:15 left when Walsh called a timeout.
Walsh tackle Chris Giordano dumped Danzy for a 5-yard loss, then Brown was wide right on a 28-yard field goal try. The play call, a Danzy run in which he started backward, had many fans scratching their heads.
Rose said Danzy's elusive­ness and the fact Walsh would be loaded up for an inside run (the Warriors wound up shifting Vrabel so he was nose-to-nose with 305-pound Tiger tackle Brandon Jackson) were behind the play call.
"I'm not going to second guess that one," he said.
The Tigers got the ball first in the third quarter and drove be­fore a fumble set up Walsh's second TD. The Warriors needed only five plays to cover 56 yards. The score came on an 18-yard pass from Smith to junior Brock Kreitzburg. Regula's kick made it 14-0 with 5:30 left in the third quarter.
The Tigers appeared to be in deep trouble.
Of course, it wasn't over.
By the time it was, Tigertown had gone head over heels for its '92 team.
MASSILLON 27
WALSH 24
M W
First downs rushing 10 7
First downs passing 5 8
First downs by penalty 1 2
Totals first downs 16 17
Net yards rushing 140 122
Net yards passing 135 181
Total yards gained 275 303
Passes attempted 17 25
Passes completed 8 8
Passes 2 2
Kickoff average 42.0 53.8
Kickoff return yards 80 38
Punts 1 4
Punting average 30.0 36.5
Punt return yards 100 0
Fumbles 2 0
Fumbles lost 1 0
Penalties 5 4
Yards penalized 45 30
Number of plays 63 58
Time of possession 27:41 20:19
Walsh 0 7 7 7 3 17
Massillon 0 0 0 21 6 27
W – Mason 33 pass from Smith (Regula kick)
W – Kreitzburg 18 pass from Smith (Regula kick)
M – Simpson 5 pass from Danzy (Brown kick)
M – Hackenbracht 75 punt return (Brown kick)
M – May 59 pass from Danzy (Brown kick)
W – McDonald 27 pass from Smith (Regula kick)
W – FG Regula 24
M – May 15 pass from Danzy
Individual statistics
Rushing
(M) Stinson 26-88, Danzy 11-41, Copeland 7-11, Seimetz 1 -0.
(W) Martin 14-59, Smith 9-42, Lloyd 9-21.
Passing
(M) Danzy 8-17-2, 135;
(A) Smith 8-25-2,181.
Receiving
(M) Simpson 3-30, May 2-74, Copeland 2-16, Griffith 1-15.
(W) McDonald 2-­62, Mason 2-49, Vrabel 2-38, Kreitzburg 1-18, Lloyd 1-14.