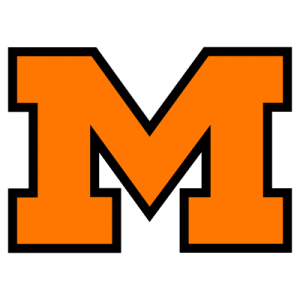 Massillon bows, Rose vows comeback
Moeller sinks Tigers to 2-2; tough test at Fitch up next
By STEVE DOERSCHUK
Independent Sports Editor
A trace of blood tinged the top of the "4" on Andre Collins' Cincinnati Moeller football jersey. Collins' team had just overcome the Massillon Tigers 24-14 in front of 16,762 at Paul Brown Tiger Stadium Saturday night. In the process, the big junior running back became a walking symbol of his team's series against the Massillon Tigers.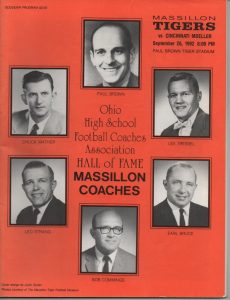 The outcome gave Moeller four victories over the Tigers in the last four years. The blood? Well, Moeller has extracted a pint or two from Tigertown. The Crusaders lead the all-time series seven games to none. A Collins has faced the Tigers in each of the last four games. In 1989 and '90, Moeller's hero was Andre's brother, Carlos. Andre has suited up the last two years.
Andre hasn't had the same impact as his brother. But the games have had a big impact on him. "This game means a lot," said Andre, his brother rooms with ex-Tiger Eric Wright at the University of Kentucky. "I feel sad that it's the last game between our teams. I enjoy playing here. Massillon has the greatest fans … probably in the nation."
In the 1970s, Moeller may well have had the greatest high school teams in the nation. That is no longer the case. But the Crusaders of the '90s are still a playoff-style team, if not an actual qualifier, every year.
Jack Rose's Tigers are 2-2 heading into a Friday night game at Austintown, where Massillon has lost three straight times. Rose's response to losing is anger and resolution. "We're going to come back," he told a large gathering of alumni late Saturday night at AMVETS Post 6.
Earlier, in the locker room after the loss, he vowed he and his staff will "get things to where we want them," which wasn't where they were Saturday. Yet, Rose conceded Moeller is an excellent team, well coached, more than adequately talented, and very smart.
If there were technical aspects of the game he could fault, he could not criticize his team's effort. "We played hard," Rose said, emphasizing the last word. "Our kids were really playing hard."
In terms of having a shot at Moeller in the final moments of the fourth quarter, this was the Tigers' second-best game of the series. In the 1990 game, Moeller won on a last-second touchdown recep­tion by Carlos Collins. In the '91 game, the Tigers led by a point at halftime but faded down the stretch.
In Saturday's battle, the Tigers put together a touchdown drive' that turned a 10-point deficit into a precarious 17-14 Moeller lead with 6:19 left in the game.
Moeller clinched the win on a toss to tailback Brian Balsly, who raced 44 yards down the right sideline for a touchdown. Balsly, who finished with 126 rushing yards, hobbled off the field earlier in the half. "It was back cramps," he said. "I just played through them when I got back in."
Moeller was coming off a loss to Covington Catholic. "That was a shame," said Moeller head coach Steve Klonne, still tortured by a phantom (he thought) roughing-the-­kicker call set up Covington's go-ahead touchdown. "This gets us back in the right frame of mind." "I think this will get us going," added Balsly. "I think we can go as far as we want to go"
The Tigers stopped Moeller in 'the early going Saturday. Massillon had the first pos­session and punted, then Moeller did the same thing. The Tigers then used eight plays to cover 67 yards for a touchdown.
The big plays were a third­-and-eight scramble for a first down by quarterback Mike Danzy, and a 49-yard Danzy-­to-Alonzo Simpson pass play. On this series, safety Dan Hackenbracht joined Andre Stinson to form the Tiger backfield. It was Hackenbracht who scored from two yards out on third adown, following blocks by Matt Orr and Mark Miller.
Jason Brown's kick made it 7-0 with 6:09 left in the first quarter.
The Tigers wound up with a 179-135 advantage in total offense in the first half. In the end, Moeller led 360-285.
The Crusaders began making inroads on their second posses­sion, on a drive consisting of runs of 8, 4, 3, 7, 5, 4, 6, 3 and 7 yards. There was only one pass in the mix, an incompletion that helped allow the Tigers to stop Moeller on fourth-and-one from the 18. Linebacker Jake Reed made the penetration that led to Andre Collins getting stopped.
The Tigers had a chance to take charge midway through the second quarter. A 35-yard run by Stinson gave them a first down on the 25. The chance pas­sed when Moeller held the Ti­gers right there on downs.
And, from there, Moeller cre­ated the field position that led to a tie at halftime. Moeller had perhaps its poorest passing night in the Massillon series, but the Crusaders did get a key 21-yard catch from 6-7 1/2-inch tight end Bob Brannen before having to punt deep into Massillon territory.
Following a Tiger punt, the Crusaders needed two plays to score from 54 yards out. Quar­terback Dan Feichtner found his favorite target, senior flanker Brad Hronek, for a 53-yard gain to the 1. Feichtner scored on the next play, and Brian Huston's kick made it 7-7 with two minutes left in the half.
The Tigers missed another opportunity with a fumble near the Moeller 20 in the closing seconds of the half.
"We thought we were in field goal range one play before that," Rose said. "We were trying to take one shot at the end zone before the kick. Obviously, it didn't work out."
Moeller went to work at the start of the third quarter, driv­ing 80 yards in nine plays – all runs. Feichtner again scored from a yard out. Huston's kick made it 14-7 with 6:52 left in the third quarter.
"They were real methodic­al," Rose said. "They were just taking it right at us, as we thought they would. Stopping them can be difficult. They're big, they move well, and they execute well."
Huston kicked a 20-yard field goal with 10:20 left in the game to make it 17-7.
The Tigers' next possession got life on a 22-yard scramble by Danzy to the Moeller 46. A 19-yard completion to Todd Pe­ters took the Tigers into scoring territory.
Simpson almost made a spec­tacular, comeback catch at the 2 on a ball ruled incomplete. But on fourth-and-five, Simpson cut from left to right, underneath the secondary, and caught a Danzy pass which he carried to the 2. "We put that play (the pass to Simpson) in for this game," Rose said.
Stinson scored from a yard out, Brown made the kick, and it was 17-14 with 6:19 left.
Moeller answered by moving 75 yards in six plays, the last of which was Balsly's game clinching 44-yard TD run.
Now the Tigers will try to re­bound against Fitch, which im­proved to 3-1 Saturday with a 33-25 win over Lakewood St. Ed­ward. Fitch was upset in its opener, 14-10 by Youngstown Chaney, but bounced back to de­feat Mentor 17-0 and Erie Prep 13-0.
MOELLER 24
MASSILLON 12
MA MO
First downs rushing 6 14
First downs passing 6 3
First downs by penalty 2 1
Totals first downs 14 18
Net yards rushing 157 257
Net yards passing 128 103
Total yards gained 285 360
Passes attempted 26 1
Passes completed 9 4
Passes int. by 0 0
Kickoff average 48.0 56.8
Kickoff return yards 70 50
Punts 4 3
Punting average 35.8 29.7
Punt return yards 12 14
Fumbles 2 1
Fumbles lost 1 0
Penalties 3 4
Yards penalized 35 40
Number of plays 63 57
Time of possession 22:14 25:46
Moeller 0 7 7 10 24
Massillon 7 0 0 7 14
MA – Hackenbracht 2 run (Brown kick)
MO – Feichtner 1 run (Huston kick)
MO – Feichtner 1 run (Huston kick)
MO – FG Huston 20
MA – Stinson 1 run (Brown kick)
MO – Balsly 44 run (Huston kick)
Individual statistics
Rushing
(MA) Copeland 9.39, Stinson 45, Danzy 15.62, Seimetz 1.9, Hackenbracht 42.
(MO) Lapham 10.42, Balsly 15.126, Collins 420, Bronner 8.73, Scholz 1-4, Feichtner 7 for minus-8.
Passing
(MA) Danzy 9-26-0, 128;
(MO) Feichtner 4-11-0, 103.
Receiving
(MA) Simpson 3-77, May 2-2 Copeland 1-8, Elder 1-3, Peters 2-11.
(MO) Hronek 2-69, Brannen 2-34.