Once-in-a-career play twice in one day
McKinley nips Tigers, misses playoffs
By STEVE DOERSCHUK
Independent Sports Editor
McKinley's 14-6 win over Massillon Saturday was a football student's football game.
Last year's was all day at Cedar Point on the tallest coaster 'til you're dizzy, Tigers 42-13.
This time it was a lot of Woody vs. Bo, rock ribbed running, smashing hits, tight all the way, every decision might mean the game.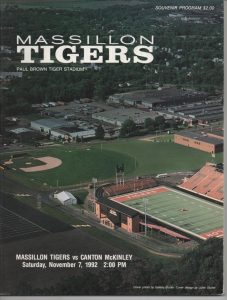 McKinley won it, really, on the double screen pass that sprang Che Bryant for a 57-yard touchdown.
Thom McDaniels has been McKinley's head coach since 1982. How many times has he used the double screen pass? "Twice," he said after the game witnessed by 17,863 at Paul Brown Tiger Stadium. "Once to day when it went for a short gain. Once today when it went for a touchdown."
Massillon led 3-0 at halftime on a 22-yard Jason Brown field goal. McKinley had a third-and-two on the first possession of the second half when McDaniels sent in the double screen. "We thought Massillon would have the regular screen pass pretty well defended," McDaniels said. "We thought it would help to add a wrinkle."
The wrinkle was to let the Tigers through to charge quarterback Joe Pukansky. Fullback Tremaine McElroy would be available as the dump-off man on the right side of the field. Tailback Che Bryant would be ready on the other side.
"I was just hoping we could get a first down out of it," Pukansky said. "They bit on the fake (to McElroy). It was open to Che's side."
It was wide open. Bryant caught the ball around the line of scrimmage, the McKinley 43, ran ahead down the left sideline for 10 yards, spotted a gaping hole, cut across the grain, and used what he says is 4.5 speed in the 40 to race untouched into the right corner of the south end zone.
"Joe Gallo (the center) threw a real good block," Bryant said. "Alfonso (Ash, the flanker) threw another one." Two Tigers were on the ground when Bryant made his cut.
"We knew McKinley was a good screen pas­sing team," Rose said. "I was disappointed with our defense on that play. We lost our pursuit angles."
Sophomore Josh McDaniels, the coach's son, booted the point-after to give McKinley a 7-3 lead with 9:55 left in the third quarter.
The Tigers relied on 5-foot-5 senior fullback Eugene Copeland to respond immediately. Copeland, whose best game of the season yielded 85 yards in 14 carries, ran 17 yards on a trap to the McKinley 40.
A 25-yard sideline pass from, Mike Danzy to Alonzo Simpson, both juniors, got the Tigers close. The possession boiled down to fourth-and goal from the 5.
Rose said he thought about going for the touch­down. But it was so early. He sent in Brown and got a 24-yard field goal. It was 7-6, McKinley, with 5:17 left in the third quarter.
Partly since backfield starters Bryant (6-3, 178, Jr.) and McElroy (6-2, 195, Sr.) double, as standouts on defense, McDaniels likes to give them a breather for one or two series each game., The backups are sturdy and quick, just like the starters. Fullback Jeremy Kirkpatrick (6-1, 207, Sr.) and tailback Denell Harris (6-1, 195, Jr.) ran McKinley into scoring position early in the fourth quarter.
However, Bryant was re-inserted on fourth-and-one from the Tiger 21-yard line.
Both teams used defensive shifts and blitzes, successfully. This time, Massillon safety Eric Woods inched up to the line before the snap, then shot the gap. Woods smashed Bryant to the turf, for a two-yard loss. The Tigers got the ball back with 10:24 left in the game. McKinley's lead remained one lonely point.
The Bulldog defense forced a punt, then the Tigers got McKinley in a fourth-and-one from just short of midfield with four minutes left. The Bulldogs acted as though they were going for a first down. Pukansky barked but the Tigers didn't bite. McKinley cal­led time out and lined up for a punt.
Rose disdained one' risk having to drive 80 or 90 yards with time running out – in favor of another. "We went for the block," he said. "Even if we didn't get the block, we'd have a good chance of forcing a bad punt."
Woods, who earlier had distracted Josh McDaniels into missing a 23-yard field goal attempt with a strong rush, was one of the shock troops assigned to go after the punt of junior Rob Pukansky, the quarterback's first cousin, and possibly McKinley's starting QB next year.
The Tigers got a bad punt out of it. It went off the side of my foot," Rob Pukansky said.
But Pukansky and Woods both wound up writhing in pain of the field, the aftermath of what became a roughing-the-­kicker penalty.
I felt the rush coming," Pukansky said. "When that happens, I just try to get the ball out of there, not worry about booming it or making it look pretty. I got hit right here (he pointed to his stomach)." Woods and Rob Pukansky both were helped from the field.
McKinley kept the ball, then drove. Harris, the backup tail­back, wound up crashing up the middle for 16 yards and a touch­down on a fourth-and-one play. Josh McDaniels' kick created the 14-6 final score with 50 seconds left.
McKinley improved to 9-1 but was denied a playoff bid. The Bulldogs needed to finish in the top four in Region 3, Division I. They came in seventh.
McKinley played the same strong schedule as usual but missed the tournament because four opponents they beat did not fare as well as usual: GlenOak (3-7), Warren (5-5), Boardman (4-6) and Massillon (5-5).
Copeland, with his 85 yards, and Bryant, with 92 yards in 18 carries to go along with the touchdown reception, were Saturday's leading offensive players.
Each team wound up throw­ing only nine passes. The Tigers came through an entire quarter without going to the airways.
On its first possession, Mas­sillon ran four plays and elected to punt on fourth-and-a-foot from its own 36. McKinley then punched the ball past midfield on an all­ running segment before a post pattern from Joe Pukansky to Ash netted 27 yards to the 8. Ti­ger defensive backs Dan Hackenbracht and Chad Buckland thwarted a third-down try for a touchdown pass, after which Josh McDaniels couldn't con­nect on a 23-yard field goal attempt.
The Tigers' first pass – on their first play of the second quarter – was a 19-yard Danzy­to-Simpson strike. That trig­gered a 50-yard drive from the Tiger 45 to the Bulldog 5, featur­ing a 22-yard run on a third-and-­12 quarterback draw by Danzy. Brown's 22-yard field goal came on fourth-and-goal from the 5 and gave the Tigers a 3-0 lead with 6:13 left in the first half.
McKinley wound up with a 327-173 lead in net offensive yards, a statistic belying the closeness of the game. Take away McKinley's yardage on the double screen and the yar­dage the Pups gained after the roughing-the-kicker call, and McKinley's edge was a modest 217-173.
The Tigers still lead the all-time series, 53-40-5.
MAS McK
First downs rushing 6 15
First downs passing 3 2
First downs by penalty 0 1
Totals first downs 9 18
Yards gained rushing 138 237
Yards lost rushing 15 6
Net yards rushing 123 231
Net yards passing 50 96
Total yards gained 173 327
Passes attempted 9 8
Passes completed 3 5
Interceptions 1 0
Times kicked off 3 3
Kickoff average 42.3 38.4
Punts 4 2
Kickoff return yards 22 11
Punting average 36.5 28.0
Punt return yards 1 0
Fumbles 0 0
Fumbles lost 0 0
Penalties 2 4
Yards penalized 21 20
Number of plays 40 60
Time of possession 18:43 29:17
Attendance 17,863
McKinley 0 0 7 7 14
Massillon 0 3 3 0 6
MAS – FG Brown 22
McK – Bryant 57 pass from Pukansy (McDaniels kick)
MAS – FG Brown 24
McK – Harris 16 run (McDaniels kick)
Individual statistics
Rushing
(Massillon) Copeland 14-85, Stinson 8-7, Danzy 7-31.
(McK) Bryant 18-92, McElroy 11-34, Pukansky 7-22, Harris 9-52, Kirkpatrick 5-32.
Passing
(Massillon) Danzy 3-9-1 50.
(McK) Pukansky 5-9-0 96.
Receiving
(Massillon) Simpson 2-44, Stinson 1-6.
(McK) Bryant 2-60, Ash 2-27, McElroy 1-9.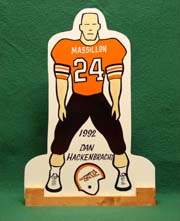 Dan Hackenbracht