On paper, call it even
Tigers have better offense, Dogs have the 'D
By STEVE DOERSCHUK
Independent Sports Editor
You want to play the Massillon ­McKinley football game on paper?
Since we have to wait until 2 p.m. Saturday to see it on the field, why not ?
OK, then.
On paper, Massillon has a slight edge on offense. McKinley has a clear edge on defense.
Between the lines, Massillon's edge on offense might be greater and McKinley's advantage on de­fense might be slighter since the Ti­gers have played a tougher sche­dule.
Massillon's offense has amassed 2,570 yards in 418 plays for an aver­age of 6.15 yards a play. McKinley's offense has netted 2,309 yards in 414 plays for a 5.6 average.
The teams have comparable rushing numbers: Massillon's 1,630 Yards at 5.7 a carry versus McKin­ley's 1,766 at 5.6 a pop.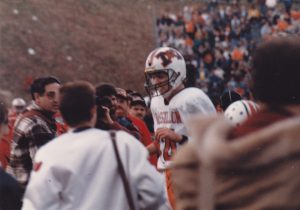 Massillon has a whopping advantage in the passing game. The Ti­gers have completed 61 of 127 passes for 940 yards, eight touchdowns and six interceptions, while the Bulldogs have connected on 38 of 95 for 543 yards, two touchdowns and 10 interceptions.
Massillon quarterback Erik White has completed 60 of 122 pas­ses for 883 yards, seven TDs and six interceptions. McKinley quarter­back Pat Lyon, who has started all but two games, has completed 26 of 71 for 384 yards, two touchdowns and eight interceptions.
Six Tiger receivers ‑ Myricks (10 for 228), Wrentie Martin (12 for 223), Mark Kester (11 for 153), Jason Stafford (9 for 127), Craig York (9 for 87) and Gerald Pope (5 for 64) ‑ have caught at least five passes.
Keith Smith (7 for 177) and Mike Hedrick (7 for 96) are the only Bull­dogs with more than five recep­tions.
So that's the offense.
What about the defense?
McKinley's has been better.
The Tiger defense has allowed 2,121 yards against its nine opponents. McKinley foes have gained only 1,399 yards.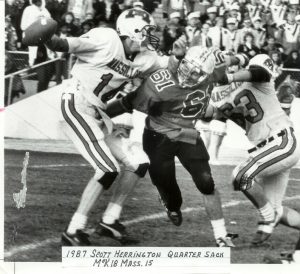 Massillon's running defense has surrendered 1,409 yards at 4.3 a car­ry. McKinley's rushing defense has yielded 862 yards at under 3.5 a tote.
Opponents have passed for 712 yards against Massillon and 537 yards against McKinley.
Elsewhere on the statistical charts, there are some uncanny similarities between the teams.
Both squads have fumbled 27 times. The Tigers have lost 14 of the bobbles. The Bulldogs have lost 11.
Both teams have intercepted 12 passes. McKinley's Mark Hedrick has picked off four errant throws. Massillon's Mark Kester has made three interceptions.
The Tigers' top ground gainer is Jerome Myricks with 989 yards in 155 carries at 6.4 a carry. The Bull­dogs' top rusher is Jeff Richardson with 145 carries for 970 yards at 6.7 a pop.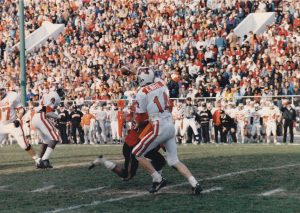 Massillon's No. 2 ground gainer Jason Stafford with 357 yards at 6.6 a carry, has out rushed McKinley's No. 2 man, Derrick Gordon with 259, yards at 6.8 per attempt.
But Massillon has no one else ­over 100 yards, while McKinley has DeVon Torrence with 156 yards in 17 carries, Kevin Campbell with 132 yards in 26 carries, and Lamuel Flowers with 116 yards in 28 carries.
Other Massillon rushers have included Shawn Ashcraft (8 for 57), David Ledwell (12 for 56), John Miller (11 for 55) and Vernon Riley (14 for 47).
Myricks leads the Tigers in scoring with 108 points. Richardson is McKinley's top dog with 68 points. Richardson is behind the pace of his junior season in rushing yards. He needs 200 yards on the nose Satur­day to match his 1986 total of 1,170 rushing yards for 10 games.
Those are the numbers. That's how it looks on paper.
Add it all up and this looks like a dead‑even match up.
Pups edge Tigers
Key play in first half 'was about an inch short of the goal line…
By STEVE DOERSCHUK
Independent Sports Editor
It still means everything to the McKinley Bulldogs to play the Massillon Tigers.
There's some solace in that for the Massillon team that got beat 18‑15 by McKinley Saturday.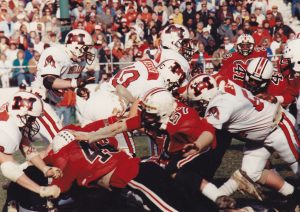 It was true that McKinley fans were rubbing it in that their Bulldogs had beaten the Tigers four straight times for the first time since before radio was invented.
It was true that many Massillon fans were wondering when their beloved men of orange will ever defeat the crimson‑clad team from Canton again.
It was also true that the McKinley coach, Thom McDaniels, had cried with his team after what had been a brutal slugfest was over.
You don't look like McDaniels looked ‑ like a man whose emotions had spent a week in a ringer washer unless the game means everything.
That is what Saturday's game meant to him. As such, it meant that Massillon still has McKinley's complete respect, if not its number.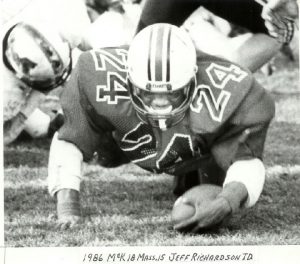 'We experienced a lot of things this year," said McDaniels, talking about the tumultuous things that accompany a less‑than‑perfect season in either the Canton or Massillon football communities.
McDaniels has been McKinley's head coach since 1982, the year after Terry Forbes steered the Bulldogs to the only big‑school state championship a Stark County team has ever won since the advent of the playoff era.
Such was the tumult of 1987 that his status at McKinley for 1988 is clouded.
McDaniels' team finished '87 with a 7‑3 record and missed the playoffs for the first time since his '84 team went 7‑3.
Saturday's setback gave Massillon a 1987 record of 6‑4, A pattern that has haunted John Maronto in his three years as Massillon's head coach ‑ playing tough, but failing just short against the elite teams ‑ held true again.
Both Maronto and McDaniels are saying their futures at their respective schools are up in the air.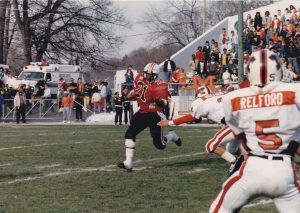 The Tigers stunned McKinley on the ground. After the Bulldogs stalled in three plays following the opening kickoff, Massillon set up at midfield.
From time to time under Maronto, the Tigers' first play has been a bomb. McKinley knows that and may have been sucked in when Tiger quarterback Erik White dropped back for an apparent pass. However, the was a sprint draw, with Myricks taking a handoff and going through a gaping hole up the middle.
"We wanted to get Jerome one‑on‑one with a defensive back on that play," Maronto said. "It was very well blocked by our players."
Myricks is a hard man to catch in the open field. This time, nobody caught him. He shifted smoothly to the left sideline and out ran McKinley's defense into the end zone for a 50‑yard touchdown run.
"We ran that play successfully the whole game," Maronto said. "Most of our blocking schemes were effective, especially behind John Woodlock and John Schilling. There were a lot of exciting plays and Jerome came very close to breaking the long one on several others."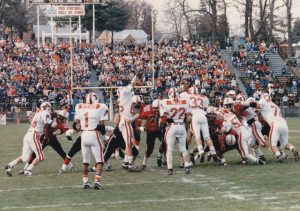 But while the Tigers were coming close to the big play, McKinley was making it. The Bulldogs used a running attack that netted 283 yards to score the game's next three touchdowns.
A 93‑yard drive capped by Bulldog quarterback Pat Lyon's 8‑yard pass to a wide‑open tight end, 6‑1 senior Dan Roshong, cut Massillon's lead to 7‑6 with 34 seconds left in the first quarter. The extra‑point kick was wide left.
McKinley got great field position on its next possession following a 19‑yard loss on which Tiger fullback Jason Stafford was caught on a reverse. A short punt enabled the Bulldogs to set up on the Tiger 38, and they scored three plays later when tailback Jeff Richardson took a pitch left and motored 24 yards for a touchdown.
McKinley pulled out to an 18‑7 lead by driving 63 yards for a TD on its first possession of the second half. Richardson went over the right side to score from four yards out.
The Tigers turned it into a thriller when White got hot late in the third quarter, launching a mostly passing, 72‑yard drive capped by Myricks' 6‑yard blast up the middle with 8:36 left in the game.
Since McKinley had failed on all three of its extra point tries, the Tigers had a chance to pull within a field goal of a tie by making a two‑point conversion. Jerome got the job done by running over Schilling and Woodlock on the right side, and it was 18‑15.
The Tigers, however, got the ball only once more, setting up on their own 18 after a punt and moving to the 30 on a diving 12‑yard reception by senior split end Craig York. Bulldog linebacker Scott Herrington sack­ed White for an 11‑yard loss to set up a punt, and the Bulldogs ran out the clock.
Save for a few inches, perhaps less, the game might have been drastically different.
The Tigers came up just short of the end zone when fullback John Miller, a secret weapon who had played the season primarily at inside linebacker, was stopped on fourth and goal from the 3 with 1:38 left in the first half.
Miller was so close to the goal line that White, the ­quarterback, signaled a touchdown.
"I was about an inch, maybe two, short of the goal line," Miller said.
"The films show it couldn't have been more than a couple inches," Maronto said. "The play was blocked successfully at the point of attack. (Defensive tackle) Robert Copenny came from nowhere to get just enough of John's legs to slow him down."
The drive had begun at the McKinley 31 on the kickoff following McKinley's go‑ahead touchdown. In fact, is was one of the more dramatic marches of the season.
McKINLEY 18
MASSILLON 15
MAS McK
First downs rushing 7 12
First downs passing 7 5
First downs by penalty 0 1
Totals first downs 14 18
Yards gained rushing 190 306
Yards lost rushing 52 23
Net yards rushing 138 283
Net yards passing 90 67
Total yards gained 228 350
Passes attempted 14 8
Passes completed 9 5
Passes int. by 0 0
Times kicked off 3 4
Kickoff average 49.0 41.8
Kickoff return yards 63 46
Punts 5 3
Punting average 26.4 32.3
Punt return yards 0 13
Fumbles 0 2
Fumbles lost 0 0
Penalties 3 5
Yards penalized 26 25
Number of plays 60 51
Time of possession 22:54 25:06
Attendance 17,500
MASSILLON 7 0 0 8 15
McKINLEY 6 6 6 0 18
Grid war lives up to reputation
Tigers fall short against Bulldogs
By STEVE DOERSCHUK
Independent Sports Editor
The good fight has been fought. And now the war between the cities is over.
"I did a lot of thinking about the game today," Massillon Tiger co-­captain John Miller said Sunday night, more than 24 hours after his football team fell 18‑15 to the McKinley Bulldogs. "Now I'll just try to forget about it. It's time to move on."
The Tigers scored on their first play from scrimmage Saturday when Jerome Myricks cut loose for a 50‑yard touchdown run. McKin­ley, however, used a ground assault that netted 283 yards to score a touchdown in each of the first three periods on their way to the win.
"It's a very tough loss for our football team and our program," Tiger head coach John Maronto said. "A lot of energy was expended to come up a couple of inches short. But the thing you have to under­stand is that our young men gave everything they had … and a little bit more. It was one of the best high school football games I've ever been involved in … certainly one of the hardest hitting."
Maronto, who has been under fire since last year's 23‑6 loss to McKin­ley, has a 20‑10 record in his three years at the Massillon helm. He has been haunted by a series of close defeats against powerful teams. The coach's three‑year contract ex­pires at the end of this school year, and there has been speculation he will not be offered a new pact.
As to his future in Massillon, Maronto said, "That remains to be seen." He said his thoughts are fo­cused on other areas right now. "I'm more concerned with look­ing out for the best interests of the graduating seniors," he said. "I want to make sure everyone has things in the right perspective in terms of next season. I'm most con­cerned with dealing with the team.
"This is the most successful 6‑4 team you could ever be involved with," Maronto added. "People have to agree that these players played the toughest Massillon sche­dule possible ever. They weren't more than an inch here or an inch there from being 9‑1. I'm pretty proud of the way this team played, the class they showed and the adversity it fought to overcome."
Miller, a surprise starter at full­back Saturday, and fellow co-captain Erik Moledor wound down Sunday by going to the movie "Hellraiser" at Lincoln Theater.
"It was kind of dumb," Miller admitted. Saturday's game had been kind of sensational. But in the Tigers' eyes, it had a "dumb ending," what with McKinley on top.
"There was some serious hitting going on," said Miller, who played inside linebacker in addition to full­back. "I mean serious. I've never seen anything quite like it. I'm a little sore today, but nothing major."
The Tigers finished their 1987 grid campaign with a 6‑4 record. It was only the sixth time since Paul Brown left town in 1940 that the team has endured as many as four losses in a season.
It also was the fourth straight set­back to McKinley, marking the second longest losing streak in the history of the series, which Massil­lon still leads 50‑38‑5. The Canton team won the first 11 games in the series, which began in 1894.
"We didn't have as good a season as we thought we would," Miller said. "We expected to go pretty far. I'm still glad I played on this team. I liked everybody on the squad. It was a great bunch."
Moledor, a senior defensive back, was keeping a stiff upper lip Sunday but remained in obvious disappoint­ment.
"I thought we gave it everything we had," said Moledor. "McKinley was pretty tough. Give 'em credit."
"We really worked hard together this year. I think that's the best thing we did … worked hard. Satur­day was tough. But I don't think there are any regrets."