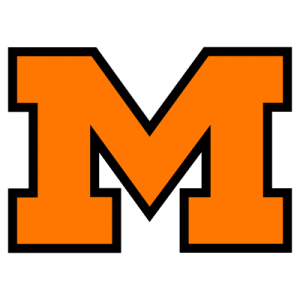 Place's Middies deal Tigers third loss
Middletown coach feels bad about 12-7 win: Massillon coach feels boos
By STEVE DOERSCHUK
Independent Sports Editor
Jim Place spent his formative years in Massillon. He knows.
He knows what it is like here after the third defeat of a football season.
Painful No. 3 came Friday night by a 12‑7 score as 7,254 looked on in Paul Brown Tiger Stadium. The victor, Middletown High's Middies, are coached by Place, who moved to Massillon when he was a fifth­ grader.
Place was telling someone on a locker room telephone. "Honest, I really never have."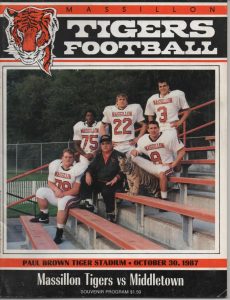 He was talking to Sonny Spiel­man, Massillon's assistant athletic director, who is recovering from surgery to remove a non‑malignant tumor from his pituitary gland. Spielman was one of Place's coaches at Central Catholic High School in the early 1960s.
The loss puzzled the Tigers, who were inexplicably flat in the first half, but still had a chance to win until near the end. It sent them into next Saturday's McKinley game needing a victory to post their third straight 7‑3 season. Middletown, 7-­1 needs to beat Lancaster next week to make the Division I play­offs.
Place told reporters more about his love for Massillon, where he once attended St. Joseph School.
"If I pick up a newspaper in Mid­dletown and see Massillon lost, I feel bad," he said. "There's some Massillon in me. I felt bad tonight for Coach (John) Maronto. I shook his hand after the game and wished him well."
The crowd was less sympathetic. The booing got loud late in the fourth quarter.
The Massillon dressing room was very quiet.
A reporter from Middletown asked Maronto if he thought a Mas­sillon fumble of the game‑opening kickoff was a turning point. The fumble led to a touchdown.
"I really don't think the fumble was a factor," Maronto said. "Mid­dletown played well and made no turnovers. (Tommy) Harkrader is a heck of a back. Their other back, (Duane) Gregory, is part of the quickness that hurt us. Frankly, they deserved to will.
"Middletown can play with the best team in any state at any time. Give them credit."
Dion Roberts, a 140‑pound Middletown senior, gets much of the credit.
It was Roberts who recovered Steve Siegenthaler's fumble of the opening kickoff at the 27‑yard line, setting up a 3‑yard touchdown run by the hard‑running Harkrader, a 6‑1 senior who will be playing some­where in the Big Ten (as his father and two brothers did) next year.
It was Roberts who intercepted Erik White's pass in the end zone with 9:07 left in the contest, snuffing out a furious threat that seemed destined to reverse a 9‑7 Middletown lead.
"This was our biggest win of the season, by far," said Jason Feczko, Middletown's record‑setting place ­kicker, whose two second‑half field goals overturned a 7‑6 Tiger lead at halftime.
This was a game in which the agony and the ecstasy happened in the wrong order for the Tigers.
The most exciting play of the season had left Massillon fans in glee­ful spirits early in the second quar­ter. The Tigers' first two posses­sions resulted in 11 modest gains on running plays. An incomplete pass left Massillon with a third‑and‑long from the Tiger 40.
White dropped back to pass and was about to be crushed by two Mid­dletown rushers when he flicked a little shovel pass to fullback Jason Stafford. Stafford used his sub-4.6 40‑yard dash speed to rocket through a huge gap in the middle. He cut left and easily out ran two Middletown defenders into the end zone for a 60‑yard touchdown that left the fans roaring.
Since Middletown's point‑after kick died in a fumble, Lee Hurst had a chance to give the Tigers the lead. Hurst's kick was perfect and the Ti­gers led 7‑6 with 10:30 left in the first half.
At halftime, the diminutive Greg­ory got the word. "They told me I was going to be running the ball more," the 151‑pound junior said.
Gregory squirted through the middle and around the outside all night. With his excellent speed and low center of gravity (he stands 5­6), the Tigers had a devil of a time bringing him down. He finished with 124 yards in 13 carries. Har­krader added 89 yards in 13 rushes. Quarterback Jason Tisdale, a bruising 191‑pounder who was also swift and deceptive, rushed S5 yards in 15 carries.
They were the men who enabled the Middies to drive 57 yards after taking the second‑half kickoff. The drive stalled at the 11, but Feczko's 27‑yard field goal gave Middletown a 9‑7 lead.
The 15‑play drive just about wiped out the third quarter. The field goal came with 4:31 left.
The Tigers proceeded to wipe out another big chunk of time ‑ and, almost, the lead ‑ after starting on their own 20 following the ensuing kickoff.
Senior tailback Jerome Myricks, who finished with 118 yards in 19 carries, finally got cooking after a so‑so first half. Runs of 9, 8, 10, 7, 14 and 10 yards by Myricks were the keys that gave the Tigers a first down on the Middletown 14-yard line.
The drive stalled on fourth down at the 8, and Hurst trotted on to the field to try a 25‑yard field goal that would give Massillon a 10‑9 lead. But Middletown gave the Tigers what shaped up as a huge gift when the right end jumped off sides. The miscue gave Massillon a first down at the 4, and the offense returned to the field.
On first down, Myricks was stop­ped for no gain by the middle of the line, On second down, Siegenthaler, getting his second rushing attempt of the season, was stopped for a 1-­yard gain to the 3. On third down, White rolled right but couldn't get away from two hard‑charging Mid­dies. Just before he was hit, White avoided the sack by unloading the ball into the right side of the end zone, Unfortunately, Roberts was waiting and came away with an easy interception.
Middletown's offense took over, unleashing Gregory, Harkrader and Tisdale on an all‑rushing drive that swallowed big chunks of time and yardage before halting on fourth down at the 21.
Feczko, who has made 13 of hi­s career field goal attempts and has range to 45 yards, drilled a 38­yarder to give the Middies their 12‑7 edge with 3:21 left.
Still, there was time … but at the end of an 8‑yard gain, Myricks fum­bled and Carlos Brooks recovered for Middletown with 2:27 left. On fourth‑and‑one with a minute left, Gregory blasted around left end for 14 yards to end all Tiger hopes.
Afterward, Harkrader was a happy man. "I've heard a lot about Massillon but I'd never seen them play," he said. "This means a lot. Our offense just overpowered them. They hit pretty hard, but I don't know if they were expecting us to hit as hard as we did."
Nor were the Tigers expecting the troubles they had with the pas­sing game. The shovel pass to Staf­ford was the only completion of the night in eight attempts.
"They were the first team all year that was able to take away our, passing attack," Maronto said.
The Middies didn't mount much of an air game, either, as Tisdale completed two of seven passes for 29 yards. However, Middletown used a 268‑149 advantage in rushing yardage to win the battle of net offense 277‑209.
As a result of McKinley's 14‑7 vic­tory over Glen0ak Friday night, the Bulldogs and Tigers will enter their annual showdown with 6‑3 re­cords.
"All I know is we've got a lot of' hard work to do," Maronto said. "We have to re‑evaluate and re­group. I'm certain of one thing. The team will come back and play their hearts out."
MIDDLETOWN 12
MASSILLON 7
MAS MID
First downs rushing 11 15
First downs passing 1 0
First downs by penalty 1 2
Total first downs 13 17
Yards gained rushing 151 274
Yards lost rushing 2 6
Net yards rushing 149 268
Net yards passing 60 9
Total yards gained 209 277
Passes attempted 8 7
Passes completed 1 2
Passes int. by 0 1
Times kicked off 2 4
Kickoff average 58.0 55.8
Kickoff return yards 30 48
Punts 3 1
Punting average 37.0 46.0
Punt return yards 0 0
Fumbles 4 0
Fumbles lost 2 0
Penalties 3 4
Yards penalized 30 29
Number of plays 39 50
Time of possession 18:38 29:22
Attendance 7,254
MIDDLETOWN 6 0 3 3 12
MASSILLON 0 7 0 0 7
MID ‑ Harkrader 3 run (kick failed)
MAS ‑ Stafford 60 pass from White (Hurst kick)
MID ‑ FG Feczko 27
MID ‑ FG Feczko 38