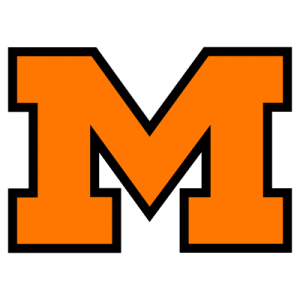 Muddy Myricks dusts GlenOak
By CHRIS TOMASSON
Repository sports writer
MASSILLON ‑ When it was over, Jerome Myricks looked like he had just emerged from a World War I trench.
In Massillon's 21‑0 win over GlenOak (2‑1) Friday night, Myricks, a senior tailback, gained 161 yards on 21 carries, scored two touchdowns, and carted about four pounds of the Paul Brown Tiger Stadium field back to the locker room.
With heavy rains having turned the field into a marsh, many of the GlenOak and Massillon players spent the night slipping and staggering all over. But Myricks had a method to keep himself afloat ‑ although his launderer won't believe it.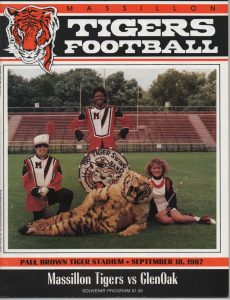 "With the field as bad as it was, I tried to put the weight on the outside of my foot so I'd be able to cut better," said Myricks, who scored four touchdowns against Altoona, Pa., last week, but called Friday's performance more satisfying.
"Jerome is such a fluid running back," said Massillon coach John Marontb. "He's able to take what he can see. He was patient and showed he has the ability to explode to daylight."
Myricks' first touchdown came midway through the first quarter on a 17‑yard run, which capped a 43‑yard drive. That was actually one of Myricks' few highlights of the first half, as he gained only 37 yards in the first 24 minutes.
Myricks only carried five times in the first half because the Tigers (2‑1) came out trying to throw against a GlenOak defense that did not allow a point in its first two games.
"We thought the way to beat them was to throw," Maronto said.
Massillon quarterback Erik White completed 4‑of‑7 passes in the first half, but one of the passes was an interception that halted the Tigers' first drive. And another of his passes was actually not a pass at all. Midway through the second quarter, White tried to hurl the mud‑caked ball, but it squirted out of his hand like a wet fish. Fortunately for Massillon, White pounced on the ball, or else GlenOak would have had first and 10 at the Tigers' 15,
So much for the passing game. White threw only three more passes in the final 2 1/2 quarters.
One of those passes produced Massillon's second touchdown, an 8‑yard throw from White to junior tailback Jason Stafford.
The Tigers' final score came on Myricks' second touchdown, a 36‑yard scamper with 4:20 remaining. It was a simple off‑tackle play, but Myricks shredded several tacklers at the line of scrimmage and whisked into the end zone.
As far as GlenOak's offense was concerned, it was nearly non‑existent. The Golden Eagles, who had mustered only 20 points in their first two games, seriously threatened only once.
Early in the second quarter, GlenOak had a first down at Massillon 15. But four plays lost five yards, and the Tigers took over on downs.
"We just couldn't get our offense going," said GlenOak coach Bob Commings, who coached Massillon from 1969‑73 and was trying to upset the Tigers for the second straight year. "But, hats off to Massillon, they deserved to win.
The Tigers accumulated 250 yards of total offense (209 on the ground), while holding GlenOak to 107 yards and six first downs.
Massillon gave up 305 yards in an opening‑game 22‑8 loss to Akron Garfield, but has since given up only 225 yards in its last two games.
"That Garfield loss was a fluke thing," said Massillon linebacker Scott Sampsel.
Maronto is never one to get over‑excited, but he's starting like what he's sees in this year's Massillon team.
"This team has a chance of being something special," he said. "They're showing a lot of character, determination and team togetherness.
GlenOak 0 0 0 0 0
Massillon 7 0 7 7 21
M ‑ Myricks 17 run (Hurst kick)
M ‑ Stafford 8 pass from White (Hurst kick)
M ‑ Myricks 36 run (Hurst Kick)
Tiger defense sheds
muddied reputation
Paybacks are sweet in
21 ‑ 0 win over GlenOak
By STEVE DOERSCHUK
Independent Sports Editor
Mud never tasted so good.
"Words can't explain how we feel," senior linebacker Scott Sampsel said after peeling a laundryman's nightmare off his back.
"We worked hard for this," said another linebacker, David Hackenbracht. "Now we have our paybacks."
Sampsel and Hackenbracht had just helped the Massillon Tigers whitewash the GlenOak Golden Eagles 21‑0 in a high school football game seen by 9,354 wet‑look fans at Paul Brown Tiger Stadium.
The outcome left both teams with 2‑1 records. Morn Nature couldn't figure out what she wanted. It drizzled at 7:30 p.m., poured at 7:50 p.m., and stopped raining altogether just before the 8:05 kickoff. It might as well have kept raining, since the game became a mud bath anyway.
The Tigers knew what they wanted. The paybacks were for Glen0ak's 9‑7 victory in 1986. Sampsel's joy was over a defense that is coming on like a thunderstorm.
Fourteen days earlier, Akron Garfield had run over the Tiger defense for 277 yards in a 22‑0 Ram romp. GlenOak found a few openings in the first half but got stonewalled in the second and wound up with just 107 offensive yards.
The Tigers, meanwhile, let Jerome Myricks follow good blocking and then blow by it. Of the 250 yards the Tiger offense gained, Myricks' signature was on all but 81. The scintillating senior slashed for 161 yards and two touchdowns on the ground, while also catching a pass for eight yards.
Myricks' running and receiving yards through three games give him 398 of the Tigers' 819 yards.
Massillon head coach John Maronto was asked to compare the defense that battled GlenOak to the one that faced Garfield.
"There's no comparison," he said without hesitation. "The defense has really started to come around. I don't think the reason goes any farther than having game experience. We had none then. Now we have some.
"You have to remember, we graduated a ton of starters on defense. Now we have guys who are gaining confidence. The confidence allows them to use their talents."
The game marked Bob Commings' fourth trip back to Tiger Stadium as GlenOak's head coach. The former Massillon head coach is now 1‑3 in games against the Tigers
"They deserved to win, that's obvious. But we came here to put pressure on them and we didn't put it on the way we wanted to, Commings said. "My hat is off to Massillon."
GlenOak senior Nick Guerierre, who rebounded from assorted injuries to start at quarterback, said he purposely sat out last week's game against Worthington to make sure he'd have a crack at the Tigers.
"If I only played in one game all year, I wanted it to be this one," said Guerriere, whose latest injury is torn back muscles, the previous ones having been a dislocated shoulder, a punctured lung and some battered ribs. "I thought about this game all year.
"We should have won, but we didn't finish some things we started," Guerierre said. "But Massillon is a good team, you've got to give them that. We're not finished, I can tell you that. We're still aiming for state."
The Tigers took the lead on a 17‑yard run around the right side by Myricks with 5:37 left in the first quarter. Lee Hurst's point‑after kick made it 7‑0.
The touchdown actually was set up by a GlenOak interception. On the game's first offensive series, Tiger quarterback Erik White completed three passes for 40 yards: Sensing openings in the secondary the Tigers went for the big play, a flag pattern they hoped would result in a 26‑yard touchdown. However, cornerback Darrin Carter intercepted White's pass on the run at the 1 and stepped out of bounds.
GlenOak hammered the ball to the 9 when on third‑and‑two Hackenbracht tracked down Guerierre on a rollout to the right and stopped him for no gain. Guerierre punted and the Tigers set up on the GlenOak 43‑yard line.
On second‑and-10, Myricks exploded up the middle for 10 yards, but the mud‑slicked ball squirted out of his grasp. Rather than hurting the Tigers, the fumble helped, as the Tigers recovered 8 yards downfield for a first down at the 24. Fullback Jason Stafford plowed for 7 yards, then Myricks covered the remaining 17, high‑stepping the last 8 yards into the end zone after breaking into the clear.
GlenOak responded, though, after setting up on its own 25 after the kickoff. Eleven runs by four ball carriers and a subsequent clipping penalty against the Tigers gave GlenOak a first down on the Massillon 15. As the tide was changing, Tiger tackle Bob Dunwiddie was being carried off the field after suffering a sprained ankle on the last play of the first quarter.
It was at that point the Tiger defense arose. Guerierre was dumped for a 4‑yard loss on first down. On second down, Dunwiddie's replacement, Maurice Clark, teamed with Tracy Liggett to sack Guerierre again. On third‑and‑16, the Eagles tried to trick the Tigers with a reverse, but speedster Troy Mastin was tracked down by the swift Myricks ‑yes, he played offense and defense ‑ on an open‑field tackle. The play lost a yard.
GlenOak went for it on fourth‑and‑17, but fullback Mike Hannen, running hard despite missing last Week's game with a sprained ankle, was held to an 8‑yard gain.
Three plays and a Massillon punt gave GlenOak the ball back at midfield. Four plays later, it was second‑and‑nine from the Tiger 37 when the Eagles made an apparent pass completion to the 20. However, GlenOak was flagged for an illegal man downfield, and the drive stalled.
With the Tigers leading 7‑0 at halftime, both bands played The Bangles' hit "Walk Like an Egyptian."
Taking the second‑half kickoff on the sea of mud the field had become, GlenOak was hoping to run, not walk, back into the game. Guerierre completed passes of 8 and 11 yards, then Hannen ran for 5 and 3 yards to advance the ball to the Massillon 47‑yaid line. On third‑and‑two, Hackenbracht and Clark again collaborated to throw Guerierre for a loss, this time on a keeper, and the Eagles had to punt.
Early in the third quarter, White lost the ball on what can best be described as a "Statue of Liberty" fumble. He had dropped back to pass, and the ball crazily squirted out of his upraised hand before he could bring his arm forward.
"When you have the field conditions we had and the ball is squirting around like that, you don't pass as much," Maronto said later.
The Tigers passed just once on a 12‑play, 83‑yard touchdown march that clinched the victory.
After GlenOak's opening drive in the second half stalled, Guerierre punted to the 17. The Tigers ran on 10 straight plays, with Myricks going 65 yards in eight carries and Stafford picking up 11 in two, to put he ball on the 7.
On third down from the 7, White eluded a heavy rush and flicked a swing pass to Stafford, who lunged and made a fingertip catch before belly‑flopping into the end zone.
Hurst's kick made it 14‑0 with 2:01 left in the third quarter.
A Hackenbracht sack and a Steve Siegenthaler interception helped keep GlenOak from, doing any more damage.
Meanwhile, Myricks added an insurance touchdown with only 4:20 left in the game when he ran up the middle, broke out of a pack of tacklers at the 29, and sped into the end zone. The play went for 36 yards. Hurst's kick completed the scoring.
"The thing I regret the most is that we gave up that last touchdown," said Commings, whose had said before the game, "I just hope we put on a good show, and I sincerely mean that."
Statistically speaking, Myricks put on a real show. Maronto credited his senior tailback's talents and some excellent blocking for the 161‑yard rushing day. Particularly effective in the blocking department were tackle John Schilling and tight ends Gerald Pope and Jeff Harig, the coach said.
Stafford is emerging as an effective fullback. He blocked well and gained 44 yards in 11 rushes while catching two passes for 20 yards.
White wound up throwing just nine passes, completing five for 56 yards and a touchdown. He was intercepted once. Pope and Wrentie Martin each caught a pass for 14 yards.
Guerierre completed three of six passes for 27 yards, with two interceptions. Hannen rushed 11 times for 52 yards before leaving the game when GlenOak had to go to a passing offense. GlenOak's second‑leading ball carrier, Craig Humphries, picked up just 20 yards in six carries.
The Tigers' next game will be in the Akron Rubber Bowl next Saturday against Barberton. GlenOak will play at Louisville next Friday. Barberton tickets were mailed Friday to Tiger season ticket holders who paid postage. Barberton tickets will go on sale Monday at the high school ticket office. Adult reserved seats cost $4. The student presale price is $2. Tickets will be on sale until 1:30 p.m. Friday.