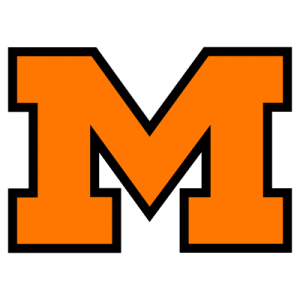 Tigers deliver another early KO
Irish are latest Foe to pay for season – opening defeat
By STEVE DOERSCHUK
Independent Sports Editor
Date: Sept. 4. Score: Akron Garfield 22, Massillon 8.
Diary entry: Somebody's gonna Pay.
Altoona, GlenOak, Barberton, Fitch and now Akron St. Vincent-St. Mary have paid.
The Washington High football team was so angry about what happened Sept. 4 that it won't let anybody in a game.
You want thrills in the final minutes Sorry. Brian Sipe lives in California.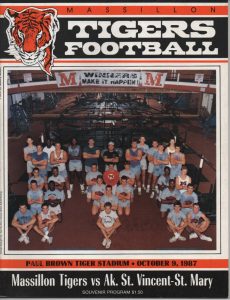 The latest foe to get knocked out early was Akron St. Vincent‑St. Mary. The Tigers decked the Irish with three quick touchdowns that produced a 21‑0 lead. They eventually bagged an easy 24‑12 win in front of 8,098 fans Friday night in Paul Brown Tiger Stadium.
Erik White passed for 150 yards and Jerome Myricks scored three more touchdowns and rushed for 106 yards in the Tigers' fifth straight win,
The Irish were good fighters. They finished with 276 offensive yards to Massillon's 277. They controlled the ball for 23 minutes and 38 seconds, just 44 seconds less the home team. But really, folks, it was over early.
"We have to keep working," said Mark Kester, one of White's ace receivers. "We have a lot of room to improve. We have a lot of tough games coming up. But we're real happy about what we've done."
These kids have a right to be happy. Here are more recent diary installments.
Sept. 12 ‑ Lead Altoona 20‑3 at halftime in easy 34‑3 win.
Sept. 18 ‑ Hit GlenOak with first quarter TD … never let Eagles sniff end zone in 21‑0 win.
Sept. 26 ‑ Jump on Barberton for 34‑7 lead. Crazy finish lets Magics score three TDs in final three minutes in 34‑28 win.
Oct. 3 ‑ Shoot to 24‑7 halftime vs. Fitch in 38‑29 win.
The Tigers haven't been perfect. But since Sept. 4, nobody has had a realistic shot at knocking them off in the waning minutes..
"We, played pretty well tonight against one of the tougher teams we've played," said 6‑foot‑4 senior linebacker Mark Freidly. "I really didn't think we let down after it was 21‑0. We try to go out there like it's 0‑0 in the second half. They were just a pretty tough team, up there with Glen0ak and Fitch.
"We've been improving week by week. We've got to keep it up."
Myricks keeps holding up his end. His three touchdowns Friday lifted his season total to 15. With 90 points through six games, he is within sight of the Tigers' top‑five single season points leaders of all time.
He won't catch Dutch Hill, who racked up 204 points in 1922. But he is within reach of Mike Mauger (152 in 1970), Heine Krier (149 in 1934), Bob Glass (137 in 1937) and Art Hastings (134 in 1960).
Massillon head coach John Maronto disdains talking about statistics.
He probably doesn't have to worry about Myricks ‑ a cool customer who seems to have an excellent sense of team ‑ getting a fat head.
"The team," Myricks said, "is getting more confident. I don't think anybody is getting a big head. We know we've got some tough games left to play. We know we have to improve."
Maronto sees the improvement. He concedes the Tiger's let down, "and that includes the coaches," after getting the big lead.
But we can't be anything but pleased," Maronto said. "The team we just beat 24‑12 is a team that beat Garfield."
Maronto said the offensive game plan was to pass on St. V's 4‑4 (eight men always close to the line) defense.
The first time Massillon got the ball was on its own 9‑yard line after a punt. The first three plays ‑ out of a hurry‑up offense to keep the Irish defense offguard ‑ were completions from White to Myricks, Jeff Harig and Wrentie Martin. After a 3‑yard run by fullback Jason Stafford, White found Kester for 10 yards. Myricks was held to a yard gain and a pass intended for Harig fell incomplete.
That made it third‑and‑nine 38 yards from the end zone. White dropped back to pass and the Tiger line released the St. V pass rushers on what became a beautifully set up screen pass. Just before the rush reached him, White dumped a little pass to a wide‑open Myricks, who got to the outside before several downfield defenders could meet him and raced down the left sideline into the end zone.
Lee Hurst's kick made it 7‑0 at the 5:32 mark of the first period.
Late in the first quarter, Tiger tackle Bob Dunwiddie jarred the ball loose from Irish back Phil Gori and Tiger defensive back Erik Moledor recovered on the St. V 30‑yard line. Myricks rushed for 11 yards and seemed angry he didn't make it more. On the next play, he went through the middle, spun away from two defenders who met him at the 13, and sprinted to the right corner of the end zone.
It was the sort of spectacular run that has become a weekly scene for Myricks.
"They didn't wrap their arms around me when they hit me," Myricks said "That's when I spun." Hurst's boot made it 14‑0 with 26 seconds left in the first quarter.
The Irish went 1‑2‑3‑punt and the Tigers took over near midfield. A 12‑yard run on a trap play by Myricks and a 17‑yard pass from White to Stafford were the key plays that put the ball on the 14, where it was first down. Myricks went through a gaping hole up the middle on the next play. He encountered resistance at the 5 but kept driving, finally spinning away from the last would‑be tackler at the 1 and making the end zone standing.
Hurst's kick made it 21‑0 with 6:48 .left in the half.
Kester was impressed with White's work on the drive. "He puts unbelievable touch on the ball," Kester said. "He's come such a long way."
White's fine half was tainted a bit late in the second period when, rather than taking a sack, he tried to pitch the ball to a teammate, but instead fumbled it away to St. V's Steve Nagy at the Tiger 35‑yard line. That set up a 5‑yard scoring pass from senior quarterback Mark Lenz to Mark Clevenger with just 18 seconds left in the first half. A two point conversion attempt failed and it was 21‑6 at the intermission.
The Tigers started from their own 40 after taking the second‑half kickoff and put together the drive that iced the victory. They ate up half the third quarter in driving to the 3, where Myricks was stopped for a 3‑yard loss on third down.
The Tigers settled for Hurst's 23‑yard field goal and led 24‑6 with 6:37 left in the third quarter.
The Irish made things a bit interesting by scoring on a 58‑yard drive late in the third quarter. The key play was a spectacular aerial hookup between Lenz and fullback Chris Littler on a play that covered 32 yards, Later, on first down from the 13, Lenz delivered a low flying bullet which Chris Markowski picked off his shoestrings in the end zone. The extra‑point kick failed and it was 24‑12 with 59 seconds left in the third quarter.
St. Vincent put together another impressive drive midway through the fourth quarter, marching from the Irish 36 to the Tiger 23. But on fourth‑and‑five, Littler was strung out on a sweep by Tiger defenders David Hackenbracht and Steve Siegenthaler and stuffed by inside linebacker John Miller three yards short of the first down.
The Tigers took over on downs with 7:22 left, and although the Irish got the ball back on a fumble with 3:42 remaining, it was too late for St. V.
One play after the Irish got the ball back, Lenz suffered a pulled hamstring muscle when he was pulled down by Siegenthaler a yard shy of a first down. Taking over at quarterback was Dave Houston, son of former Massillon All‑Ohioan Jim Houston.
Houston's first play was a rifle shot pass that was intercepted by Myricks. The play began the rush to the parking lot.
Irish head coach John Cistone, whose record against the Tigers fell to 0‑5, and whose season record dropped to 2‑4, was hardly crushed.
"We feel good about coming back on them," the 22nd‑year St. V mentor said. "We made a game of it. We moved the ball right along but we made some mistakes. We stopped ourselves.
"Massillon," Cistone added, "is a little more explosive on offense this year. Myricks is a talent. He has some great moves."
Despite the late Irish surge, Maronto said he was generally pleased with the work of the Tigers' defense.
"Defensively, we played at the level we're capable of playing," the coach said. "What put our defense in a hole a couple of times was our offense. I have a lot of confidence in our defense."
The Tigers held St V's leading rusher, Littler, to 55 yards in nine carries. Before leaving with his injury, Lenz completed nine of 15 passes for 126 yards.
The Tigers' White completed 12 of 22 passes for 150 yards. Myricks rushed 26 times for 106 yards and caught two passes for 54 yards. Senior split end Craig York had a good night, catching three passes for 22 yards. Kester finished with three receptions for 36 yards.
Next up for the Tigers is Warren Harding, which takes a 4‑1 record into a game against one of its big rivals, Niles, tonight.