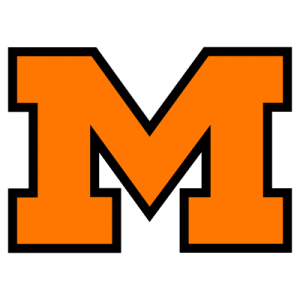 Garfield 'T' off against Tigers
Cuyahoga Falls to replace Rams on '88 Massillon schedule
By STEVE DOERSCHUK
Independent Sports Editor
Chris Spielman was the guy with the funny haircut, but "Mr. T" was a guy named Bill McGee Friday night in Paul Brown Tiger Stadium,
Spielman, the Ohio State headliner from Massillon, hit town to see his old team open its 1987 high school football season against the Akron Garfield Fighting Rams.
Spielman saw what he'd seen when he was a Massillon player ‑ a Tiger defeat ‑ as the Rams roared to a 22‑8 win before 12,079 fans.
"Mr. T" has struck again.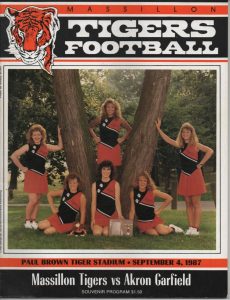 Garfield head coach McGee now has seen his troops topple the Tigers four times in the last five years, dating back to a 14‑10 win over Spielman and the '83 Tigers. McGee mostly has used the antiquated "T" formation in which a fullback and two halfbacks line up in a straight row behind the quarterback.
"Tailback? What's a tailback?" McGee deadpanned. "The 'T' is the only thing we know … well, we did use Charles Gladman as a tailback when we had him."
Because of Garfield, 1986 was the only time in the last five years the Tigers survived two weeks of football without at least one defeat.
If it happens again, it won't be because of Garfield. The Rams have been dropped from next year's Tiger schedule and replaced in the opening game with Cuyahoga Falls.
"It was their decision, not ours," McGee said. "The Cuyahoga Falls contract is only for one year. We'd like to resume the series in 1989."
Just now, Tiger head coach John Maronto says his only concern is bouncing back next Saturday against Altoona, Pa., which was tied 7‑7 by its arch‑rival Johnstown Friday night.
"We will be back," said an obviously disappointed Maronto. We have a team of real solid men. We'll find out a lot about ourselves next week."
Something was found out about Garfield Friday night ‑ the Rams have an awesome running attack.
Despite the fact the Tigers bounced back from an early 8‑0 deficit by tying the game 8‑8 at halftime, there was no shift in momentum.
Garfield used that "T" like a two ton piece of forged steel, driving for touchdowns on its first two possessions of the second half, and playing solid defense against a Massillon team whose decent passing attack did not get enough support from the running game.
"Passing is going to be part of the personality of the '87 Tigers," said Maronto, who watched quarterback Erik White complete 13 of 22 aerials for 155 yards. "But I'm not pleased with aspects of our running game. We weren't tough‑minded enough. We will have a better running game next week."
Led by 180‑pound junior John White, a starter at Akron North last year, the Rams amassed 277 rushing yards (at 6.2 yards a carry) to the Tigers 59 (at 2.4 per lug).
White, often the second man through the line on counter plays that troubled the Tigers, cut loose for 120 yards in 14 carries. Sophomore halfback Dwayne Martin added 74 yards in 14 carries. Senior fullback Dwayne Mitchell plowed 55 yards in 10 trips.
Even though third‑year starting quarterback Todd Johnson had no stats to speak of (he completed his only two passes for a modest 28 yards and ran seven times for 28 yards), he may have been the key to the whole works.
Prior to the game, referee Chet DiStefano got a friendly warning from a Massillon official "make sure you know who has the ball before you blow the whistle." Often, it was very hard to tell. Such were the deceptive abilities of Johnson, the magician.
Johnson had his own ideas as to why Garfield was able to win by two touchdowns and lead 305‑214 in total yardage.
"They used a lot of players both ways and we had 22 different guys in 22 different positions," he said. "We wore them down. It was obvious in the second half.
"But they're a good team, that's for sure. I guess that's why I feel pretty good right now … to beat a team like that. What a program this is, with all the fans. We don't have anything like this in Akron."
After the Tigers passed their way into scoring position in the first quarter on a drive that ended with a wide‑right 27‑yard field goal attempt, Garfield launched the game's first scoring drive.
The march overlapped the end of the first quarter and the early part of the second. It covered 72 yards on 11 plays, all on the ground. White, the transfer student, went the final eight yards up the in middle, getting hit at the three and diving into the end zone.
The subsequent PAT attempt was a bizarre play on which the ball was snapped over kicker Rob Balca's head. Balca scrambled to get the ball with Tiger Jason Relford in hot pursuit. He scooped it up, heaved a pass at nobody in particular, and jumped in the air as it landed in the hands of an unsuspecting Steve McGee, the coach's son, for a two point conversion.
Massillon bounced back, though, by scoring on its next possession. Steve Siegenthaler returned a short kickoff 23 yards to the Garfield 45, from where the Tigers drove 55 yards in nine plays. A key play was a third‑and‑10 sideline pass to senior Mark Kester, who wound up catching five passes for 84 yards in a sparkling performance.
On third and five from the 11, White retreated to pass and zinged a tight spiral to senior split end Craig York, who caught the ball in front of his No. 87 two yards deep in the end zone.
The Tigers opted to try for the tie, and they got it when White, avoiding a heavy rush by throwing as he backpedaled, threaded a pass between three defenders to Siegenthaler.
That made it 8‑8 with 4:08 left in the first half. Neither team threatened again before the band how.
The burning question at halftime was, would the Tigers be able to top a Garfield running attack that already had netted 129 rushing yards?
The Rams provided the answer by battering the ball 46 yards in six plays to start the second half. That put the ball on the Massillon 22‑yard line. The Tigers needed a big play and they got it when Bob Dunwiddie stopped the fullback for no gain on first down. But the Rams responded on the next play with a 22‑yard touchdown pass from Johnson to junior tight end Pat Anderson.
Anderson broke open on a quick slant pattern.
"Even though they only passed twice, we had to be very conscious of Johnson's passing abilities," Maronto said. "He's obviously very good. "
Rob Balca's PAT kick made it 15‑8 with 7:35 left in the third quarter.
The Tigers got only three plays on their next possession before facing a fourth‑and‑one from their own 35. There was no hesitation as to whether to make the big gamble and go for it as the punting unit poured onto the field. The Rams then set up at their own 30 and marched for the game‑clinching score.
Runs of 5, 12, 14, 5, 10, 11, 4 and 9 yards ‑ the last run by the fullback Mitchell ‑ put the ball in the end zone. Balca's kick made it 22‑8 with 42 seconds left in the third period.
The Tigers would get the ball just two more times. The first time, they lost it on a fumble at the Garfield 42‑yard line with 9:44 left in the game.
Garfield then ran the clock down to 5:30 before Siegenthaler's tackle on fourth down gave the Tigers the ball back on downs at their own 35.
On fourth and long, White whistled a pass that deflected off a Garfield safety, then hit Tiger tight end Gerald Pope in the shoulder pads and helmet before bouncing incomplete. Garfield had the ball back, and the game in hand, with only two minutes left.
"This was as satisfying as any opening win I've had," said Garfield Coach McGee. "And the opponents haven't always been this good. Massillon has a lot of things to solve ‑ and so do we ‑ but they're going to win a lot of ball games."
Massillon coach Maronto said be thought his team would play better than it did.
"But when you don't play as well as you'd like, it has something to do with the opponent," Maronto said. "That's a real fine Garfield team and it deserves a lot of credit. They have a very diversified attack. They stuck with the game plan, and you saw what they did."
They did what "Mr. T" has done alot in Tigertown. They ran out of that old formation and added a new notch to Bill McGee's gun belt.
M F
First downs rushing 4 18
First downs passing 9 1
First downs by penalty 0 1
Total first downs 13 20
Yards gained rushing 90 280
Yards lost rushing 31 3
Net yards rushing 59 277
Net yards passing 155 28
Total yards gained 214 305
Passes attempted 23 2
Passes completed 13 2
Passes int. by 0 1
Times kicked off 2 4
Kickoff average 51.5 45.8
Kickoff return yards 81 37
Punts 2 1
Punting average 42.5 42.0
Punt return yards 7 0
Fumbles 2 1
Fumbles lost 1 1
Penalties 1 1
Yards penalized 15 5
Number of plays 49 47
Time of possession 22.04 25.56
Attendance 12,079
GARFIELD 0 8 14 0 22
MASSILLON 0 0 0 8 8
SCORING
GAR ‑ White 8 run (McGee pass from Balca)
MAS ‑ York 10 pass from White (Siegenthaler pass from White)
GAR ‑ Anderson 22 pass from Johnson (Balca kick)
GAR ‑ White 8 run (Balca kick)