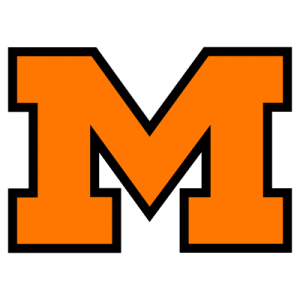 Making an impression… Tigers Al(toon)a up for GlenOak with 34‑3 blowout
STEVE DOERSCHUK
Independent Sports Editor
Who were the Massillon Tigers trying to impress, anyway?
Maybe it was the hundreds of former Tiger football players who turned up Saturday on "Alumni Night" to see the old school wipe out an old rival, Altoona, Pa., by a 34‑3 score.
Maybe it was the fans who didn't show up after a season opening 22‑8 loss to Garfield ‑ Saturday's crowd, held down by a pre‑game rain was just 8,576.
Maybe it was the GlenOak Golden Eagles, winners in Tigertown last year, and next up on the schedule.
(A quick note on the GlenOak game: "It's gonna be a street fight," Tiger co‑captain John Miller said).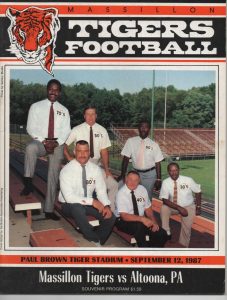 Somebody say Miller? Say it again. The 6‑foot‑1, 201‑pound senior was a main man against Altoona, looking like Bronko Nagurski as he plowed for 51 yards in nine rushes. He also kicked the Mountain Lions on defense, intercepting a pass, sacking the quarterback twice, and looking like he was having a good time at inside linebacker.
"As the game progressed, I started to feel more comfortable at linebacker," said Miller, who helped limit the Lions to 118 yards in total offense, nearly half of which came on a trick play that set up Altoona's only points, a 27‑yard field goal in the first quarter.
"I want to show people I can play," said Miller, who is in a new role after playing quarterback last year. "As a team, we started to come together more tonight. Altoona was quick, but not as good on the physical side. It's good to get a win."
The pre‑season hype billed the Tigers as a potentially explosive team with a balanced offense. Saturday, hype equaled fact.
Senior Jerome Myricks scored on three breakaway touchdown plays and on a 15‑yard run.
The Tiger running attack, featuring a cast of several, ground out 198 yards at 5.8 a carry. The passing attack further advanced Erik White as an all‑county candidate and yielded 157 yards.
White completed nine of 13 passes for 157 yards. Through two games, he has connected on 22 of 34 aerials for 312 yards, three TDs and one interception ‑ which ain't bad.
The 6‑foot‑5 ½ inch, senior was celebrating his 17th birthday Saturday. White is what football coaches call a "young senior," in that some of his teammates are more than a year older than him.
Yes, there were some impressive performances Saturday. But it's not time to get carried away of course.
A year ago, the Tigers wiped out Cincinnati Mount Healthy one week before bowing to GlenOak.
"A lot of people may think we played very well," Tiger head coach John Maronto said. "There were some good things that happened. And it's obviously great to win. But we really didn't play that well, certainly not as well as we need to next week. We're going to have to reach the level of improvement next week we were hoping for this week."
Altoona, 0‑1‑1, was simply out muscled, said second‑year head coach John Franco. "Their size was too much for us,"
Franco said. "We aren't yet the kind of team that can play with a Massillon. We're young and we're trying to re‑establish what Massillon has had for so many years, tradition. Next year, I think you'll see a more competitive Massillon‑Altoona game when it's at our place.
"Massillon just has an awesome program. They're a very good football team this year and John Maronto does an outstanding job. They could play with the top so schools in Pennsylvania. Massillon, in my view, may have a down year every now and then. But even when they have a down year, they're competitive with the best teams in Ohio."
As to aspects that did impress Maronto, the Tiger defense was one. "The defense deserves the credit," Maronto said. "Miller and (linebacker) Scott Sampsel played very well. Vern Riley looked pretty good. Brendan Kasunick was effective. Dave Hackenbracht did a good job at linebacker."
The Mountain Lions stayed in it for a while, forcing a punt on Massillon's next possession, then recovering from a nasty situation in which its punter touched his knee to the ground at the 16‑yard line before he could get off the boot. The Tigers failed to convert the punt‑that‑never‑was when they made one of their seven fumbles (they lost two), giving Altoona the ball at the 7.
Massillon finally kicked into high gear late in the first half. Miller's interception gave the Tigers the ball at the Altoona 15‑yard line, and on the next play Myricks went around the left side and carried two tacklers with him into the end zone. The Tigers led 14‑3 with 4:06 left in the half.
A sack by Miller and a subsequent Altoona punt to midfield set up the next score ‑ on the play after the punt ‑ as White flipped a screen pass to Myricks, who got excellent blocking and took off down the left sideline on a 50‑yard touchdown play. The point‑after kick was no good at the 1:40 mark and the Tigers ' lead stood at 20‑3 at the half.
Myricks' 33‑yard touchdown run, set up when the right side of the line blew out the Lions, and Hurst's kick made it 27‑3 with 5:52 left in the third quarter.
Altoona punted to end its next possession, and two plays later Myricks took a slant‑in pass from White at the 43, then exploded out of a pack of four defenders on his way to a 60‑yard TD. Hurst's kick cemented the final score at 34‑3 with 1:36 left in the third quarter.
The second unit got in plenty of action, as evidenced by the fact Ashcraft gained 56 yards in six rushing attempts in relief of Miller and Myricks. Myricks was the game's rushing leader with 67 yards in only seven carries. White threw passes to seven different receivers, including Jeff Harig, Gerald Pope, Kester, Stafford, Tim Pope and Craig York.
Alexander's production was limited to the trick play. He otherwise gained 26 yards in six rushing attempts.
Altoona did manage to get 12 completions from two quarterbacks.
surprise 6‑0 loser Friday to Akron St. Vincent‑St. Mary), the Tigers got a chance to dominate a lesser foe. Some tinkering with personnel seemed to help.
Riley, usually the starting fullback, was inserted in the middle of the defensive line to address the "quickness" issue that came up after the Garfield game.
"Anything they need me for, I'm ready," Riley said. "We needed this game tonight. We were hurt and we were angry about the Garfield game. Now we're back on track. Against Glen0ak, We're looking to do some paybacks."
Saturday's game lost its suspense after the Tigers took a 20‑3 halftime lead. But there was some early drama.
The Tigers scored on a 17‑yard mini‑march after Sean Ascraft recovered a fumbled punt return attempt. Runs of 8 and 4 yards by Miller set up Jason Stafford's 5‑yard TD run. Lee Hurst's kick made it 7‑0 at 8:08 of the first quarter.
A razzle‑dazzler Franco called "a junk play" gained 58 yards and put Altoona in what seemed to be a contending position. Quarterback Jeff Ruff flipped a flare pass to Art Fink, who would have been stopped for a short gain had he not pitched the ball to speedy back Alan Alexander, who turned on the jets down the left. sideline. Mark Kester, who caught five passes against Garfield and has good speed himself, made a saving tackle at the 15, which helped, since Altoona had to settle for the field goal.
Massillon tattoos Altoona
By CHRIS TOMASSON
Repository sports writer
MASSILLON ‑ Massillon tailback Jerome Myricks ran berserk Saturday night, but Tigers' coach John Maronto regarded it as just a dress rehearsal of things to come this season.
In Massillon's 34‑3 win over Altoona, Pa., at Paul Brown Tiger Stadium, Myricks scored four touchdowns , one on a 33‑yard run, and two on receptions of 50 yards or over. But Maronto isn't ready to put Myricks on a pedestal.
"He's capable of playing even better than he did tonight," Maronto said. "He's just starting to come into his own. Just watch him the rest of the season."
Although Maronto has even higher expectations for him, Myricks certainly wasn't displeased with his showing against the Mountain Lions (0‑1‑1), who were playing Massillon (1‑1) for the first time in 19 years.
This was the most memorable game of my career, " said the 5‑foot‑11, 181‑pound senior who wears No. 1, and has certainly become No. 1 in the hearts of Tigers' fans.
Myricks ran for 67 yards on seven carries,, and caught two passes for 110 yards, both for touchdowns.
Myricks' first touchdown, a 15‑yard run early in the second quarter, gave Massillon a 14‑3 lead and broke open what looked like, might be a tight game.
The Tigers jumped out to a 7‑0 lead four minutes into the game when Jason Stafford scored on a 5‑yard run, ‑ which followed a fumbled Altoona punt.
Yet on their very first play from scrimmage, the Mountain Lions stunned the crowd of 8,576 with a play right off an elementary school playground. Quarterback Jeff Ruff threw a flare pass to Artie Fink, who immediately lateralled to Alan Alexander, who sprinted 58 yards down the left sideline to the Massillon 15. Only a diving tackle by Massillon's Mark Kester saved a touchdown.
But then the Massillon defense, abused last week in a 22‑8 loss to Akron Garfield, got tough, and Altoona had to settle for a 26‑yard field goal by Ruff.
"That kind of hurt our momentum," said Altoona coach John Franco. "If we had been able to punch the ball in there, maybe we would have had a chance."
Franco's probably wrong. Take away the 58 yards on the trick play, and Altoona Managed only 60 yards of total offense. Altoona had all of minus‑eight yards rushing, and had six turnovers.
So it isn't hard to see why Massillon dominated the remainder of the game.
Myricks got his second touchdown with 1:40 left in the half, when he turned a screen pass from quarterback Erik White into a 50‑yard touchdown. That gave the Tigers a 20‑3 halftime bulge.
Myricks' final two touchdowns came in the third quarter, one on a 33‑yard run and the other on a 60‑yard pass from White, who completed 9‑of‑13 passes for 157 yards.
White is relishing his role as a Massillon quarterback who actually gets to throw the ball.
"I like the fact that we're throwing the ball more," White said. "I think it really diversifies the offense.
Although the Tigers rolled up 355 yards of offense, Maronto preferred to praise the defense.
"I'm still not completely satisfied with the offense. but I thought the defense showed a tremendous amount of character this week,", Maronto said. "(John) Miller, (Vernon) Riley and (David) Hackenbracht really did a great job. And we had five interceptions, you know."
Unlike after the Garfield game, when he was somewhat perplexed, Maronto was obviously more upbeat Saturday.
Altoona 3 0 0 0 3
Massillon 7 13 14 0 34
M ‑ Stafford 5 run (Hurst kick)
A ‑ FG Ruff 26
M – Myricks 15 run (Hurst kick)
M ‑ Myricks 50 pass from White (kick failed)
M ‑ Myricks 33 run (Hurst kick)
M ‑ Myricks 60 pass from White (Hurst kick)