TIGERS FIGURE TO GET A BETTER TEST NEXT WEEK
By JOE SHAHEEN
There was a lot to like for Massillon Tiger partisans in the season-opening demolition of the Dover Tornadoes.
But it was Tornado head coach Dan Ifft who sounded a note of caution.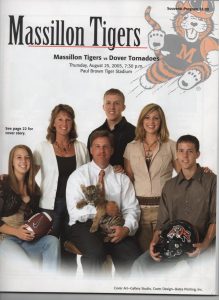 "I don't know that we were an indicator for them," Ifft said after his team trudged off the field at Paul Brown Tiger Stadium on the short end of a 34-0 tally.
A better indicator will come one week from today when the Tigers journey south to the Queen City to take on Cincinnati Elder in the third game of the Prep Classic at Paul Brown Stadium.
"We're going to play a better team next week," Tiger coach Tom Stacy said moments after his head coaching debut in Massillon. "Dover is a good football team but Cincinnati Elder will be a much tougher test for us.
"It was a great way to start but let's take it from here."
Clearly the Tigers have the makings of a dominating defense. They possess size, speed and athleticism on that side of the football and have a fine coordinator in Steve Kovacs and an another unheralded but highly thought-of assistant in Mike Babics to mentor the defense.
That said, there were one or two opening game breakdowns, especially in the secondary. Fortunately there were also a couple of inaccurate passes when the Tornado receivers did find a seam, and a big-time play by Andrew Dailey, stripping the football away from a Dover wideout after a 30-yard catch and run.
Against Elder, the Tigers won't have the overwhelming size advantage they enjoyed against Dover. Massillon will have to stop the running game first, and that will be quite a test of their manhood by a program that has back-to-back state championships to its credit this decade.
But you had to like the fact Massillon did nothing to hurt itself on Thursday night.
Penalties were kept to a minimum, with five overall but only one in the first half when the starters were on the field.
Even more important, the Tigers did not have a turnover in the first half with their frontline players.
"That's pretty good coaching," Ifft observed. "For the short amount of time Tom has had them, they appear to be very disciplined."
For all of their success during the previous seven years – and let's not forget the Tigers reached the state semifinals twice under Rick Shepas – they were a penalty-prone football team most of the time and one that turned the ball over more often than you'd like.
They were able to overcome those shortcomings most of the time but – for whatever reason – never seemed inclined to address the problem, especially the flurry of penalty flags that seemed to follow them from game to game.
The good news is the Tigers have an extra day to prepare for Elder – call it a going away present from Shepas, who scheduled the Thursday night opener – and they may need it as they venture into enemy territory to take on a worthy foe.
One thing is for sure, if the Tigers are anywhere near as successful in Week Two as they were in Week One, people around the state of Ohio will sit up and take notice that Massillon football is back and in a big way.