Bulldogs bottle up Tigers at Fawcett
Brinson's four touchdowns key McKinley's 40-8 victory
By JOE SHAHEEN
Joe, Shaheen@ I ndeOnline.com
You had the feeling the Massillon Tigers were in for a long day when they fumbled the first offensive snap of the game, then took a safety on the very next play.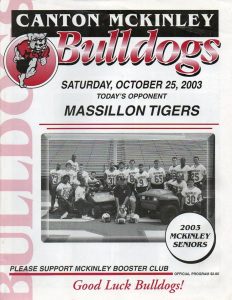 It all pretty much went downhill from there as Massillon absorbed a 40‑8 thumping at the hands of their arch rivals the McKinley Bulldogs in the 111th meeting between the two storied high school football programs on Saturday at Fawcett Stadium in Canton.
The loss marked the first time in the history of Massillon Tiger football the team has dropped five games in a row.
"Well, you know, that would have been a touchdown pass," Shepas said of the game's opening play from scrimmage which backed the Tigers to the 1-yard line. "Then we missed another touchdown pass. And we missed a couple of other open receivers. Then we had some interceptions, but that's the way it goes.
"One way or the other it's about making plays. They made more than we did today."
in a tearful post‑game huddle, Shepas apologized to his players, saying he and the coaching staff may not have done as good a job of preparing them for McKinley as they could have.
"I thought our kids fought hard all season," Shepas said. "We dealt with some different types of adversity and a lot of injuries.
"I'd like to apologize to the Tiger fans. We did not give them a good showing today and I feel responsible for that. One way or the other, I'm the leader of this program. Massillon is a great community. Our community came out and supported us in that parade. It was fantastic. It was just a disappointing day."
McKinley's 2‑0 lead held up through the first quarter. But even at that point, McKinley running back Ryan Brinson felt the game belonged to the Bulldogs.
"That first drive, when we got that safety, I knew it was over," Brinson said. "When we got that safety, I knew we had their hearts.
"We were ready to play. They were scared. They had that sophomore quarterback and he wasn't ready for this type of game. So we took it to them."
Massillon penetrated to the Bulldog 22 late in the opening period but gave the ball up on downs following a delay of game penalty.
The Bulldogs began their first scoring drive at midfield after a 15‑yard punt return by Christian Smith. The Pups ran the ball effectively on their first three plays of the march, then junior quarterback Mike Shaffer used play action to freeze the Tiger linebackers and hit tight end Alex Rehfus for 20 yards to the Massillon 14.
On third down, the Tigers dropped a potential interception on a screen pass, and on fourth down Shaffer found Antwon Hight for 16 yards for a first down at the Tiger 2.
Brinson went over left guard and tackle for six on the next play. Zach Campbell tacked on the extra point and McKinley led 9‑0 at 7:11 of the second quarter.
Brinson picked off the Tigers near midfield on Massillon's ensuing possession, then opened the game up by bursting up the middle for a 49‑yard touchdown at 5:19 of the second quarter. Campbell's kick made it 16‑0 McKinley.
The Tigers' second interception of the day ‑ they had four picked off ‑ set up McKinley's final tally of the first half, a 22‑yard Campbell field goal that made it 19‑0.
"I didn't think at any one point that we felt that we were going to be out of this football game," Shepas said. "Even down 19 points I didn't think so."
But the Tigers never did get untracked offensively, finishing with 214 total yards, much of it coming after the game was decided. Massillon quarterbacks completed just 10 of 30 aerials for 130 yards.
"The plan that I had was to mix both Steve (Hymes) and Quentin (Paulik) into the game plan," Shepas said of his quarterbacks. "It just didn't work out. The idea was to mix up the shotgun run with the pass."
They were confused on offense," observed McKinley coach Brian Cross.
"Our defensive coaches did a great job with the game plan. Massillon just couldn't get into a rhythm. Once they fell behind, we knew they had to throw the ball just about every down."
Shepas admitted his charges didn't seem to be at the top of their game mentally.
"I think we could have been more focused," he said. "But it's a great lesson.
"Hey, we've been on top in most. Sometimes you have to go through this to respect it and work hard to get back on top. We've been there before. This team has a lot of young guys. This football team is going to be good down the road."
McKinley finished with a little more than 300 yards of total offense, but were presented with the short field on several occasions as Massillon's spate of turnovers continued for the fourth straight week.
Brinson finished with 155 yards in 13 carries, including a 43‑yard touchdown scamper around the right side of the McKinley line. On that play, the 5‑10, 168‑pound junior was virtually untouched and he sprinted down the right boundary.
"I was running and Billy (Relford) was looking inside and I ran right by him so I just kept going," Brinson said. "It was an excellent call by Coach Cross. I just ran as hard as I could."
Massillon avoided the shutout on a 16‑yard Paulik‑to-Relford pass play, set up by three fine runs by sophomore Lanale Robinson late in the fourth quarter.
"We'll be back," Shepas said. "We'll be back. We have a lot of young kids who have played.
"We'll get rid of the distractions that have plagued us and get ready for the future."
Asked if the brutal schedule his Tigers played this season may have sapped the team, Shepas refused to use that as an excuse.
"You've got to deal with it," he said. "Bottom line, we played a playoff schedule. Our guys are not going to the playoffs. We've got to rise above it and that will be taking the next step. It's all part of the journey."
McKinley 40
Massillon 8
Massillon 0 0 0 8 8
McKinley 2 17 21 0 40
SCORING
McK ‑ Safety McK ‑ Ryan Brinson 2 run (Campbell kick)
McK ‑ Brinson 49 run (Campbell kick)
McK ‑ Campbell 22 FG
McK ‑ Brinson 21 run (Campbell kick)
McK ‑ Goodright 1 run (Campbell kick)
McK ‑ Brinson 43 run (Campbell kick)
M ‑ Billy Relford 16 pass from Quentin Paulik (Kurt Jarvis pass from Relford)
INDIVIDUAL STATISTICS
Massillon rushing: Lanale Robinson 4‑35, Ramon Kelly 3‑21, Tuffy Woods 12‑20
McKinley rushing: Ryan Brinson 13‑147, 4 TDs, Theo Goodright 13‑64, 1 TD
Massillon passing: Quentin Paulik 8­-21‑108, 1 TD, 1 INT, Steve Hymes 2‑9‑22, 3 INT
McKinley passing: Mike Shaffer 3‑9‑55
Massillon receiving: Eric Copeland 3­-54, Wayne Gates 2‑26, Billy Relford 2‑23
McKinley receiving: Alex Rehfus 1‑20, Tyrone Gillespie 1‑20


Brock Hymes