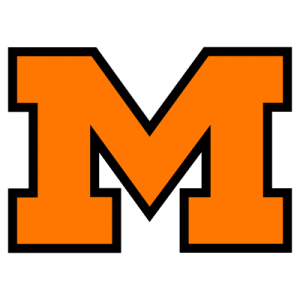 Sacked
Second half again belongs to Tigers
By JOE SHAHEEN
Joe.Shaheen @ IndeOnline.com
For the second week in a row, the Massillon Tigers turned it up a notch in the second half, enabling them to roll past the Findlay Trojans 34‑17 in a match‑up of 2002 Division I state semifinalists witnessed by 8,644 fans at Paul Brown Tiger Stadium on Friday.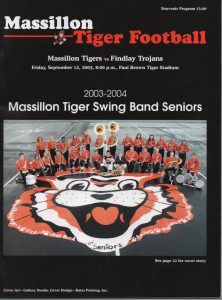 Massillon, now 3‑1, was clinging to a tenuous three‑point halftime lead despite being on the short end of every first‑half statistic, including a time of possession disparity of 18:16‑5:44.
The Tigers were a different team after the band show, marching 64 yards in 11 plays on their first possession to take a 10‑point lead, then going 81 yards in 13 plays to jump out by 17 points.
Findlay, which falls to 2‑2, rallied with an 80‑yard touchdown drive of its own but Massillon took advantage of some favorable field position thanks in part to a 43‑yard Max Shafer punt than pinned the Trojans deep in their end ‑ to put the game away with a 29‑yard scoring possession midway through the fourth quarter.
"They waxed us in the third quarter and we couldn't stop them," said Findlay head coach Cliff Hite. "That was the whole thing right there. We couldn't stop their offense. They were quicker than we were. We didn't tackle well. They executed brilliantly.
"They are the best team we've played by far. By far. They were bending but they didn't break. They kept us out of the end zone better than anybody in a long time."
"We didn't start off as good as we can but we had a lot of leadership in the locker room at halftime and we took it out on the field in the second half," said Tiger co‑captain Billy Relford. "We had a lot of guys step up. Steve (Hymes) stepped up at quarterback in the second half and drove the team down the field. Max (Shafer) stepped up in the kicking game. Brock (Hymes) stepped up at linebacker.
"When Steve stepped up at quarterback, it rubbed off on other people. It was like 'I'm going to step up. I'm going to step up.' We just started playing well as a team."
Hymes hit on two long passes in the opening drive of the second half, connecting with Ryan Schindler for 30 yards on a third‑and‑eight play, then finding Brad Hauser for 22 yards on a third‑and‑14 situation. Five plays later, Tuffy Woods dove into the end zone behind left guard Tim Dewald and left tackle Vince Volpe to put the Tigers up 20‑10.
Findlay responded, moving from its 20 to the Massillon 11 in eight plays. But on the ninth play of the drive, Tiger sophomore lineman Dirk Dickerhoof made a diving interception of a pass in the right flat to repel the Trojan incursion.
"I just saw the quarterback fake, the running back come out and I just dove and got it," Dickerhoof explained. "It swung the momentum."
"That was the play of the game," said Tiger coach Rick Shepas. "They were on a good drive and then Dirk intercepts that pass and that really took a lot of air out of their sails at that point.
"When you watch Dirk play basketball, he's kind of a garbage man. He's rebound after rebound. He's junk point after junk point, and that's kind of the way he plays for us on defense. He's always where he's supposed to be and he keeps playing hard. When you're consistent like that and play like that, good things happen to YOU."
After the turnover, the Tigers went to their ground game, as Woods and Ramon Kelly took turns gouging out real estate against the tiring Findlay defense. Hymes sustained the drive when he hit Eric Copeland for 16 yards on a third‑and‑seven play. Another pass to Wayne Gates got the ball inside the Trojan 10, and Hymes then went back to Copeland for an 8‑yard touchdown with :12 remaining in the third quarter.
Shafer's kick put the Tigers up 27‑10 and although both teams would find the end zone once more, that tally all but sealed the deal for Massillon.
Hymes finished with 58 yards rushing to go with 191 yards passing, 106 of which came in the second half.
"Steve was sick all week," noted Shepas. "He got bit by the flu bug.
"We woke him up a little bit at halftime. It was just a little extra. A little extra. That's him getting better and coming into his own. We just had to rattle him up and little bit and get his attention and then he focuses a little better."
"We just kept pushing it and pushing it," Hymes said. "We wouldn't let up on them. I made sure I told the guys 'Don't let up. Don't let up. We're not finished yet.'
"We were just too powerful. Too powerful."
Massillon scored the first time it touched the football after forcing Findlay into a three‑and‑out off the opening kickoff.
Taking over at the Findlay 43, Steve Hymes kept the ball on an option play, galloped through a gaping hole over his left guard and into the Trojan secondary. The elusive senior then cut toward the right sideline and went untouched for a 43‑yard touchdown run.
The point‑after was no good but Massillon was up 6‑0 at 10:11 of the first quarter.
Findlay took the lead on its third possession of the game after Massillon failed to convert a fourth‑and‑four at the Trojan 35. It appeared the Massillon defense had forced its second three‑and‑out but Findlay faked the punt on fourth down, and instead completed a 15‑yard pass that produced a first down at the Tiger 43.
One play later, Baker hit Brady Schneider on a post pattern at the 10‑yard line and the Trojan bounced off two shoulder tackles and into the end zone for a 43‑yard touchdown. Mark Snodgrass converted the point‑after kick and Findlay was up 7‑6 at 2:45 of the first quarter.
Snodgrass then capped a 16‑play drive for Findlay with a 24‑yard field goal with 5:45 left in the first half to put the Trojans up 10‑6.
The Tigers hit the Findlay defense with a lightning bolt on their ensuing possession.
On third‑and‑12 from the Massillon 38, Hymes took the shotgun snap and threaded the needle to Relford at he Findlay 40. Relford ran through one tackle as he sprinted left to right across the field, then simply ran away from the Trojan pursuit for a 62‑yard scoring play with 4:51 remaining until half.
Shafer was true with the point‑after kick and Massillon carried a 13‑10 edge into the locker room. It was a lead they would build on to ensure their third victory in four starts.
Massillon 34
Findlay 17
Findlay 7 3 0 7 17
Massillon 6 7 14 7 34
SCORING
M ‑ Steve Hymes 43 run (Max Shafer kick failed)
F ‑ Schneider 43 pass from Baker (Snodgrass kick)
F ‑ Snodgrass 23 FG
M ‑ Billy Relford 62 pass from Hymes (Shafer kick)
M ‑ Woods 2 run (Shafer kick)
M ‑ Copeland 7 pass from Hymes (Shafer kick)
F ‑ Almond 31 pass from Baker (Snodgrass kick)
M ‑Ramon Kelly 1 run (Shafer kick)
INDIVIDUAL STATISTICS
Massillon rushing: Hymes 10‑58, 1 TD, Kelly 7‑35, 1 TD, Woods 13‑24, 1 TD
Findlay rushing: Almond 9‑39
Massillon passing: Hymes 11‑23‑191, 2 TDs, 1 INT
Findlay passing: Baker 25‑45‑311, 2 TDs, 1 INT
Massillon receiving: Copeland 3‑29, 1 TD, Relford 2‑78, 1 TD
Findlay receiving: Curtis 18‑144, Almond 4‑64, 1 TD


Brock Hymes