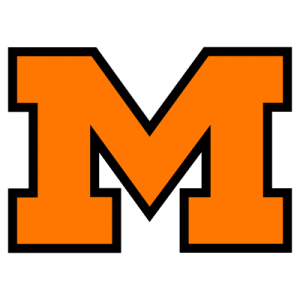 Bengals wrest control in the fourth quarter
By JOE SHAHEEN
Joe.Shaheen@lndeOnline.com
Missed opportunities and big plays spelled doom for the Massillon Tigers, who fell to 1‑1 in the young 2003 season with a 34‑20 setback to a veteran and talent‑laden Cleveland Benedictine team Friday evening at Paul Brown Tiger Stadium.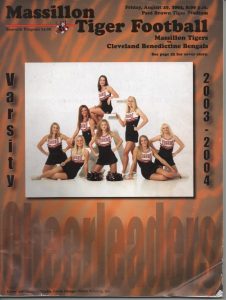 Massillon led 17‑14 at intermission but the Tiger margin could have ‑ and should have ‑ been much larger. The Bengals scored their touchdowns on Jon Huddleston's 92‑yard kickoff return and Raymond Williams' shocking 65‑yard run from scrimmage as time expired before the band show.
"I knew we needed a big play to get the momentum on our side," Williams said. "So I had to go all out on that play because there were only a few seconds left in the first half. Massillon's defense expected us to go deep but the draw play was there all night. Fortunately we ran it and I got into the end zone."
Benedictine head coach Art Bortnick cited Williams' scoring dash as the game's turnaround play.
"Momentum was clearly on Massillon's side and there was no time left on the clock," Bortnick recalled, "and in the blink of an eyelash, Raymond came down that sideline and put that score in and all of a sudden the game is very manageable from our standpoint. Now we're within striking distance, and the game can go either way in the second half.
"He has the ability and he read a couple of good blocks. Once he got in the secondary, he
was so determined to make a big play and Massillon was caught with not enough people back and they lost their angles. Once he cleared that second level there was no one there to defend him. When you're defending Raymond, you can never relax, and they may have relaxed there for a moment."
In the first half, Massillon ran 41 plays to Benedictine's 17. The Tigers also won the giveaway‑takeaway battle 4‑1, yet their lead was just three points.
"They run a kickoff back for a touchdown and they have one run at the end of the half ‑ that accounts for their 14 points," acknowledged Tiger coach Rick Shepas. "Other than that we controlled the ball, we controlled the clock. We controlled the whole game at that point. We had them tired. We did the very best we could on both sides of the ball and I thought our defense played really well. There is no question we didn't take advantage of the turnovers as much as we could. We had four turnovers in the first half and we didn't take near advantage of that. We should have had 28 points on the board in the first half.
'We had four turnovers in the first half and we didn't take near advantage of that. We should have had 28 points on the board in the first half.'
Rick Shepas, Tiger coach
"Last week we came out and played pretty much mistake‑free. Other than not capitalizing on the turnovers, we didn't make a whole lot of mistakes tonight, but there were a whole lot of points on the board that we could have got."
Massillon extended its lead to 20‑14 on Zach Smith's 25‑yar d field goal with under three minutes to play in the third quarter. From that point on, there wasn't much to cheer about for the Tiger partisans.
After a Max Shafer punt pinned Benedictine at its own 28 early in the fourth quarter, disaster struck Massillon. On first down, Bengal quarterback Joe Laffey looked to his right for sophomore split end Lorenzo Hunter, who was covered by Billy Relford. But ‑ ‑ Relford tripped, Hunter grabbed the ball and sprinted unimpeded to the end zone for a 72‑yard score that tied the game at 20‑20.
Massillon recorded one first down on its next possession but was forced to punt, and Shafer boomed a 50‑yarder. Benedictine began inside its own 20 and on second down Maurice White ‑ Williams' understudy found a hole over his right guard and exploded through the gap for a 72‑yard touchdown. Sam Koyl drilled the extra point and the Bengals were up 28‑20 with 8:49 to play.
Williams applied the knockout punch when he picked up a Tiger fumble on Massillon's next possession and scampered 37 yards for a touchdown with 6:35 to play.
Massillon had another shot at cutting into the deficit when Vince Volpe came up with his second fumble recovery of the game inside the Benedictine 10 with 4:30 to play, but the Tigers could get no closer than the 2‑yard line before turning the ball over on downs.
"Our defense played as hard as any defense can play because if you look back, Massillon was so many times in the red zone and they had so many opportunities," Bortnick observed. "But we made them work so hard and if we made them settle for a three, it kept us within striking distance and let us come back on them."
Benedictine kept Tiger quarterback Steve Hymes in check, limiting the elusive senior to an average of 2.5 yards per carry.
"He has such a great knack of finding seams," Bortnick said of Hymes. "In the second quarter we started cutting the seams down and we really, really hustled and played with tremendous amounts of determination on that side of the football."
"I just think we made more mistakes in the second half," Shepas said. "We kind of lost confidence a little bit."
A highly entertaining first half began well for Massillon when Relford returned a Benedictine punt 56 yards for a touchdown. The versa tile senior ran out of a Bengal tackle near midfield, then cut back across the field at the Benedictine 35 and went the rest of the way untouched for six.
Benedictine drove from its 27 to the Massillon 16 on its ensuing possession but Relford killed the march with an interception at the goal line.
Tiger sophomore Dirk Dickerhoof pounced on a Benedictine fumble at the Bengal 35 to set up Massillon's second tally.
On the fourth snap after the turnover, Steve Hymes lofted a pass to Relford near the goal line. Relford cut inside the defensive back, snared the football and stepped into the end zone for the score. Smith's point‑after conversion made it 14‑0 at 9:43 of the second quarter.
But Benedictine bounced back immediately as Huddleston fielded the ensuing kickoff at his 8, found a huge gap in the kick coverage and sprinted 92 yards to pay dirt. A fumbled snap doomed the extra point try, and Massillon's lead was 14‑6 at 9:27 of the second quarter.
Williams made a superb play on Massillon's next possession, tipping away what looked to be a fourth down 30‑yard touchdown pass to Relford at the last possible moment, displaying phenomenal closing speed in the process.
Williams closed the first half scoring as the clock wound down with his 65‑yard
touchdown run. It turned the game around.
Benedictine 34
Massillon 20
Benedictine 0 14 0 20 34
Massillon 7 10 3 0 20
SCORING
M ‑ Billy Relford 56 punt return (Zach Smith kick)
M ‑ Relford 24 pass from Hymes (Smith kick)
B ‑ Huddleston 92 kickoff return (kick failed)
M ‑ Smith 20 FG B ‑ Williams 65 run (Williams run)
M ‑ Smith 25 FG B ‑ Hunter 72 pass from Laffey (kick failed)
B ‑ White 72 run (Koyl kick)
B ‑ Williams 38 fumble return (Koyl kick)
INDIVIDUAL STATISTICS
Massillon rushing: Hymes 28‑70, Lanale Robinson 14‑31
Benedictine rushing: Williams 23‑155, 1 TD, White 5‑72, 1 TD
Massillon passing: Hymes 9‑22‑170, 1 TD
Benedictine passing: Laffey 2‑8‑118, 1 TD
Massillon receiving: Relford 2‑62, White 1‑49
Benedictine receiving: Hunter 1‑72, Brown 1‑46

Brock Hymes