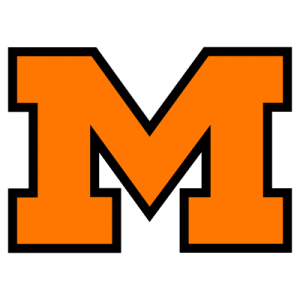 Blown away
Tiger storm quicky inundates Mansfield
By WILLIAM R. SANDERSON
William.Sanderson @ IndeOnline.com
All the controversy over the David Phillips recruiting scandal seemed to make very little difference to the Massillon Tigers on Friday night.
Right from the get‑go, Massillon dominated both sides of the ball in an impressive 35‑12 victory at Arlin Field in Mansfield.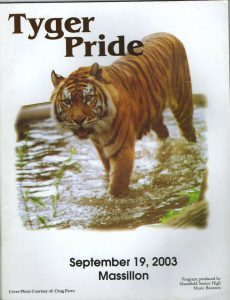 Mansfield Senior was minus its starting quarterback Deonte Weatherspoon due to a dislocated thumb suffered against Lexington last week, and the Tyger offense never got on track. After the first, half, Massillon led 23‑0 and Mansfield had only 11 net yards to its credit.
As far as the person at the center of the controversy, Phillips was held to a modest 41 yards on 25 carries.
Massillon coach Rick Shepas didn't allow the Phillips situation to be a distraction.
"There are no distractions in our locker room from beginning to end with anything surrounding the Phillips situation," Shepas said. "It's an unfortunate situation, but we've moved on."
Quarterback Steve Hymes echoed his mentor's sentiments.
"We know Phillips is a good running back," Hymes said. "That was an issue we had to deal with, but that's over. It's ancient history."
The Tigers took an early lead mainly on the strength of Hymes' arm.
After turning back Mansfield Senior on the game's opening possession, Hymes twice found Eric Copeland. The second time was good for 10 yards and a touchdown to make it 6‑0 Tigers at 8:15 of the first quarter.
"I was rolling out," Hymes recounted. "Eric got open and I threw it in there.
"My receivers did a great job tonight. They did their thing and all I had to do was throw it to them."
A few minutes later it was Brett Huffman's turn to be on the receiving end. First came a 24‑yard toss over the middle. On the next play, Huffman twisted around a Tyger defender to haul in a 22-yard throw by Hymes for the touchdown.
Max Shafer's kick made it 13‑0 Massillon at 6:29 of the first quarter.
"It was a great throw," Huffman said. "I just did that up‑and‑under move that we practice every day and it fell right in."
Hymes finished the game with 24 completions on 33 attempts for 316 yards and the two touchdowns.
Anticipating a physical battle with Mansfield Senior, Shepas wanted to get off to a good start with the passing game.
"We just wanted to open the game up," Shepas said. "Mansfield is physical and we wanted to keep them spread out. We picked our places to close it down as well."
As if to show it didn't need to simply pass the ball, Massillon ground out a 16‑play drive that covered 68 yards before Shafer booted a 22‑yard field goal to make it a 16‑0 Tiger lead at 10:11 of the second quarter.
Shepas was particularly pleased with the offensive line.
"Jason Reinmann was out sick," Shepas said. "He didn't even come on the trip. I thought our offensive line coaches did a nice job adjusting things. We played a lot of guys up front. David Portello got some playing time. Lashawn Edge started at a tackle. All in all, we're pretty pleased."
Matters only got worse for Mansfield. Not only could its offense not sustain a drive against the Massillon defense, but a special teams mistake paved the way for a Tiger touchdown.
Midway through the second quarter, a snap sailed over the head of the Tyger punter. The ball finally rolled dead at the Mansfield one-yard line, where the punter downed it instead of kicking it into his own end zone for a safety.
Instead of two points, the Tigers took another six when Hymes ran it in at 6:57. The Shafer kick made it 23-0 Tigers.
Massillon (4‑1) had a chance to make it more before the half, but fumbled the ball inside the Mansfield 20 with a couple of minutes left in the second quarter. It also narrowly averted a last‑second disaster when Tim Dewald made a touchdown‑saving tackle on Mansfield's Rashad Jones on an interception return.
The Tigers kept their foot to the accelerator to start the third quarter. After stopping Mansfield Senior's first drive of the half, the Tigers drove 49 yards for another Shafer field goal. His 37‑yarder made it 26‑0.
The drubbing continued when Tuffy Woods broke in from one yard out for a touchdown that was set up by a 36‑yard throw from Hymes to Wayne Gates. The kick failed and the score was 32‑0 with 4:43 left.
Mansfield Senior (2‑3) finally got on the scoreboard with 1:22 left in the third quarter. Justin Green threw up a long pass that bounced off both his receiver and the Tiger defenders before Josh Harkness was able to gather the ball in for the score. That made it 32‑6 Massillon.
Green, who replaced Weatherspoon, drew praise from his coach despite the loss.
"Not having (Weatherspoon) took away our option attack, but Justin played well," Mansfield Senior coach LeRoy Smith said. "Justin is a sophomore and it's tough to throw him in against a team like Massillon. Justin actually throws the deep ball better and we wanted to exploit that."
Shafer would add another 23‑yard field goal before the final gun that made it 35‑6.
Mansfield would score a touchdown on an 11‑yard run by Phillips with no time remaining for the final score.
With the likes of St. Ignatius, St. Edward, Dayton Chaminade‑Julienne and Warren Harding coming up, it was a big win as far as Huffman was concerned.
"This game was important," Huffman said. "It's Week Five so this was the hump game. We wanted to win this to help carry us through the rest of the season. We were pretty focused this game and all week in practice."
Massillon 35
Mansfield 12
Massillon 13 10 9 3 35
Mansfield 0 0 6 6 12
SCORING
Mas ‑ Eric Copeland 10 pass from Steve Hymes (kick failed)
Mas ‑ Brett Huffman 21 pass from Hymes (Max Shafer kick)
Mas ‑ Shafer 22 FG
Mas ‑ Hymes 1 run (Shafer kick) Mas ‑ Shafer 37 FG
Mas ‑ Tuffy Woods 1 run (kick failed)
Mans ‑ Josh Harkness 38 pass from Greene (run failed)
Mas ‑ Shafer 23 FG
Mans ‑ David Phillips 11 run
INDIVIDUAL STATISTICS
Massillon rushing: Hymes 7‑45, 1 TD, Lanale Robinson 7‑23
Mansfield rushing: Tony Shaw 8‑52 Phillips 25‑59, 1 TD
Massillon passing: Hymes 24‑33‑316, 2 TDs, 1 INT
Mansfield passing: Greene 2‑10‑77, 1 TD, 1 INT
Massillon receiving: Huffman 7‑121, 1 TD, Copeland 5‑67, 1 TD, Wayne Gates 4‑61
Mansfield receiving: Josh Harkness 2‑77, 1 TD


Brock Hymes