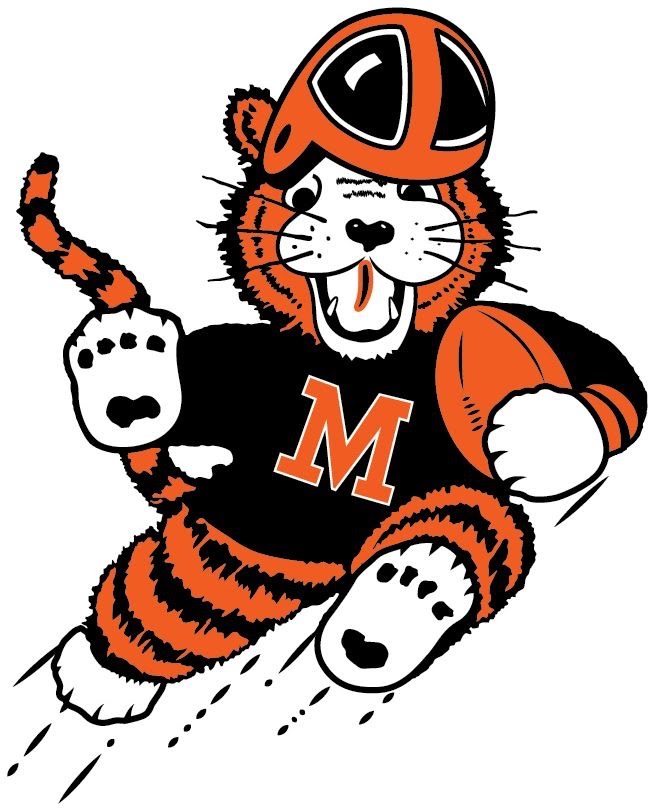 It seems like summer just got here and already we are nearing the start of the 2021 high school football season.  With the post-season playoffs being expanded this year, the date of the first regular season game has been pushed back yet another week, now at its earliest date in OHSAA history.  So what's going on this year?  Here's a quick look.
Massillon finished the regular season last year with a 5-1 record in a schedule that was shortened on account of the Covid-19 pandemic.  With all of Ohio's teams invited to the playoffs, the Tigers marched through their slated games, defeating 2019 state champ Cincinnati LaSalle in the state semifinals, before losing to Akron Hoban in the finals.  It was Massillon's third consecutive trip to the Division 2 state championship game.  During that 3-year span, the Tigers compiled a record of 34-4.  They also currently own a 31-game winning streak against their peers, the public schools.
Head Coach Nate Moore begins his 7th year at Massillon, following a brief stint at Cincinnati LaSalle, where he captured the Division 2 state championship.  His overall record in Tigertown is 60-17 (.779), which includes five trips to the playoffs and a post-season mark of 16-5.  His win total ranks third all-time behind Paul Brown (80) and Mike Currence (79).  After a 4-6 start in 2015 as he was installing a new program, his record since has been 54-11 (.831).
Per the OHSAA, the official mandatory start of practice is August 1, although every team has been working out in some form since school let out in May.  The OHSAA now sanctions team practices throughout the summer, replacing the previous 10-session limit.
A 5-day acclimatization period must be completed prior to contact, which consists of helmets only for two days, followed by helmets and shoulder pads for two days and finally all gear.  The first two days may be completed in July.  For Massillon, they have the week of July 26 off then begin in earnest on August 2 with shoulder pads on Monday and Tuesday, full gear on Wednesday and contact on Thursday.  Friday is shoulder pads only as they prepare for their first scrimmage the next day.
Scrimmages are used to prepare a team for the season, giving coaches a chance to select their starters and fine tune their offenses and defenses.  This year, teams are limited to two 3-hour scrimmages following the first day of full contact practice.  As the number of official practice days and scrimmages has been reduced, it seems like teams have less and less time to prepare for the opener.  That's why a solid off-season program is so important now.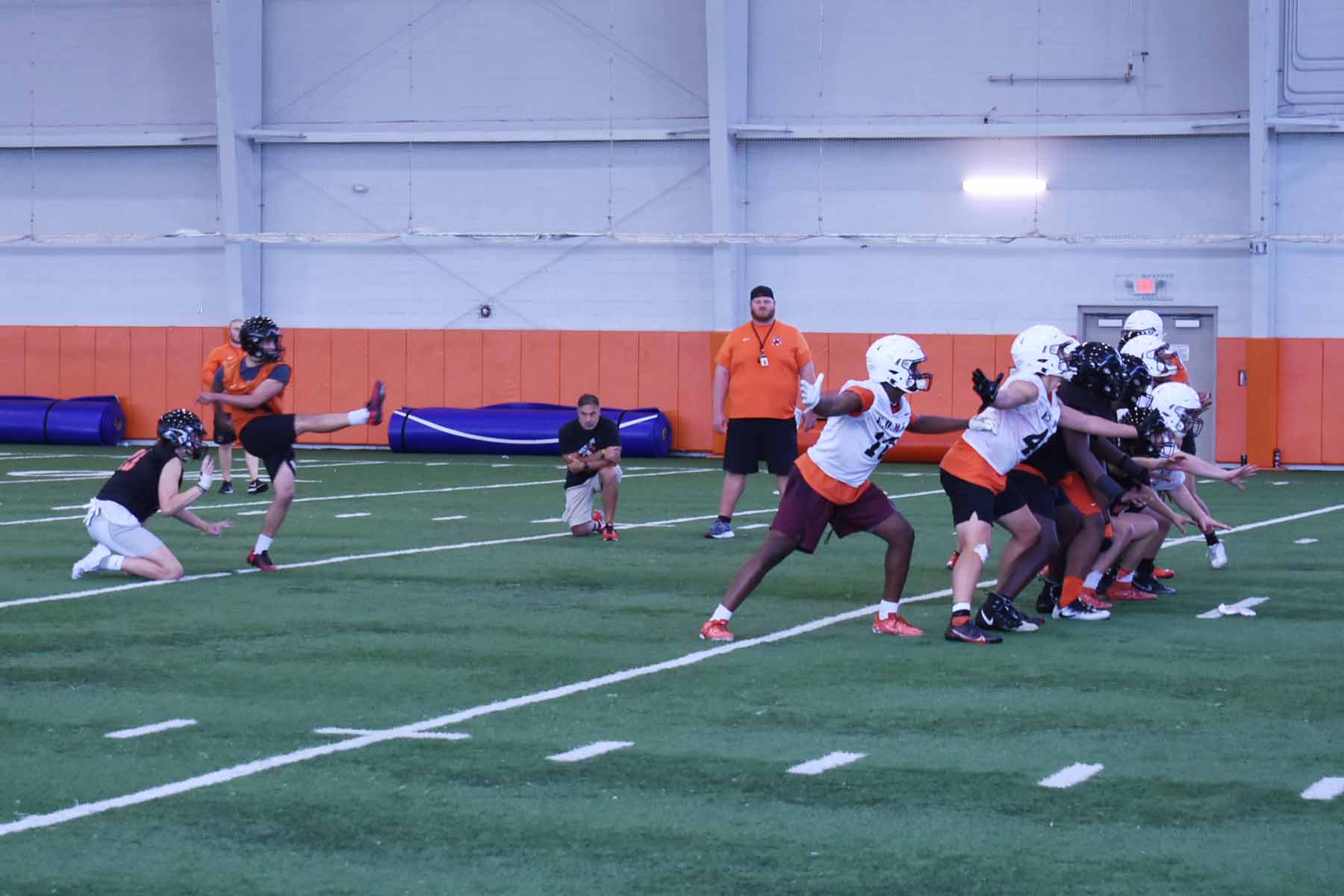 Coach Nate Moore's charges will match up with a pair of top-notch programs that will give the Tigers excellent chances to expose their weaknesses and focus on correcting them before the season gets underway.  The goal, of course, is maintaining a constant road of improvement throughout the regular season and then navigating successfully through the playoffs for another opportunity to compete for a state championship.
Massillon will travel to Avon on August 7 for an 11:30 am varsity scrimmage.  The freshmen will compete against Avon at 9:00 am.  Avon has won the Division 2, Region 6 title in each of the last four years and Coach Mike Elder's group always provides excellent competition in this venue.  On Thursday, August 12, the Tigers will be at Cincinnati St. Xavier.  The freshmen and JV will face off at noon and varsity action will get underway at 2:00 pm.  Last year the Bombers defeated Pickerington Central 44-3 in the Division 1 state finals and are expected to return a wealth of talent this year.
The regular season schedule is one of the better ones that Massillon has assembled, starting out with a bang against Pickerington Central, which is perhaps currently the best public school in Division 1.  Also called the Tigers, they captured the D1 state title in both 2017 and 2019 and lost in the finals last year.  Central currently owns a 21-game winning streak against public schools.  Other top games this year include:
Lakewood St. Edward – Edged Massillon the season opener last year, 24-23.
Canisius, NY – Returns to the schedule after having defeated the Tigers in 2017.
Canton McKinley – The annual rivalry; lost to Massillon last year 35-7.
Aside from Pickerington Central, first time opponents this year are:
Reynoldsburg – Plays in Pickerington's division of the Ohio Capital Conference; lost head-to-head last year, 38-13.
Euclid – Competes in Mentor's conference; expected to challenge this year for the conference title; always a formidable Division 1 playoff foe.
Wooster – Not really a first-timer, but it's been about a hundred years since the last game; this begins a 2-year home-and-home series.
The playoffs will begin on October 29 and will be the first of six weeks of additional games, culminating in the state finals on December 2-4.  Sixteen teams in each region will qualify, meaning that nearly every team in Division 1 and two-thirds of the teams in the other divisions will participate.  Although football will last that much longer with the extended playoffs, the format does provide schools with opportunities to challenge themselves during the regular season with top-level opponents without jeopardizing playoff spots.  For the 2021 season, Massillon will remain in Division 2, Region 7, along with the Columbus-area schools and a few local ones.  In fact, there will be no regional assignment changes across the state this year as the OHSAA rebounds from last year's Covid issues.
Expect to see many new faces in the Massillon lineup in 2021, as the Tigers graduated nearly every starter from last year's team.  Although this group is expected to be somewhat lacking across the board on varsity experience, it may still be senior-dominated while very talented.  Look for more of a re-loading year than a re-building year as Moore's charges become "program players."  The key to success then is the development of these new starters over the course of the season with goal of peaking when the playoffs commence.  Below is a list of the more recognizable returnees and a couple new ones:
Austin Brawley (5′-10″, 170) – senior – safety  (36-23-47.5) / wide receiver (5-125, 1 TD) / return specialist – 2nd in total tackles – 4th leading receiver; started last year at safety
Toddrick Lee (6′-1″, 250) – senior – offensive lineman – returning starter
Jaiden Woods ( 6′-0″, 259) – senior – offensive lineman –  returning starter
Reece Turpin (6′-2″, 340) – senior – offensive lineman -backup
Te'Jamere Nash (6′-4″, 290) – senior – offensive lineman – backup
Michael Mercurio (6′-1″, 245) – junior – offensive lineman – backup
Willtrell Hartson (5′-10, 200) – junior – running back – leading rusher (138-1125, 13 TDs) – Honorable Mention All–Ohio in Division 2; became the starter in last year's game against Canton McKinley follow an injury to Raekwon Venson – single game rushing leader (324 yards vs. Westerville South)
Camden Beasley ( 6′-2″, 205) – senior – running back (44-251, 2 TDs) / linebacker – 3rd leading rusher; last year's No. 2 running back
Nathan DePuy (5′-11″, 205) – senior – inside linebacker – backup
Freddie Lenix (5′-10″, 180) – junior – defensive back – backup
Dominic Salvino (6′-175) – senior – long snapper – starter
Marcus Moore (6′-2″, 300) – junior – defensive lineman – transfer from Beachwood – 3rd Team All-Ohio at defensive lineman in Division 5 – relative of former Massillon All-Ohio defensive lineman Ellery Moore
Riley Campbell (6′-4, 205) – senior – wide receiver / linebacker – transfer from Canton Central – leading receiver last year – 2nd Team All-Ohio at linebacker in Division 6
Several other players with varsity experience, many starting on special teams
Look for the Tigers to attack much the same as the last few years.  That is, with a run-heavy offense, utilizing a massive line that features both zone and power blocking, opening interior holes for Hartson and Beasley.  Quarterback duties will be most likely be in the hands of senior Darrius McElroy, who has really developed in the off-season with both size and arm strength.  He spent most of his time last year on the defensive side of the ball and on special teams.  McElroy will be backed up by freshman Jalen Slaughter, who last year led his dominant 8th grade team to perfect 8-0 mark.  The wide receiver group will be speedy, with Brawley leading the way.
Defensively, Massillon returns just Brawley.  However, the coaches will not have any problem finding talented players to fill the open spots.  Marcus Moore will fit quite nicely on the line as will Nathan DePuy at linebacker.  Brawley will return to his safety position.  Also, watch for backup junior Freddie Lenix to fill in well at corner.  Kicking duties will fall to senior Shane Rue.
During the 2020 Covid-19 season, severe attendance restrictions were placed on the students and fans.  For Massillon, they were limited to just 1500 and most fans were forced to watch the games from home on internet broadcasts.  However, there will be no limit on spectators this year.  So come on out and support your Tigers.  It should be a great season and an exciting playoff run.
Mark these dates on your calendar:
August 3 – Media Day (check out the team photos as they go up on the website)
August 5 – Sideliners Reverse Raffle
August 7 – Scrimmage at Avon, starting at 11:30 am
August 8 – Sideliners Picnic
August 12 – Scrimmage at Cincinnati St. Xavier, starting at 2:00 pm
August 14 – Alumni  Association Golf Scramble (tee times still available)
August 17 – First Touchdown Club Luncheon at 11:30 am
August 18 – Downtown  Kickoff Rally at 6:30 pm
August 20 – Season opener vs. Pickerington Central, starting at 7:30 pm
Note to season ticket holders: Season ticket passes will not be mailed this year.  They can be picked up at the Ticket Office starting August 3 or at the first game.  No information is available at this time regarding tickets for away games.