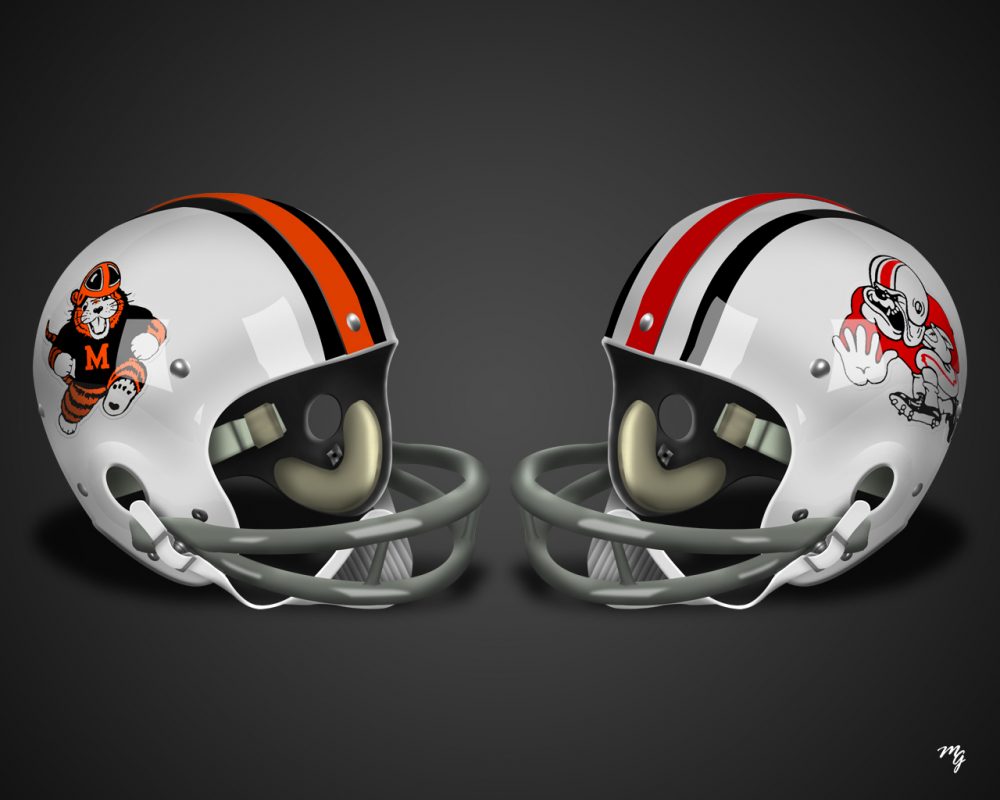 Showdown turns into a mauling
By DAVID HARPSTER
The Massillon Tigers undoubtedly hope their next encounter with a Federal League team ends up much better than the last.
Massillon qualified for the Division I, Region 2 playoffs with a 9-1 record, but it was that lone blemish – a 38-8 mauling at the hands of archrival and Federal League champ McKinley Saturday in front of 24,242 fans at Fawcett Stadium – that left the Tigers smarting.
They don't have long to recover, though, as the Tigers will host North Canton Hoover this Saturday at 7 p.m. in a regional quarterfinal matchup. The Vikings finished in a tie for second in the Fed and qualified for the playoffs by virtue of last week's 10-7 win over Jackson.
Massillon will have to regroup this week after the Bulldogs manhandled them in virtually every conceivable area.
"McKinley outcoached us, they outplayed us and give them all the credit,' Massillon coach Tom Stacy said. "We knew they were good and they certainly showed it today."
McKinley got a standout effort from junior tailback Morgan Williams, who rushed for 234 yards and four touchdowns. The 5-foot-11, 187-pounder broke off a 47-yard run – his longest of the afternoon – on McKinley's second possession to help set the tone for the day. The play, on which McKinley caught Massillon in a blitz, took the ball to the Tigers' 7. Williams scored on a 2-yard dive three plays later to give the Pups a lead they would never relinquish.
"We just happened to catch them in a blitz with that draw call," McKinley coach Brian Cross said after his team wrapped up a 10-0 season. "That wasn't really planning, it was more luck. It wasn't like we saw something there and called it. We were just lucky. We called it at the right time and we've got a great tailback to give it to."
Massillon's offense, which entered the game averaging more than 38 points a game, was stuck in neutral most of the first half against a swarming McKinley defense. The Tigers went three-and-out on their first three series and didn't record their initial first down until 5:33 remained in the opening half. By that time McKinley led 14-0 after quarterback Dan Grimsley hit Mark Jackson on a 21-yard scoring toss over the middle. Jackson made a splendid one-handed diving catch and landed in the end zone.
"That was a beautiful grab and we'd been trying to set that up before by cracking on the safety," Grimsley said. "We ran a new play that we put in this week and Mark got open in the middle. He just went up and made a great play."
The Bulldogs took the 14-0 lead into the locker room, as Williams piled up 192 of his yards in the first two quarters.
"Our line did a nice job, especially in the first half," Cross said. 'We kind of had Massillon guessing up front and our line really came off the ball well. Our running back was running the ball hard."
A 32-yard punt return by Joe Morgan set up McKinley's third score of the day, which came when Williams took a toss and found the end zone from 6 yards out to make it 21-0 McKinley with 8:40 left in the third quarter. Zach Campbell, who made all five of his extra points, nailed a 38-yard field goal three minutes later extend McKinley's lead to 24-0.
The only offense Massillon got all afternoon came courtesy of its defense. Cornerback Troy Ellis picked off a McKinley pass and returned it 50 yards for a touchdown with just 24 seconds left in the third. A two-point run by Brian Gamble brought Massillon to within 24-8, but the Tigers would get no closer.
"I don't think there was a key point necessarily,' Stacy said. "McKinley just controlled things early on and we could never get into a rhythm offensively. We didn't throw the ball well, we weren't consistent in our running game. We just didn't play well."
Williams added a pair of fourth-quarter touchdown runs, from 14 and 4 yards out, to wrap up the scoring.
Massillon was outgained 339-124, as the Bulldogs ran 70 plays to the Tigers' 47. The Tigers were intercepted four times and turned the ball over five times in all. Gamble found yards tough to come by and finished with just 47 yards on 15 carries. Quarterback Bobby Huth was 8-of-18 passing for 61 yards.
"We didn't just try to take Gamble out, we had to defend their entire offense because Massillon has a lot of weapons," Cross said. "We just played a good, sound game, got a little bit of a lead on them. Maybe that took them out of what they wanted to do and we were able to convert."
In his first season at the Tigers' helm, Stacy put the responsibility for his team's first loss squarely on his shoulders.
"We just were outplayed and out coached today," he said. "I don't think it had anything to do with physical toughness. I just didn't have our guys prepared. That's pretty obvious … I'm the head coach and that's my responsibility and we were not ready to play for whatever reason."