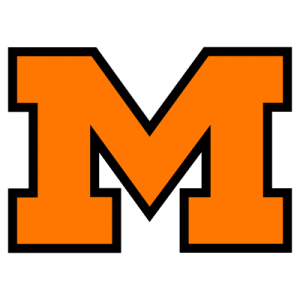 Tigers go 9-0
By JOE SHAHEEN
With the annual season-ending rivalry game with McKinley looming one week from today, Massillon Tiger coach Tom Stacy didn't want any slip-ups against underdog Eastlake North Friday night at Paul Brown Tiger Stadium.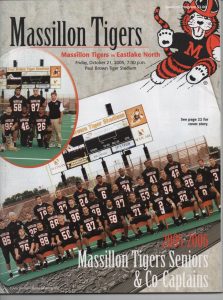 Stacy was adamant that his players focus on Eastlake, so much so that early in the week he banned them from addressing McKinley.
"We had a gag order on talking about McKinley," Stacy said. "We did. We said don't mention the name. Don't talk about it.
"This program has had some slip-ups in Week Nine. I was part of a couple of those."
Despite a steady drizzle for the first half of the game, the Tigers didn't slip or slide or otherwise screw up their perfect record. Instead they blew Eastlake away 49-14 in front of 6,936 fans to improve to 9-0.
"I've coached in a lot of places and I've seen some very good football teams," said Eastlake North head coach Nick Toth. "One of the things that makes Massillon a good team is they're really well coached from top to bottom.
"I watched nine films on them and I only saw one thing I thought we could take advantage of that they were a little bit structurally weak. This is a well-coached football team. That guy is doing a very, very nice job over there."
Eastlake North finished with 211 total yards but most came after the Tiger starters were out of the game.
"Our starters really got after them," Stacy said. "That's good to see. We told them they better go out and play hard. I thought our starters did a good job with that."
Bobby Huth had a superb game at quarterback, connecting on 9 of 13 for 213 yards and two touchdowns. Stacy wanted to get his junior signal caller in a groove for the showdown next weekend.
"We wanted to get him in a rhythm and get a little bit more balance in our offense tonight," said Stacy, noting the Tigers had 300 yards rushing and 274 yards passing. "If the weather had been better we'd have thrown a little bit more."
The Tigers broke on top without the benefit of an offensive snap as senior cornerback Troy Ellis picked off a Mitch Weisbarth aerial at the Eastlake North 42 and ran it all the way back for a touchdown at 10:31 of the first quarter. Steve Schott's point after was good and Massillon was up 7-0.
"If he hadn't picked off that pass and ran it back, we'd have lost 42-14 instead of 49-14," Toth quipped.
Massillon's first offensive possession ended in a fumble but the next time the Tigers touched the ball there would be no such relief for Eastlake.
Huth hit Zack Vanryzin for seven yards along the right sideline on first down. Then senior running back Lanale Robinson ripped off 16 yards around right end and tacked on 22 more on a similar play to reach the end zone. Schott's kick was true and the Tigers were up 14-0 with almost four minutes remaining in the first quarter.
Another three-play drive the next time Massillon had the ball yielded yet another touchdown. The possession began with a flea flicker play as Huth stood in the face of the North pass rush and found Vanryzin wide open at midfield. The senior wideout caught the ball and then weaved his way through the Ranger secondary down to the North 15.
Two plays later Robinson went over his right guard, ran through at tackle at the 5-yard line and scored the Tigers third touchdown of the evening. Schott's conversion boot made it 21-0 with just under a minute to play in the opening stanza.
Massillon's only sustained drive of the first half began at its 31. Eight plays later – six of which were runs by Gamble – Huth found senior tight end Brett Huffman all by himself at the North 14. Huffman snatched the ball out of the air and ambled in for the touchdown.
"I went up the line and I saw there was nobody around me and I was hoping Bob saw it too," Huffman said. "He did and he got it to me. It was perfect pass. Good throw, good catch, good touchdown."
Schott's conversion was on target and Massillon's lead grew to 28-0 at 4:06 of the first half.
Gamble made an incredible diving catch to key the Tigers final first-half possession. The drive began at the Massillon 20 with a 23-yard Huth to Gamble hook-up.
Two plays later Huth wound up and let fly in Gamble's direction down the right hash. The ball looked to be overthrown but Gamble dove and – with his body parallel to the ground – latched onto the ball for a 30-yard gain to the North 26.
"That was a heck of a catch," Stacy said. "I didn't think he was going to get to it. I didn't think there was any way.
"It gets to the point where you kind of take him for granted some times. He is a great player."
Five plays later Huth lofted the ball into the end zone and Trey Miller pulled it in for Massillon's fifth touchdown of the first half. Schott was accurate with his conversion kick and the Tigers carried a 35-0 lead into the halftime locker room.
The Tiger defense was relentless, limiting North to 82 total yards in the first two quarters and only 16 yards rushing.
Massillon sacked Weisbarth three times, with Lorenzo Grizzard, Dirk Dickerhoof and Paris McCall doing the honors for the Tigers.
Robert Morris opened the second half scoring with a 16-yard burst into the end zone, capping a drive that got started with a 59-yard Shawn Weisend to Vanryzin aerial. Schott's kick pushed the tiger lead to 42-0 midway through the third quarter.
Massillon's final touchdown came on an electrifying 80-yard run by Robinson on the second play of the fourth quarter.
Robinson finished with a career high 169 yards rushing on just 11 carries.