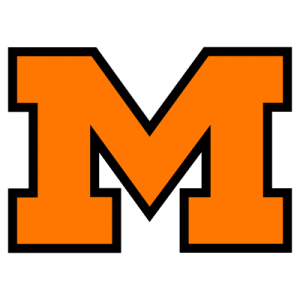 Tigers' attack hits high gear
By JOE SHAHEEN
Independent Sports Editor
The Massillon Tigers put the air back into the football Friday night, scoring three first half touchdowns ‑ two through the air ‑ in handing the Akron Garfield Rams their third straight defeat 21‑10 in front of 10,180 fans on a warm, late­ summer evening at Paul Brown Tiger Stadium.
One week after passing the football just nine times in a. drubbing of Lima Senior, the Tigers (2‑1) put it up 14 times in the first half alone, completing eight of those aerials, including scoring tosses of 34 and 25 yards to Neil Buckosh and Marc Cleveland.
Senior quarterback Tom Fichter connected on 8‑of‑14 first half throws for 120 yards, putting the winless Rams back on their heels and in a hole from which they never recovered.
Jon Stanke set the Massillon offense up with exceptional field position by returning the opening kickoff all the way for a touchdown. Unfortunately for Stanke and the Tigers, a holding call negated the score and put the ball at the Garfield 37.
After two incompletions and facing a fourth‑and‑7, Fichter dropped back to pass, got excellent protection, and laid a perfectly thrown pass over the right shoulder of Buckosh. The senior tight end pulled the foot in at the 10‑yard line and dashed to the end zone to put Massillon up 6‑0.
Brett Marshall's conversion kick made it 7‑0 at 10:58 of the first quarter.
"We do a lot of distraction drills in practice," Buckosh said afterward. "On that play their guy ran right across my line of sight and those practice drills paid off. I stayed on the ball."
"Tommy made a great throw for me. I give all the credit to Tommy Fichter."
Fichter made a pre‑snap read on the play and recognized his tight end might be open.
"I knew the route Buckosh was going to run and I saw who was going to cover him," Fichter said. "I know Neil has good hands and I knew I had to put the ball where it had to be. I got lucky and put it right there and Neil made a great catch and good run and we got six points out of it.
The Tigers defense nearly got an interception from corner­back Brandon Clark on Garfield's initial drive and forced the Rams into a three-­and‑out series. Rocky Dorsey's punt return set Massillon up with a first down near midfield '
Fichter found Buckosh open over the middle on the very first snap for 20 yards to the Garfield 32. After Ronnie Lynn picked up 12 yards to the Rams' 15, two Marc Cleveland sweeps did the rest. The second, a pitch sweep around left end from seven yards out, made it 13‑0 with 7:13 to play in the first quarter.
Marshall tacked on the PAT and it was a 14‑0 Tiger cushion.
"We came out and we did exactly what we wanted to do," said head coach Rick Shepas. "We know that Garfield is a well coached football team. We know they are very talented and they play hard and if they know they're in the football game then we're going to have prob­lems with them.
"Getting nicked twice in their first two games made it a dif­ferent atmosphere for them. Fortunately we were able to come out and get the good kick return and get it in the end
zone, get a good defensive stop, get it in the end zone again and now they might question them­selves a little bit."
Garfield got on the score­board on an eight‑play, 43‑yard drive capped by Greg Kulick's 28‑yard field goal that made it a 14‑3 game with 5:04 left in the first half. The Rams had first-­and‑10 from the Tigers 12, but consecutive outstanding defen­sive plays by Ellery Moore, Clark and Jamie Allman pre­vented any further incursion into Tiger territory.
Massillon took the ensuing kickoff and put together a well­ executed drive. The first big play on the march was an 11­-yard Fichter‑to‑Jason Clemens sideline pass on third‑and‑eight that moved the ball into Garfield territory as well as netting a first down.
Then on fourth‑and‑five from the Rams' 43, Fichter found Cleveland open for 18 yards along the right hash mark for another do‑or‑die first down.
Three snaps later, on third­-and‑10, Fichter dropped back and floated the football into Cleveland's waiting hands in the end zone from 25 yards out. Marshall again converted and the Tigers were up 21‑3 with just :35 until the band show.
"We started to get things going," Fichter said in the lock­er room. "We started to feel good about ourselves again."
Shepas built on that theme. "I think the kids feel better about themselves," he said. "That's what we're trying to do.'
"I was pleased with Tom's performance in the first half. We're still not seeing all the field and you can see that in a number of instances. But we did a better job for the quarter­backs this week in practice, giv­ing them a better look at what they were going to see cover­age‑wise to make them more comfortable. Every week we're going to start over again. We're going to go out and teach for four days before we play a football game. We're going to see if we get better and we're going to start to understand more things as the games go by."
The Massillon defense was as much the story as the re‑emer­gence of Shepas' West Coast Offense. The Tigers held Garfield to 145 yards of total offense for the entire game. The Rams did not complete a pass in eight attempts and scrambling quarterback Eli Ward only gained 45 yards in 11 totes.
"If offense can go out and get some scores and put some points on the board, the defense doesn't have to worry about where they are on the field," pointed out Shepas. "They can fly around and make plays. Hey, we have our marquee players on defense. We want to play good defense. We're taking steps to improve in that area, too. We did eliminate some mis­takes and we're one week bet­ter, but that's all we are."
"What's taking more time than anything is getting to know who our people are and how to use our people. That's the biggest thing. We've done a 360 degree turn since the summer and we're starting to find out more and more who to play in these football games. It's going to take the entire season to get a feel for who we got."
"The offense is coming around," said Buckosh, who fin­ished with three catches for 59 yards. "We had a great first half on offense The second half we didn't score any points so we've got to get better. We're in great shape, better shape than our opponents. We just need to focus on not putting the defense in jeopardy."
Garfield got its only touch­down of the game late in the third period on a 43‑yard drive set up by Massillon's second interception of the evening. It took the Rams 11 plays, but they finally punched it in from a foot out after three tries from inside the 5‑yard line.
"For us it's been a lack of con­sistency," explained Garfield coach Bill McGee after the game. "Our defense has been tough in the first half the first two weeks. Tonight we gave them a couple of easy ones in the first half and we had break­down in the kicking game which gave them good field position."
.
"This was an improvement for us in some areas. After the first seven or eight minutes of the game we outscored them, but we put ourselves into too big a hole.'
MASSSILLON 21
GARFIELD 10
M G
First downs rushing 5 8
First downs passing 6 0
First downs by penalty 0 2
TOTAL first downs 11 10
Net yards rushing 91 145
Net yards passing 136 0
TOTAL yards 227 145
Passes attempted 18 8
Passes completed 10 0
Passes intercepted 2 0
Punts 3 5
Punting average 47 29.4
Fumbles/Lost 3/0 2/0
Penalties 7 4
Yards penalized 57 20
MASSILLON 14 7 0 0 21
GARFIELD 0 3 7 0 10
SCORING
M – Buckosh 34 pass from Fichter (Marshall kick)
M ‑ Cleveland 7 run (Marshall kick)
G ‑ Kulick 28 field goal
M ‑ Cleveland 25 pass from Fichter (Marshall kick)
G – Ross 1 run (Kulick kick)
INDIVIDUAL STATISTICS
Massillon rushing:
Cleveland 18‑79,
Lynn 1‑16,
Miller 6‑5.
Garfield rushing:
Jones 14‑53,
Ross 14‑46,
Ward 11‑45.
Massillon passing:
Fichter 8‑16‑2 120, 2 TDs,
Eyerman 2‑2‑0 16.
Garfield passing:
Ward 0‑8‑0 0
Massillon receiving:
Buckosh 3‑59,
Cleveland 3‑46,
Clemens 2‑22,
Dorsey 1‑7,
Miller 1‑2.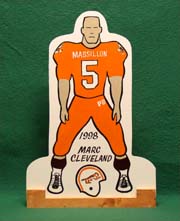 Marc Cleveland