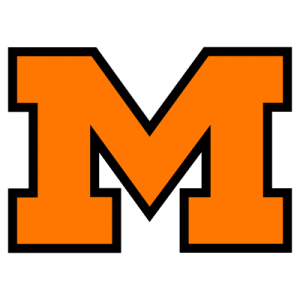 Tigers run into a buzzsaw at Mansfield
Massillon never gets offense untracked against the Tygers
By CHRIS BEERS
Independent‑Staff Writer
A quick and athletic Mansfield Senior football team dominated visiting Massillon for four quarters Friday night en route to 21-0 whitewashing of the Tigers.
Some 8,317 fans watched at Mansfield's Arlin Field as the host Tygers scored a touchdown in each of the first three quarters to remain unbeaten after the first four games of the season.
Senior quarterback Jeremy Butts scored on a 2-yard scamper in the first quarter and tossed scoring strikes of 9 yards and 18 yards to senior tight end Jermaine Bradley in both the second and third periods to hand Massillon its second loss in four outings.
"Mansfield did an outstanding job offensively. They mixed up their plays well," said Massillon coach Rick Shepas after the game. "Their quarterback ran their option well and made good decisions when he had to. Their offense keep us off-balance.
"But once again, we shot ourselves in the foot at the most inopportune times." Added the Tigers' first-year coach. "We weren't effective through the air and Mansfield has a lot of team speed on their defense. But we just didn't take advantage of the opportunities that we had. We have to create points to get some life on this team."
The statistics show how dominant Mansfield was in the 45th renewal of the battle of the Tigers. The host ran 75 plays compared to Massillon's 47, and accumulated 359 total yard to the visitors' 191.
The closest Massillon got to scoring came late in the first quarter when the Tigers reached the Mansfield 11. But a delay of game penalty and an incomplete pass forced Massillon to attempt a field goal from 32 yards away. Brett Marshall's kick sailed "wide right, leaving the Tigers empty-handed despite a 10-play drive.
Massillon's only other legitimate scoring threat came late in the fourth quarter when the Tigers drove from their own 20 to the Mansfield 18. But senior tailback Marc Cleveland was stopped short on a fourth-down run, effectively ending Massillon's attempt to avert the shutout.
Despite the loss, Cleveland turned in another solid game. The 5-foot-9, 186-pound senior gained 122 yards on 19 carries for a 6.4 average. His longest run was 26 yards.
However, Cleveland's teammates failed to produce similar numbers. Senior quarterback Tom Fichter completed just 1-of-7 passes for 24 yards before leaving the game with a knee injury near the end of the second quarter.
Fichter's replacement junior Steve Eyerman, fared a little better, completing 4-of-6 passes, but for only 18 yards. The Tigers also lost two fumbles and were penalized 10 times for a total of 109 yards.
"This was a big win for us," said Mansfield coach Stanley Jefferson. "In fact, it was just one year ago that we went 2-8 and lost to Massillon 42-0. Not many people realized it at the time, but we started six sophomores and had 10 first-year juniors on last year's team. That experience is paying off for us now.
"Although we beat them tonight, we respect Massillon and their tradition," Jefferson added. "I respect very much their rich tradition and their 700 wins. To beat a Massillon team you just don't fluke one out. Their program is just too good to fluke out a win.
"We had to play a great game to beat them, and our kids rose to the occasion. Our kids have worked exceptionally hard to get where they are at right now."
Mansfield's first score came midway through the first quarter. The Tygers drove 52-yards in six plays, capped by a 2-yard scamper around right end by Butts.
Mansfield's second TD followed a fumbled snap midway through the second quarter. This time, the Tygers drove 40 yards in eight plays. The touchdown came on a 12-yard toss from Butts to Bradley, but only after the Tygers' QB ducked an on rushing Massillon defender to get rid of the ball.
Mansfield's final TD came midway through the third period. The Tygers took the second-half kickoff and drove 75 yards in 13 plays. The touchdown came on another toss from Butts to Bradley. Place kicker Nick Shasky added his third PAT kick to make the score 21-0.
Butts finished with 11 completions in 24 attempts for 155 yards and no interceptions. The Tygers' leading ball carrier was senior tailback Littleton Lloyd, who gained 162 yards on 25 carries. His longest run was 27 yards.
"I felt we did a good job adjusting at the half. But the kids just didn't execute well," said Shepas. "We had a good game plan, but Mansfield has a good solid football team.
"I told the kids that a loss like this is supposed to hurt," Shepas added. "The only thing that can make the hurt go away is our next game seven days from now."
Fichter sidelined
By CHRIS EASTERLING
Independent Correspondent
The Massillon Tigers might have lost more than just a football game Friday night against Mansfield Senior at Arlin Field. They also might have lost their starting quarterback for a while.
Senior signal caller Tom Fichter suffered an injury to his right knee in the 21-0 loss to the Tygers when he was sacked by Mansfield linebacker Jeremy Haynes at the Massillon 26-yard line with 2:37 remaining in the first half.
The severity of the injury was not immediately known but Fichter is scheduled to undergo an MRI on the knee this weekend.
Tigers coach Rick Shepas said Fichter's status for next week's game at Austintown Fitch is questionable at this moment contingent on the results of the tests on the knee.
Fichter was rolling to his left on a third-and-10 play in order to avoid the oncoming rush when Haynes grabbed him by his jersey and threw him to the turf. Fichter's cleats caught in the turf as he went down awkwardly, twisting his knee. He was writhing on the ground in obvious pain when the Massillon trainers got to him, but after a short while managed to get up and walk off under his own power.
Junior Steve Eyerman, who had been locked into a heated battle with Fichter for the starting job throughout two-a-days, replaced Fichter for the remainder of the game. He completed four-of-six passes for 18-yards while also being sacked once for a 10-yard loss.
Meanwhile, starting senior defensive tackle Alex Borbely will have to sit out next week's game against Austintown Fitch due to a state mandated suspension after he was ejected from the Mansfield game with 45 seconds remaining for taunting the referees.
MANSFIELD 21
MASSILLON 0
Man Mas
First downs rushing 13 7
First downs passing 1 2
First downs by penalty 4 0
TOTAL first downs 24 9
Net yards rushing 204 149
Net yards passing 155 42
TOTAL yards 351 191
Passes attempted 24 14
Passes Completed 11 5
Passes intercepted 0 0
Punts 2 3
Punting average 27.5 42.7
Fumbles/Lost 3/1 2/2
Penalties 9 10
Yards penalized 67 109
MANSFIELD 7 7 7 0 21
MASSILLON 0 0 0 0
SCORING
Man Butts 2 run (Shasky kick)
Man Bradley 9 pass from Butts (Shasky kick)
Man Bradley 18 pass from Butts (Shasky kick)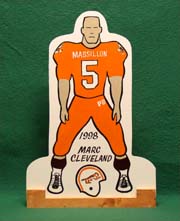 Marc Cleveland