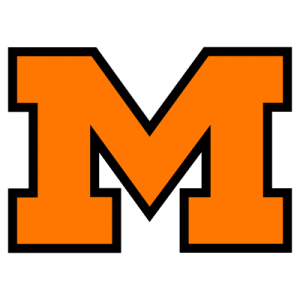 Shepas' first Tigers win
is ugly
By JOE SHAHEEN
Independent Sports Editor
The first victory of the Rick Shepas era at Massillon is not one the Tigers 33‑year old head coach is going to look back on with any degree of satisfaction.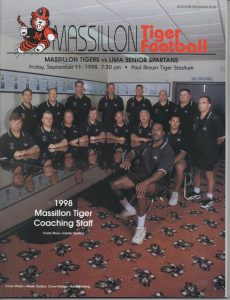 But Massillon's mistake ­marred 28‑18 victory over Lima Senior in front of 10,981 fans at Paul Brown Tiger Stadium is a start and now Shepas and his staff of assistants must go about the task of building on the win while eliminating the errors that kept the Spartans in the game well into the fourth quarter.
"I'm not that happy after this one," Shepas said afterward. "It really wasn't a well played game. Hey, the game lasted three full hours. In high school you know what kind of ugly foot­ball that is, so… ."
How ugly was it?
Well, there were 11 Tiger penalties for 116 yards.
There were five Massillon fumbles, four of which were recovered by the visitors.
And the West Coast offense was put in mothballs for a week against Lima's blitzing defense as the Tigers concentrated on pounding the ball with the run­ning game.
In fact, after putting the ball in the air 27 times last week, Massillon threw just nine passes all night long.
"If we have to play a game like this and be patient with the offense, then that's what we have to do," explained Shepas. "One good thing on the offensive side is we got a blitz on every down and our guys did get better against it. The adjustments did pay off some. But it did limit the way we call offensive plays. That's not really the way I want to go with the offense but as we get some time under our belts we'll get some confidence and get going."
One of the recurring problems Friday was on center-quarterback exchanges and on handoffs to the running backs.
"Fundamentally we want to continue to work on the exchange and work on the hand­off," Shepas vowed. "Our quar­terbacks have to look the hall in and our backs are getting a little bit high. We've got a young team and because of their inexperi­ence when we get a lot of blitz, it's a reflex action to rush the handoff and fumbles are what you get as a result."
The Tigers defense made the play of the game just as it appeared Lima Senior was ready to make a serious run at the lead.
Massillon was up by four at 22-18 when it was forced to punt late in the third quarter. Lima Senior took over at its 25 and two plays later faced a third‑and‑two from the 33. Sophomore quarter­back Nick Morris took a three ­step drop, looked to his right and, fired a quick out‑pattern.
Tigers senior safety Corey Ball stepped in front of the receiver, made the interception and raced untouched 34 yards for a touchdown. The conversion kick failed but Massillon was up by two scores and was able to relax a little against an equally mistake‑prone Lima attack.
"Coach was telling me to watch the three‑step drop and I'd have a pick," Ball recalled, "And sure enough they came with the three‑step drop and I did what Coach (Mark) Black told me. I stepped up for the interception and scored a touch­down.
"I saw when the quarterback had his hands up that he was coming my way. I knew it was a pick and I saw I had an open field and no one could catch me."
Ball says the veteran Tigers defense realizes it has to hold up the offense until it gains some vital game experience.
"I knew I had to step it up because our offense is so young," Ball said. "The defense has to step it up until they get it together."
"Our offense will thrive off what our defense does. If we do something good, they're going to do something good. We just have to keep doing good things and keep it going."
One offensive player doing good things for the second week in a row was starting tailback
Marc Cleveland, who rushed for 155 yards and two touchdowns in 17 first half carries. A knee injury kept Cleveland on the sidelines the entire second half.
"It was a big first half because our offensive line came off the ball really well," Cleveland said. "They blocked for me and I delivered for them."
"I'll be back next week and this offense will get better and better each week. We've got to just keep coming off the ball and good things will happen."
Good things happened for the Tigers the first time Cleveland touched the football. Trailing 6‑0 after a long kickoff return set up Lima's first touchdown, Massillon took over on its own 40‑yard line.
On first down, the 5‑foot‑9, 186‑pound senior took a handoff and went over his left guard and tackle. Cleveland broke a tackle at the line of scrimmage, found a seam in the Spartan defense and raced 60 yards, diving the final five to the left pylon for the touchdown.
Brett Marshall's kick made it 7‑6 Tigers with just 10:13 gone in the first quarter.
Lima Senior, taking, advantage of a Massillon fumble inside the Tigers' 40, marched 36 yards in
six plays to take a 12‑7 lead on Greg Johnson's five‑yard TD run at 5:33 of the first quarter.
After Julian Miller's brilliant 70‑yard kickoff return, Massillon took over at the Lima Senior 12. Three plays later Cleveland again went over left guard, this time from the three, for his second touchdown of the night. Marshall's kick was true and the Tigers were up 14‑12 with just over four minutes to play in the opening period.
"Marc Cleveland is one of those guys who wants the ball in his hands," praised Shepas. "In pressure situation he wants the ball. He's going to make big plays. His mind is geared for that and that's why that happens. He made a lot of big plays in the first half."
Massillon's lead stood through the second quarter, but the Tigers sputtered after getting the opening kickoff of the sec­ond half. In fact, they committed three penalties in their first series of the third quarter before punting the ball away on fourth‑and‑23.
"Lima Senior did not move on its first possession of the second half, either. The Spartans poor punt set Massillon up with first and-ten and its own 46 and it was Julian Miller's turn for some heroics.
The 5‑9, 173‑pound senior took a handoff and found a seam over his right guard, hit into the Lima secondary, then cut back at the Spartans' 40 and headed to the left sideline. Forty‑eight yards later the visitors finally pulled Miller down at their 5‑yard line. On the next snap, Miller skirted his right end, broke a tackle at the goal line and scored to give Massillon a 22‑12 cushion with 8:26 left in the third.
The defense took over from there with Jason Bradley and Brandon Clark combining to stuff Lima Senior for a yard loss on a critical fourth‑and‑three play at the Massillon 7‑yard line.
However, two plays later the Tigers fumbled the hall back to the Spartans, who promptly scored on a Nick Morris to ­Terry Cannon 12‑yard aerial that made it 22‑18 with 2:55 left in the third.
Massillon could not move on its next possession, setting up Ball's big interception that seemed to sap the spirit from the Lima Senior sideline.
"We put our best players on defense at the beginning of the season knowing we were going to have a young offense and inexperience up front," Shepas said.
"There's a lot of things we could find positive tonight. But what's going to keep us working hard is to be critical of what's going on. That's where we'll always be. We're going to keep working and keep getting better. We have a whole season to get better."
MASSILLON 28
LIMA SR. 18
M L
First downs rushing 8 5
First downs passing 0 5
First downs by penalty 1 4
TOTAL first downs 9 14
Net yards rushing 250 108
Net yards passing 6 79
TOTAL yards 256 187
Passes attempted 2 6
Passes completed 2 9
Passes intercepted 0 3
Punts 7 7
Punting average 43.9 26.3
Fumbles/Lost 5/4 3/1
Penalties 11 8
Yards penalized 116 60
MASSILLON 14 0 8 6 28
LIMA SR. 12 0 6 0 18
SCORING
L ‑ Simpson 6 run (Pass failed)
M ‑ Cleveland 60 run (Marshall kick)
L ‑ Johnson 5 (Pass failed)
M ‑ Cleveland 3 run (Marshall kick)
M ‑ Miller 5 run (Miller run)
L ‑ Morris 12 pass to Cannon (Pass failed)
M ‑ Ball 34 pass interception return (Kick failed)
INDIVIDUAL STATISTICS
Massillon rushing:
Cleveland 17‑155,
Miller 12‑97,
Radich 2‑19,
Lynn 2‑7.
Lima rushing:
T. Cannon 20‑53,
Johnson 15‑48.
Massillon passing:
Fichter 2 9 6 yards, 0 Ints, 0 TDs.
Lima passing:
Morris 9‑24‑79 3 Ints, 1 TD
Massillon receiving:
Dorsey 1‑8.
Lima receiving:
Collins 4‑43.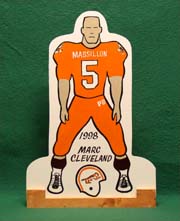 Marc Cleveland