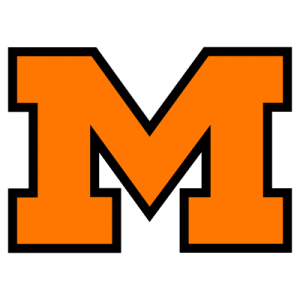 Garfield can't stop Tiger attack
By JOE SHAHEEN
Independent Sports Editor
Let the comparisons begin.
The Massillon Tigers rolled up over 400 yards of total offense in giving the Akron Garfield Rams a 36‑6 whipping in front of 10,223 fans at Paul Brown Tiger Stadium , Friday night.
The victory boosts the Tigers to 3‑0, while Garfield falls to 0‑3.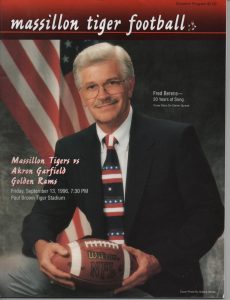 The Golden Rams opened the season with a 17‑0 shutout defeat at the hands of the McKinley Bulldogs. So it was natural to ask veteran Garfield coach Bill McGee to compare the two storied rivals. But McGee wasn't about to be drawn into a controversy.
"Massillon has an outstanding club," McGee said. "They are the best balanced club we've seen. They did a good job of executing and they didn't make any mistakes. This is one of their better balanced teams I've seen in all the years we've been coming down here."
Indeed. Massillon racked up 259 net yards rushing and 153 net yards passing. Those are the kinds of statistics that will make offensive coordinators smile and defensive coordinators wince.
But McGee wasn't about to anoint the Tigers state champions just yet. He believes they still have to answer some questions.
"The weakest part of our team is the offense," McGee said. "Massillon's test is going to be when they play a team with a high‑powered offense. They're not as good on defense as they are on offense. They handled us but we've only scored two touchdowns in three games."
The Tigers did manhandle the Golden Rams offense, limiting the Garfield attack to 128 total yards, nine first downs and an average of less than three yards per rushing play. Massillon ran 70 offensive plays. Garfield snapped the ball 43 times.
"It was just like what it looked like out there," McGee conceded.
Jack Rose wasn't about to make any comparisons either and he wanted no part of grading just how good the Tigers are this season.
"I think we're pretty good," Rose said. "How good? I don't know. We are improving every week. That's always been our goal.
"But, don't forget that Garfield had two tough games in a row.
But what about the fact the Tigers beat Garfield by 30 points and the Bulldogs margin of victory was 17 points?
"I don't like to get into a comparison of games," Rose said. "We wanted to go out and establish ourselves offensively and mix it up. We feel we have a chance to be a pretty good offensive team."
Pretty good would not seem to cover it. Tigers tailback Christian Morgan recorded his second straight 100 yard rushing game in two starts, gaining 122 yards in 20 carries. He found the end zone no less than four times.
Massillon quarterback Ben Hymes was sharp once again, hitting on 11 of 17 aerials for 137 yards. He had one interception. The senior's numbers would've been even more impressive, except for three intentional incompletions late in the first half when the Tigers were without time outs and needed to stop the clock.
Hymes spread the wealth around, hitting Devin Williams five times for 45 yards, Brian Baer twice for 36 yards, Chris Martin twice for 33 yards and Elijah Blake and Chris Autry once each.
Blake had another superb game in relief of Morgan, carrying the football 11 times for 61 yards and a touchdown run that conjured images of Jimmy Brown.
Early in the fourth quarter Massillon moved the football from its own 15 to the Garfield 10, mostly on Blake's shoulders. The 5‑10, 170‑pound senior had five carries for 27 yards. On first and 10 from the 10, Blake took a handoff from Hymes, hit the middle of the pile and was pushed back into his own backfield. Refusing to go down, Blake bounced outside, ducked under a couple of tacklers broke a tackle at the 5 and fought his way to paydirt to close the evening's scoring.
"I don't know how I did it," Blake said. "I never ran like that before. I saw all those defenders and they were trash talking, saying I wouldn't get in. I just had the heart to get in there. I got in there somehow. I don't know how."
Neither does Rose.
"We didn't block anybody on the play," marveled Rose. "That was simply a great effort on the part of Elijah Blake."
Massillon opened the scoring by marching 65 yards on eight plays on its initial possession of the evening. Morgan covered the final 15 yards, finding a hole over right guard and running over Garfield tacklers at the 10 and 5 on the way to the end zone at 5:57 of the first quarter.
The Tigers defense forced Garfield into a three‑and‑out series and the offense had superb field position at the visitors' 41. After a penalty, Morgan tore off a 21‑yard gain to the 25. Two snaps later, Hymes hit Williams on a curl route for a first down at the 12. Morgan scored one play later, following his blockers off right tackle from eight yards out with under 90 seconds remaining in the first quarter.
Garfield got its offense untracked in typical Garfield manner. The Rams covered 81 yards in 15 plays, the final on a Phil Mitchell to Erick Hawkins touchdown pass at 5:56 of the second quarter. The drive took 7:15 off the game clock, but did not take the momentum away from Massillon.
Morgan carried the ball on all five plays of the Tigers' ensuing drive, scoring a touchdown on a run around right end from the 23‑yard line at 3:34 of the second quarter to make it a 20‑6 contest.
MASSILLON 36
GARFIELD 6
M G
First downs rushing 14 6
First downs passing 9 2
First downs penalty 3 1
Total first downs 26 9
Net yards rushing 259 94
Net yards passing 153 34
Total yards gained 412 128
Passes attempted 18 9
Passes completed 12 3
Passes int. 1 1
Times kicked off 7 2
Kickoff average 49.9 28.5
Kickoff return yards 17 90
Punts 0 6
Punting average 0 38.0
Punt return yards 22 0
Fumbles 2 0
Fumbles lost 1 0
Penalties 6 4
Yards penalized 47 55
Number of plays 70 43
Time of possession 25:31 22:29
Attendance 10,223
GARFIELD 0 6 0 0 0
MASSILLON 14 12 3 7 36
SCORING SUMMARY
First Quarter
Mass
Morgan 15 run (Hose kick)
Morgan 8 run (Hose kick)
Second Quarter
Gar ‑ Hawkins 15 pass from Mitchell (kick failed)
Mass ‑ Morgan 23 run (kick failed)
Mass ‑ Morgan 2 run (pass failed)
Third Quarter
Mass ‑ Stanley 32 FG
Fourth Quarter
Mass ‑ Blake 10 run (Hose kick)
FINAL STATISTICS
Rushing:
Massillon ‑ Morgan 20‑122, 4 TDs;
Blake 11 ‑61;
Bradley 5‑32;
Hodgson 7‑21;
Stefanko 4‑14;
Hymes 2‑10;
Childs 1‑4.
Garfield
Knox 13‑37,
Blackwell 9‑28,
McNeil 5‑14,
Guthrie 5‑12.
Passing:
Massillon
Hymes 11‑17‑137‑1,
Danzy 1‑1‑16.
Garfield
Mitchell 3‑9‑34‑1, 1 TD.
Receiving:
Massillon
Williams 5‑45,
Baer 2‑36,
Martin 2‑33,
Dean 1‑16,
Blake 1‑14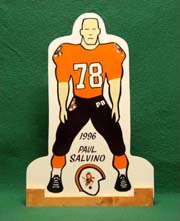 Paul Salvino