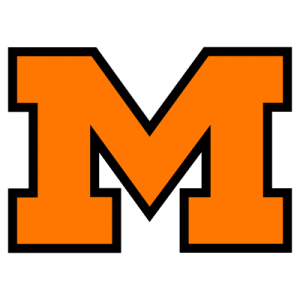 Tigers win in spite of themselves
By JOE SHAHEEN
Independent Sports Editor
There is something about Massillon that seems to bring the best out of the Mansfield Tygers.
From Jack Rose's perspective, it might seem there is something about Mansfield that brings the worst out of his Tigers.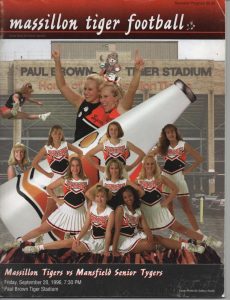 Either way, it makes for competitive football and that's just what 11,934 fans at Paul Brown Tiger Stadium got for their money as the No. 1 ranked Tigers fought back from a 14‑7 deficit with 28 unanswered points to secure a 42‑28 decision, Friday night.
The win served as revenge for Mansfield's 21‑20 upset of the then‑undefeated Tigers one year ago at Arlin Field in Mansfield. That loss helped keep Massillon from a third straight playoff berth.
Massillon opened Friday's rematch as if it was going to run away and hide from Mansfield. The Tigers marched 71 yards on seven plays after the opening kickoff for a 7‑0 lead.
But Mansfield answered back with an eight‑play, 66‑yard scoring drive and followed that with a 50‑yard scoring strike and suddenly Massillon's No. 6 national ranking looked a bit overstated.
Then the littlest Tiger took over. Devin Williams, a 5‑foot‑5, 130‑pound senior, took the ensuing kickoff the length of the field for a 90‑yard touchdown return that tied the game and sparked Massillon's four touchdown rally.
Williams took the ball at the 10 and moved upfield toward the right sideline. At the 25, he broke a tackle and cut back left, leaving the Tygers grasping for air. Williams turned on the jets at the 50 and pulled away from his pursuers for the score.
"I just tried to go out there and change the tempo of the game because we looked a little flat," Williams said. "I have to give credit to Elijah Blake. He gave me the final block to get me into the end zone. The whole team blocked well."
Williams electrifying run back shot a spark into the Tiger defense. Mansfield had third-and‑one on its ensuing possession at its 42 yard line, when Milo McGuire, Jared Stefanko and Josh Hill nailed Tygers tailback Kenny Rife for a one‑yard loss that forced a punt.
Again Williams did his thing, fielding the punt on the Massillon 26 and juking one would‑be tackler to his knees. The diminutive one cut left across the grain and raced to the Mansfield 21 before running out of gas.
On the very next play from scrimmage, Christian Morgan found a gaping hole off right tackle and sprinted untouched into the end zone to give the lead to Massillon for good. Josh Hose drilled the extra point and it was Tigers 21, Mansfield 14 just six seconds into the second quarter.
"I have asthma and I ran out of gas on the punt return," Williams said. "Mansfield thought they could hang in the game with us. They tried but they couldn't."
Tygers coach Stan Jefferson cited three plays that cost his team victory and two of those were provided by Williams.
"The kick‑off return, the punt return and we're going to score when we threw a screen pass that was intercepted (by Bud Kraft)," Jefferson recalled. "Take 21 points off the scoreboard and its a different story.
"Don't take anything away from Massillon. The Tigers are a very, very good football team. We played a very, very good football team and I told Coach Rose congratulations on the state rankings, but I look back and I see those three plays."
For Rose's part, he thought his charges were not up to the lofty standards they set for themselves in Weeks One, Two and Three.
"That was probably our worst game of the year, Rose said. "We were flat. I was disappointed.
"We had two starters (Eric Lightfoot and Dusty Limbach) out of the secondary. It was pretty glaring that we miss them. We didn't play well. Our offense was sporadic. It was not very good."
Morgan had another big night for Massillon, rushing 24 times for 142 yards and two touchdowns. He covered the final 24 yards on three totes on MassilIon's opening drive, bursting into the end zone from the five at 10:00 of the first quarter. Hose hit the PAT to make it 7-0.
Mansfield responded with Leonard Alexander's 20-yard burst off right guard on a fourth‑and‑one play. Nick Shas­ky hit the extra point and it was a 7‑7 contest at 6:12 of the first.
Consecutive illegal procedure calls against the Tigers doomed their second drive of the night, setting up a 50‑yard TD pass that began with a short slant from Jeff Soliday to Craig Montgomery. When two Tiger defenders crashed into each other, Montgomery was gone and it was 14‑7 with 2:01 left in the first.
Then Williams took over to turn things around.
Kraft, subbing for Lightfoot, recovered a Mansfield fumble after the Tigers took a 21‑14 lead. But Massillon gave it right back, fumbling the ball to the Tygers at the visitors' 12­-yard line.
The Tigers offense continued to stumble until Milo McGuire's interception of a Soliday screen pass at the Mansfield 35. Mor­gan then ran the ball on four straight plays to move it to the 5. From there, Ben Hymes fol­lowed his offensive line on a quarterback sneak and found the end zone to make it a 28‑14 count with less than a minute left in the first half.
Mansfield took the second half kickoff and drove it to the Massillon 7. Oil second and goal, Soliday rolled left and threw to Alexander, who tipped the ball in the air. Again Kraft was at the right place at the right time and secured the in­terception to quell the drive.
"It was the pressure from the defensive line oil both plays that caused those turnovers," Kraft said. "I wouldn't have got the fumble if one of the linemen didn't strip it.
After Kraft's pick, the Tigers got out of trouble when Hymes hit Brian Baer for 21 yards on a third‑and‑nine play from the Massillon 21. Three plays later, from the Mansfield 47, Stefanko took a handoff and burst through a gaping hole up the middle. The junior fullback shook off a clean hit at the 25 and dashed into the end zone at the 5:50 mark of the third period. Hose converted the PAT and the Tigers seemed to have things in hand at 35‑14.
Mansfield countered with a 15‑play, 65‑yard scoring drive, culminated by Soliday's touchdown run on an option keeper from five yards out. The kick made it 35‑21 Massillon at the 11:25 mark of the fourth.
MASSILLON 42
MANSFIELD 28
Mass Mans
First downs rushing 15 11
First downs passing 5 9
First downs penalty 1 0
Total first downs 21 20
Net yards rushing 306 201
Net yards passing 77 200
Total yards gained 383 401
Passes attempted 12 20
Passes completed 6 11
Passes int. 0 2
Times kicked off 7 5
Kickoff average 44.3 46.4
Kickoff return yards 139 89
Punts 1 3
Punting average 30.0 32.3
Punt return yards 59 0
Fumbles 1 2
Fumbles lost 1 1
Penalties 6 2
Yards penalized 34 11
Number of plays 56 62
Time of possession 21:50 26:10
Attendance 11,934
MANSFIELD 14 0 0 14 28
MASSILLON 14 14 7 7 42
SCORING SUMMARY
First Quarter
MASS ‑ Morgan 5 run (Hose kick)
MANS – Alexander 20 run (Shasky kick)
MANS – Montgomery 51 pass from Jeff Soliday (Shasky kick)
Second Quarter
MASS ‑ Williams 90 kickoff return (Hose kick)
MASS ‑ Hymes 5 run (Hose kick)
Third Quarter
MASS ‑ Stefanko 47 run (Hose kick)
Fourth Quarter
MANS – Jeff Soliday 2 run (Shasky kick)
MASS – Blake 24 run (Hose kick)
MANS ‑ Montgomery 20 pass from Jeff Soliday (Shasky kick)
FINAL STATISTICS
Rushing:
Massillon
Morgan 24‑142, 2 TDs;
Stefanko 3‑68, 1 TD;
Childs 8‑44;
Blake 4‑27, 1 TD;
Hymes 4‑25, 1 TD.
Mansfield
Rife 17‑119;
Soliday 11‑43, 1 TD;
Alexander 12‑39, 1 TD;
Amadio ‑ 2‑0.
Passing:
Massillon
Hymes 6‑12‑77.
Mans­field
Jeff Soliday 11‑20‑200‑2, 2 TDs.
Receiving:
Massillon
Baer 2‑27;
Morgan 2‑13;
Martin 1‑21;
Stefanko 1‑16.
Mansfield
Montgomery 4‑127, 2 TDs;
Jake Soliday 3‑26;
Luttrell 2‑20;
Cutliff 1‑15;
Alexander 1‑12.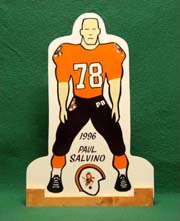 Paul Salvino