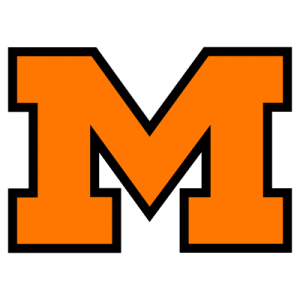 Heroes galore as Tigers roar
Lightfoot, Morgan key Massillon to 2‑0 start
By JOE SHAHEEN
Independent Sports Editor
Message delivered.
Massillon served notice to Ohio's Division I football powers the Tigers are to be dealt with by handing powerful Lima with a convincing 28‑14 setback in monsoon conditions at Paul Brown Tiger Stadium, Friday. Only 7,363 witnessed what may well be a springboard victory toward a very special season for the orange‑and‑black
At the same time, Tigers junior Christian Morgan served notice to the Massillon coaching staff that he deserves to be the starting tailback, by rambling 77 yards for a touchdown on the very first play from scrimmage.
The 6‑4, 215‑pound junior who missed the opener with a bruised Achille's heel, took a handoff from quarterback Ben Hymes and looked for a hole off the left side. Tackle Paul Salvino took his man inside and Morgan bounced to the sideline, where he broke a couple of tackles and was off to the races.
"I was nervous," Morgan admitted. "I was just looking for someplace to go. Paul (Salvino) told me to go around on his outside hip. So I went around and broke a couple of tackles. Then I slipped but I kept my footing and I thought I was on television or something seeing all of that from space."
Morgan confirmed he felt some pressure to produce after senior Elijah Blake rushed for over 100 yards last week as his replacement in the opener against Mansfield Madison.
"They were saying they were going to put Elijah in if I didn't get the job done," Morgan revealed. "When you know you're not doing your job and they're going to pull you any minute, you do what you got to do."
Jack Rose recalled Morgan running the very same play in the opening scrimmage against Pittsburgh Penn Hills with less dramatic results. "He would've done the same thing over there if we'd have blocked it right," Rose said. "He's the type of back who'll make people miss. If you just grab him, he'll run right through an arm tackle.
"On that play, he'll take it inside or outside depending on what he sees and how it's blocked."
Lima Senior didn't travel over four hours to Massillon just to roll over after one touchdown. The Spartans came back to knot the score at 7‑7 with less than five minutes remaining in the first half.
After the ensuing kickoff, Lima quarterback Jimmy Morris ran the option from the Spartans' 36‑yard line. He scampered around his right end and delivered a late pitch to running back William Bratton near midfield. Bratton, who rushed for over 170 yards last week against Toledo St. Francis, rumbled down the sideline to the Massillon 27.
Three plays later on third-and‑seven, Morris hit Craig George on a down‑and‑out pattern for a first down at the Tiger 15. Bratton, a 205‑pound senior, carried on three of the next four snaps, diving into the end zone from a yard out at the 4:30 mark of the second period. Jim Barker's kick made it a 7‑7 contest.
Then Massillon displayed some championship mettle. After the ensuing kickoff sailed out of bounds, the Tigers moved from their 35‑yard line to midfield on a personal foul call against Lima. On second‑and-12, Morgan again found some space around his left side, advancing the ball to the Lima 40.
The drive appeared to be stalled when Hymes delivered a clutch strike to Brian Baer on fourth‑and‑eight to give Massillon a first down at the 15. Morgan and Jared Stefanko carried on consecutive plays to move the ball to the 3. Two snaps later, Morgan waltzed into the end zone. Josh Hose's PAT made it 14‑7 with less than a minute until intermission.
"That drive showed a lot of heart and the quality of team they are over there, " said Rush. "Jack has a very good team over there."
"That was a great drive by our offense," Rose said. "We had a couple critical plays in there and we were able to convert when we had to."
Lima appeared to be on its way to tieing the game up a second time at the outset of the second half. The Spartans drove from their 20 to the Massillon 16 on six consecutive running plays. But the Tiger defense rose up and stopped the visitors for one yard total on their next three snaps. Nose guard Rico Person caught Morris behind the line for a yard loss on fourth‑and‑three to stall the march.
Then the Tigers' special teams came up with a big play after Lima forced Massillon into a three‑and‑out series. Punter Eric Lightfoot boomed the ball 66 yards, over 50 of it in the air, to pin the Spartans back on their own 16.
"I'm not big on big plays turning a game around," said Rush, "but that punt when we had them backed up was a big play I thought. It gave them a lot of momentum and took it away from us. We had held them and that hurt I think."
But Lightfoot wasn't impacting the game. On third‑and‑eight from his 22, Morris dropped back and threw the football over the middle Josh Kreider tipped the ball and Lightfoot intercepted. Some 37 yards later, the senior free safety was carrying the ball into the end zone and Massillon led 21‑7, with under five minutes left in the third period.
"I was just dropping back in coverage," Lightfoot explained. "I saw the receiver crossing and I came over. Josh tipped it and it came right to me and I went all the way."
"It's nice to see us intercept a ball," chuckled Rose. "Then to get the first pick and run it back (for a touchdown) in a game like this … that's a huge, huge play."
Again Lima fought back, driving from its 23 with the ensuing kickoff to the Massillon 5, where the Spartans' had first-and‑goal. Four plays and three Lima timeouts later, the Tigers took over on downs and the outcome was no longer in doubt, though most of the fourth quarter had yet to be played.
Just to make sure there were no doubters remaining, the hosts marched 78 yards on 10 plays to close out their scoring for the evening. Morgan carried five times for 28 yards on the drive, including the final six over left tackle for a touchdown at the 6:55 mark of the fourth quarter. Blake picked Morgan up when the latter came off the field limping, carrying the ball on four consecutive plays and gaining 23 yards.
"They're the best team we've played so far," Rush said. "They didn't make the mistakes. We panicked a few times.
"The Tigers are going to be very good. We scrimmaged Moeller and they're better than Moeller. There's no doubt about that. We thought they were going to throw the ball a little more, but they were able to run it pretty effectively on us all night long." Morgan finished with 156 yards on 22 carries. He amassed 128 of those before the band show.
Statistically, the game was closer than the scoreboard showed. Lima out gained the Tigers 278‑264 and had one turnover to Massillon's two giveaways. The Spartans dominated time of possession 28:55 to 19:05.
But it was the Tigers ability to make the big plays ‑ Morgan's long TD run, Lightfoot's booming punt and subsequent interception return for a touchdown ‑ that spelled the difference.
"I've coached a long time and I can't remember a week of practice that went better than this," Rose said. "Our sophomores all the way up to our seniors, they were into this week of practice. I knew we were going to have a great game and that's a great credit.
MASSILLON 28
LIMA SENIOR 14
M L
First downs rushing 10 7
First downs passing 2 6
First downs penalty 2 0
Total first downs 14 13
Net yards rushing 215 207
Net yards passing 49 71
Total yards gained 264 278
Passes attempted 8 11
Passes completed 3 6
Passes int. 0 1
Times kicked off 5 3
Kickoff average 49.2 31.0
Kickoff return yards 0 0
Punts 2 4
Punting average 50.5 37.8
Punt return yards 13 0
Fumbles 4 2
Fumbles lost 2 0
Penalties 1 3
Yards penalized 14 35
Number of plays 48 60
Time of possession 19:05 28.55
Attendance 7,363
LIMA SENIOR 0 7 0 7 14
MASSILLON 7 7 7 7 28
SCORING SUMMARY
First Quarter
MASS ‑ Morgan 77 run (Hose kick)
Second Quarter
LIMA ‑ Bratton 1 run (Barker kick)
MASS ‑ Morgan 2 run (Hose kick)
Third Quarter
MASS ‑ Lightfoot 37 pass interception return (Hose kick)
Fourth Quarter
MASS ‑ Morgan 6 run (Hose kick)
LIMA ‑ Bratton 4 run (Barker kick)
FINAL STATISTICS
Rushing:
Massillon
Morgan 22‑156,3TDs;
Stefanko 4‑41;
Blake 4‑29;
Bradley 1‑4.
Lima
Bratton 30‑173, 2 TDs;
Morris 12‑14;
Christoff 2‑12;
Cannon 3‑5.
Passing:
Massillon
Hymes 3‑8-49.
Lima
Morris 5-10‑63, 1 int.;
Collins 1‑1‑8.
Receiving:
Massillon
Baer 2‑45;
Williams 1‑4.
Lima
Watkins 2‑33;
Christoff 2‑21;
George 2-17.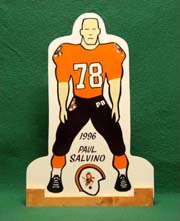 Paul Salvino