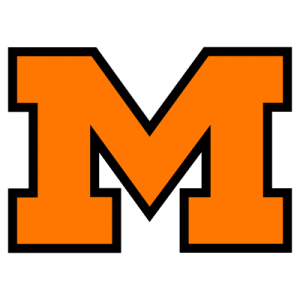 Rams make Tigers sweat
By JOE SHAHEEN
Independent Sports Editor
It sure seemed like the Mas­sillon Tigers were on a roll when they carried a 21‑6 lead over the Akron Garfield Rams into the halftime locker room, Friday at Paul Brown Tiger Stadium.
But the Tigers stumbled and bumbled their way through the second half, before regrouping to hold off the Rams 21‑14 in front of 10,872 fans. The victory boosts Massillon to 3‑0, while their counterparts from the Rubber City fell to an uncharac­teristic 0‑3.
In a subdued Tiger locker room after the game, head coach Jack Rose admitted the signs were there the orange-­and‑black might be in for a struggle.
"We didn't practice very well all week," Rose reported. "We just weren't real crisp like we were the week before.
"We focused on Moeller real well. I didn't see that same look this week. Anytime you have a 'big win like (Moeller), that's going to be the drawback. Plus the short week,. But (Garfield) is going to win some games. They're a pretty good team."
Garfield fumbled the game's opening kickoff and it seemed the Tigers were in business at the visitors' 35 yard line. But Massillon was unable to move the football and turned it over on downs at the 26.
Bill McGee's Rams mounted one of their patented, clock ­eating, run‑dominated drives. They converted four third downs, the biggest coming at the Massillon 15 when a face mask penalty moved the ball to the 2‑yard line. Junior fullback Anthony Blackwell hit the mid­dle of the line on first‑and‑goal and burst into the end zone to give the Akron crew a 6‑0 lead at the 1:41 mark of the first quarter.
The 15‑play, 74‑yard march consumed 8:04 and it seemed the Tigers' worst fears were being realized.
After the ensuing kickoff, Massillon took over at its 33. Quarterback George Whitfield Jr. picked up the host's first first down of the evening on a two‑yard quarterback sneak on the first play of the second period.
After Vinny Turner picked up 12 yards up the middle, Whit­field bootlegged left and found a wide open Vaughn Mohler along the left sideline at the 10‑yard line. Mohler hauled in the foot­ball and coasted into the end zone. Josh Hose's PAT made it 7‑6 Massillon at the 10:20 mark of the second quarter.
Garfield cranked up its full house T‑formation offense once again, moving from the Ram 31 to the Tigers' 30. But the Massillon defense pushed Garfield back nine yards on three plays, forcing the punt which traveled out of bounds at the Tiger 17.
On first‑and‑10, Whitfield handed the ball to Turner, who found a seam off right tackle and was off to the races. He didn't stop until 83 yards later, leaving several Garfield defenders in his jet stream. Hose was true on the conversion kick and Massillon suddenly had an 8 point lead at 14‑6 with 5:42 left in the half.
Garfield got poor field posi­tion after Matt Stanley boomed the kickoff. The Rams, starting at their 19, went three‑and‑out and set up to punt at their 25. But Massillon's Bill Condon broke through and spiked the kick. It rolled toward the Garfield goal­line and after a mad scramble the Tigers' Lance Grimsley fell on the football in the end zone for a touchdown.
Hose made it three‑for‑three and Massillon seemed to have it all their way at 21‑6 with 2:40 until the band show.
"It's a crime to lose it on the kicking game," lamented McGee. "But that's what happened. We allowed them to block a punt. Those are always bad things. I don't ever remember winning a football game in which we had a punt b1ocked. We haven't had many blocked over the years. Maybe two or three. It's something that's not a good sign. It's a momentum thing. We score first and we come in at halftime down 21‑6."
Massillon fumbled away the second half kickoff and that was pretty much the way the third and fourth quarters would go for the Tigers.
Massillon held after the fum­ble, forcing Garfield to turn it over on downs at the 21. But the Tigers, after a couple of first downs, failed on a fourth‑and-­one at the Ram 39.
Garfield quarterback Phil Mitchell hit tight end Erick Hawkins for 33 yards on the second snap of the next series and the Rams were in business at the Tiger 25. Another face­mask penalty against the locals helped move the ball to the 8­-yard line. Three snaps later, Blackwell found the end zone from two‑yards out. The junior also hit paydirt for the two‑point conversion and it was a 21‑14 game with just over one period left to play.
After a Massillon punt, Gar­field got one final chance, tak­ing over at its 22 at the 1:55 mark. The Rams hit on four passes, but Lavell Weaver's sack of Mitchell eftded the game.
M G
First downs rushing 7 12
First downs passing 4 3
First downs penalty 1 0
Total first downs 12 15
Net yards rushing 190 169
Net yards passing 98 79
Total yards gained 286 248
Passes attempted 12 10
Passes completed 6 6
Passes int. 0 0
Times kicked off 4 3
Kickoff average 41.0 47.0
Kickoff return yards 69 29
Punts 2 4
Punting average 36.0 19.8
Punt return yards 12 8
Fumbles 2 1
Fumbles lost 2 1
Penalties 7 6
Yards penalized 41 47
Number of plays 39 59
Time of possession 16:24 31:36
Attendance 10,872
GARFIELD 6 0 8 0 14
MASSILLON 0 21 0 0 21
SCORING SUMMARY
First Quarter
G ‑ Blackwell 2 run (run failed)
Second Quarter
M ‑ Mohler 44 pass from Whitfield (Hose kick)
M ‑ Turner 83 run (Hose kick)
M ‑ Grimsley recovered blocked punt in end zone (Hose kick)
Third Quarter
G ‑ Blackwell 2 run (Blackwell run)
FINAL STATISTICS
Rushing:
Massillon
Turner 16‑157, 1 TD;
Whitfield 5‑24;
Weaver 3‑4;
Wonsick 1‑4;
Blake 1‑1.
Garfield
Miller 11‑67;
Owens 12‑50;
Blackwell 12‑39, 2 TDs;
McNeil 6‑18;
Weaver 1‑4.
Passing:
Massillon
Whitfield 6‑12‑0, 1 TD,
Garfield
Mitchell 6‑10‑0.
Receiving:
Massillon
Mohler 2‑49, 1 TD;
Williams 2‑18,
Turner 1‑17,
Wonsick 1‑12.
Garfield
Gibson 3-38.
Hawkins 1-31,
Hawkins 1-31,
Owens 1-6,
Miller 1-4.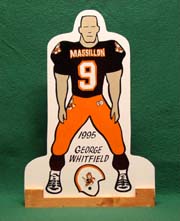 George Whitfield