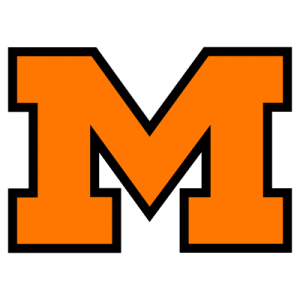 No 'Mo' jinx; Tigers trip Moeller
By JOE SHAHEEN
Independent Sports Editor
Jack Rose has removed other monkey from the back of the Massillon Tigers.
A year ago, the Tigers traveled to Austintown and defeated the Fitch Falcons at Fitch for the first time in Mas­sillon football history.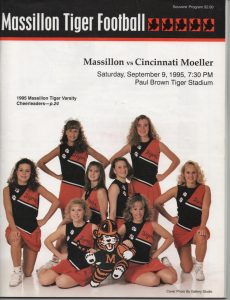 Then, in November, Rose had the weight of the world lifted from his shoulders by notching its first win over storied rival Canton McKinley.
On Saturday, the Tigers did what no Massillon team had ever done before by dealing Cincinnati Moeller a 21‑18 defeat in front of 15,394 frenzied fans at Paul Brown Tiger Stadium.
But an exhausted Rose didn't want to talk about jinxes or hexes after the Moeller victory.
"All we're going to do now is worry about Garfield," Rose said of this Friday's opponent. "They're an awfully good foot­ball team, so we've got to get our feet back on the ground and get ready for them."
Tiger tailback Vinny Turner who rushed for 196 yards and all three Massillon touchdowns in just 25 carries, shared some of his coach's sentiments.
"This is a big monkey off our backs," Turner said. "This win helps us out a lot. It shows us where we're at.
"Now we've got to get ready for Garfield. We've got to get our minds on Garfield."
Turner was absolutely magnificent against Moeller. He accounted for more than 75 per­cent of the Tigers' total offen­sive yardage.
Moeller let field position slip away early when a punt retur­ner failed to field a kick midway through the first quarter. It rol­led dead at the Crusaders' 15. Three plays later the visitors punted and the Tigers were in business at the Moeller 42‑yard line.
On third and six from the 38, Turner took the ball on a draw play, broke a tackle on the left side of his line and went the dis­tance. Josh Hose's PAT made it 7‑0 Massillon with 2:42 left in the first quarter.
Moeller's special teams bet­rayed the Crusaders again as the Tigers' Nate Wonsick fell on a fumbled punt at the visitors' 29‑yard line with 6:43 1eft in the first half.
Turner was open deep down the left sideline on first down, but the pass was overthrown. The senior came right back on second down, breaking four tackles on a draw play for a 14­yard pickup to the Moeller 15.
Five plays later, Turner fol­lowed Tim Mendenhall, Ben Mast and Randy Weiford over the right side and into the end zone from a yard out. Hose's conversion made it 14‑0 with 3:43 left in the half.
"Special team mistakes hurt us and then we couldn't stop them when we had to stop them," lamented head coach Steve Klonne.
"We got quick scores both times they made mistakes on special teams," Rose agreed. "Good teams get a turnover and convert it into points. We did that well tonight."
A disputed field goal ‑ after it appeared time had run out in the first half ‑ made it a 14‑3 game. Moeller came out of the locker room after halftime, stopped the Tigers' initial second‑half drive, and then marched 80 yards in 11 plays. Quarterback Pat McLaughlin ran the option keeper around left end for the touchdown with 3:32 remaining in the third quarter. He hit Ted Fitz for the two‑point conversion and sud­denly Mo was back in it at 14‑11.
That's when Turner and the Tigers turned it up a notch.
Taking over at the Massillon 34 after the kickoff, Turner bul­led for 10 yards off right guard and tackle on first down. On the next snap he burst off left guard, shedding several tack­lers at the line, and sprinted 40 yards to the Moeller 16.
One play later, Turner got the ball on a delayed handoff, found ­a seam in the middle of the line, then broke tackles at the 5‑ and 3‑yard lines before crossing the goal line. Hose's boot made it 21‑11 Massillon with 1:33 left in the third period.
But Turner was nearly the goat, fumbling the ball away at the Moeller 44 after a nifty 19-yard run midway through the fourth quarter.
Six plays later, the Crusaders scored on Jim Higgins dive from three yards out. The kick by Jim Siciliano made it 21‑18, with 3: 00 to play.
It appeared Moeller would get another shot at it when the Tigers failed to complete a third‑and‑six pass play at their own 28. But a roughing the pas­ser penalty on the Crusaders – a call Klonne did not dispute – gave Massillon's offense new life and the hosts ran out the clock.
"I felt it would have been a great injustice if they would've won the game on that fumble," Rose said. "When he fumbled it there at the end, Vinny felt terrible.
"But he is only going to get better. He is a tailback who can break tackles and we haven't had one of those around here in a while.
"My heart just about stopped when I lost that fumble," Tur­ner said. "I'm glad the defense did what it did when it had to."
Although Moeller had more total yards than the Tigers (281-­268), Klonne had praise for the Massillon defense.
"I thought they played very well, very sound," he said. "They didn't beat themselves by giving up the big play. They made us earn everything and they stopped our rushing game pretty good tonight."
Massillon averaged 6.7 yards per running play to Moeller's 4.2.
Our defensive front seven played a lot tougher and stron­ger this week," Rose said. "We start eight underclassmen on defense and I thought they did a pretty good job against a really sophisticated offense.
"I'd like to see our under­neath coverage get better. On the plus side, I was happy to see our defensive line flash their hands and bat down some pas­ses out there."
MASSILLON 21
MOELLER 18
M C
First downs rushing 12 8
First downs passing 2 9
First downs penalty 1 0
Total first downs 15 17
Net yards rushing 222 146
Net yards passing 46 135
Total yards gained 268 281
Passes attempted 9 18
Passes completed 4 14
Passes int. 0 0
Times kicked off 4 3
Kickoff average 36.0 46.3
Kickoff return yards 38 28
Punts 3 4
Punting average 40.3 34.2
Punt return yards 5 0
Fumbles 2 1
Fumbles lost 1 1
Penalties 1 4
Yards penalized 1 31
Number of plays 42 54
Time of possession 20:08 27:57
Attendance 15,394
MOELLER 0 3 8 7 18
MASSILLON 7 7 7 0 21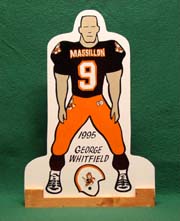 George Whitfield