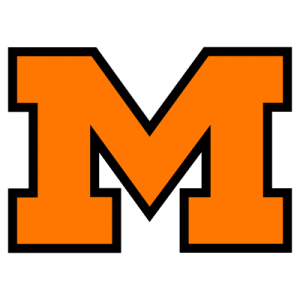 This time the mistakes are fatal
Fumbles, penalties key in Tigers' loss to Mansfield
By TODD PORTER
Assistant Sports Editor
In the first three weeks, the Massillon Tigers won games by keeping their fans on the edge of their seats.
Friday night at Arlin Field, the Mansfield Tygers kicked Massillon off the throne and slapped the Tigers with a shot of Skin Bracer across the cheek.
Mansfield, a team averaging more than 100 yards a game in penalties, Was flagged just three times and didn't turn the ball over to hand Massillon its first loss of the season, 21‑20, in front of about 9,100 fans.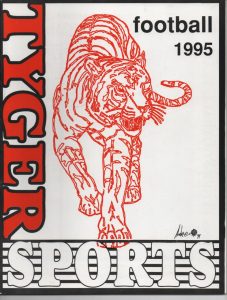 "If this isn't a wakeup call," Massillon head coach Jack Rose said, "I don't know what it's going to take. We told these guys before the game if we play­ed like we have been and let a team like that stay around, they're going to gain confi­dence.
"For us, we've got to lick our wounds and we don't have much time to do that. From me on down, everybody in this prog­ram is going to be held account­able for this.
"We're going to find people who want to be in there. We didn't coach them hard enough and they didn't play hard enough. But we'll bounce back."
The win set off a wild celebra­tion on the grass at Arlin. The last time the Tygers beat Mas­sillon was in 1956, 14‑6. The Mansfield newspaper put the story on its front page.
"This is the biggest win in 40 years around here," Mansfield fullback‑linebacker Marshall Levins said. "This is my senior year and I've played Massillon four times now. A win over them is the ultimate way to go out.
The two teams traded scores in the first half and went into intermission tied at 14.
Even after making its first blunder on a turnover in the third quarter, Massillon had a chance to win the game late in the fourth quarter.
With 7:49 left in the game, the Tigers started what would be their final legitimate chance to score. Beginning from the Mas­sillon 40‑yard line, Whitfield and Turner drove the Tigers to the Mansfield 9 with under 5 mi­nutes to play.
On third‑and‑one, Turner powered his way for three yards to set the Tigers up with first‑and-­goal.
On the next play, Whitfield took the snap and fullback Nate Wonsick collided with him. The ball popped loose and Mansfield recovered.
"I don't think George had a good handle on the ball when he took it out from under center," said Rose, who added, "I'm real disappointed with our turnov­ers and penalties.
"Heck, Mansfield came into the game averaging 100 yards in penalties and turning the ball over a lot, and we're the ones who had trouble with that."
On Massillon's second play from scrimmage in the second half, the Tigers fumbled the ball and Mansfield's Lacario Tufts covered the ball at the Massil­lon 42.
However, the Massillon de­fense forced Mansfield to punt after three plays. On the second play of the second drive, Whit­field found Vaughn Mohler ­breaking open at midfield. Whitfield laced the needle and hit Mohler in stride for an 80­ yard touchdown pass.
As Mohler raced into the end zone, he raised his hands in the air. An official threw a ques­tionable flag, and conveniently called Mohler, who did not point at a Mansfield defender, for taunting.
The score counted, but the Ti­gers had to attempt the conver­sion from the 18‑yard line. A pass play failed.
Rose didn't really want to comment on the play but offered, "That really takes the play out of your hands."
The score gave Massillon a short‑lived 20‑14 lead.
On the Tygers' ensuing drive, quarterback Jeff Soliday hit Levins on a screen pass. The 6­foot‑3, 230‑pounder rumbled 50 yards down the left sideline for the TD. Nick Shasky's kick gave the Tygers a 21‑20 lead.
Then Massillon turned into Mansfield of the first three weeks.
On a third‑and‑two play from the Massillon 23, Whitfield ran around the left side on a keeper. He ran over a Mansfield defender for the first down, but an illegal procedure penalty nulli­fied the play and the Tigers ‑ eventually punted.
Late in the third quarter Mas­sillon shot itself in the foot again.
The drive started at Massil­lon's 17. The Tigers went to a tight end screen, and Whitfield hit Chris Martin for a 15‑yard gain. Two plays later, Whitfield connected with Devin Williams on a fade route. The ball was placed so only Williams could catch it as Mansfield's Michael Jackson provided step‑for‑step coverage.
Four plays later, Turner broke loose and got inside the Mansfield 5 yard line. Once again, though, the play was brought back because of an illegal procedure call. Instead of having the ball at the 3, Mas­sillon had it at the 18.
On fourth down, Levins blitzed Whitfield but couldn't bring him down. Whitfield's valiant pass, however, fell in­complete in the back of the end zone.
"I'm not upset with the way George played tonight," said Rose, who noted the senior com­pleted 10 of 18 passes for 204 yards.
Mansfield made it clear from the get-go it was a better than its 1-2 record indicated.
The Tygers took the opening drive 75 yards and scored with 6:31 left in the first quarter when Soliday, hit as he released the ball by Eric Lightfoot, found Levins for an 8‑yard score.
Realizing it was in a game, Massillon took its first posses­sion 61 yards and scored in seven plays. Turner carried the ball on five of those plays and accounted, for 52 yards, includ­ing a 7‑yard touchdown run, which came after he ran over a Mansfield defender at the 1-­yard line.
Massillon ate up 5:02 on its final score of the first half, and again Turner did most of the work. Of the Tigers' 11 plays, Turner carried eight times ‑ including the final six plays.
Turner, who gained 102 of his 164 yards in the first half, cap­ped the drive when he waltzed into the end zone untouched from 7 yards out. Josh Hose's point‑after kick tied the game at 14 with 4:55 to play in the first half.
If there's a bright spot in the dark cloud over the Tigers, it was Whitfield's effort. Rose wanted a more balanced attack, and Whitfield came through with 204 yards passing.
Massillon outgained Mansfield 368‑249. However, the Ti­gers have given away the ball eight times and taken it away just three times this season.
"We're going to find out what kind of team we are," Rose said. "We'll find out what we're made of this week."
MANSFIELD 21
MASSILLON 20
M Man
First downs rushing 8 8
First downs passing 7 4
First downs penalty 0 1
Total first downs 15 13
Net yards rushing 164 152
Net yards passing 204 97
Total yards gained 368 249
Passes attempted 18 14
Passes completed 10 7
Passes int 0 0
Fumbles 3 2
Fumbles lost 2 0
Penalties 5 3
Yards penalized 45 15
MANSFIELD 7 7 7 0 21
MASSILLON 7 7 6 0 20
SCORING SUMMARY
First Quarter
Man – Levins 6 pass from Soliday (Shasky kick)
M ‑ Turner 7 run (Hose kick)
Second Quarter
Man ‑ Soliday 1 run (Shasky kick)
M ‑ Turner 2 run (Hose kick)
Third Quarter
M ‑ Mohler 80 pass from Whitfield (pass failed)
Man ‑ Levins 49 pass from Soliday (Shasky kick)
INDIVIDUAL STATISTICS
Rushing:
Massillon
Turner 26‑141 2 TDs
Mansfield
Rife 21‑86
Passing:
Massillon
Whitfield 10‑18‑0, 197, 1 TD.
Mansfield
Soliday 7‑14‑0, 97, 2 TDs.
Receiving:
Massillon
Williams 3‑51;
Mohler 1-80, 1 TD.
Mansfield
Rife 4‑22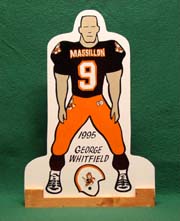 George Whitfield