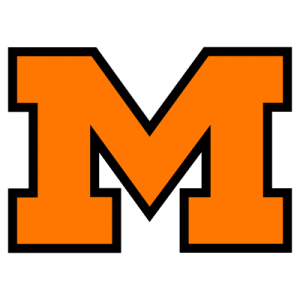 Defeated coach still loves Tigertown
Loss in Massillon prepares Team for Indiana title chase
By STEVE DOERSCUK
Independent Sports Editor.
Massillon is a football town, by George.
In fact as George Papas went on and on about Tigertown long after Saturday night's game in Paul Brown Tiger Stadium, it almost seemed he did not want to leave..
Eventually, he boarded a charter bus, though. He had to. He is head coach of the Indianapolis North Central team that dropped a 21-15 decision to Massillon before a crowd of 10,002.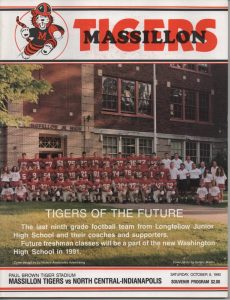 Many coaches in Pappas' position would have been seeing red. A yellow storm left North Central penalized nine times for 107 yards.
Instead, Pappas blamed his own camp for the mistakes. And he talked a blue streak about the orange and black.
"I love coming here," said Papas. "It does a helluva lot for your kids. The whole atmosphere is fantastic, the big crowd, the great stadium.
"The biggest thing, though is playing against that team. Those kids play football the way it is supposed to be played. That helps your program. It shows you the way it is supposed to be done.
This was not some greenhorn from Hayseed High talking. Papas is a former Purdue University linebacker who has made his North Central team competitive against the best in Indiana.
In fact, the thrust of his post-game speech was getting ready for a run at the Indiana state championship.
"We close our regular season next week against Terre Haute North, he said. "Then we have a playoff game against Decatur Central (North Central will be a heavy favorite). Then its on to Carmel baby. We have to play at Carmel, but I don't care if we play 'em in a gravel pit."
Carmel is the defending Indiana state champion. And yes, the North Central-Carmel game is already scheduled – they do things differently in the Hoosier State, where everybody makes the playoffs.
North Central would need to win six playoff games to be state champs. The Panthers are currently 4-3, but all three losses have been in competitive games against powerful teams.
Massillon will have to earn a playoff spot. The Tigers are 5-2 heading into their final three regular season games: an anticipated easy game against winless Youngstown East, a contest against a St. Vincent-St Mary squad that lost in overtime-here last year, and the traditional war against Canton McKinley.
East and St. Vincent both lost Saturday. The Youngstown team fell 21-6 to Chaney. The Akron team bowed 15-6 to Youngstown Cardinal Mooney. McKinley was idle this past weekend.
The Tigers would almost certainly make the playoffs by winning all three games.
Head coach Lee Owens said the outing against North Central was a bit rough around the edges. But he also saw it as a win over one of the top teams on the schedule.
"In terms of talent North Central is really not that much different than Cincinnati Moeller," Owens said, "The only real difference is Moeller's discipline."
"If North Central can iron out some of the mistakes. I think they're good enough to win their state championship. It would be something if we eventually could say we beat a state champion from Kentucky (Covington Catholic) and a state champion from Indiana."
Pappas was perplexed about the discipline angle.
"Mistakes have cost us in each of our loses," he said. "I wish I had an answer on why some of these things go wrong. Honestly, we work on the things over and over again in practice."
Still, Pappas was pleased with the improvement made over last yaear's game in Massillon, a 39-14 loss.
"I was very disappointed with the way we played defense here last year," he said. "It was different this time."
He hopes there will be a next time.
"I'd love to come back," he said.
North Central athletic director Roland Inskeep is supposed to decide this week if he will sign a new two-year contract with the Tigers.
Owens has already said he would accept a new contract.
Adam Alexander, a senior lineman for the Panthers, offered about the same appraisal as Pappas.
"Massillon doesn't seem to have extraordinary talent, but they play the game the way it's supposed to be played," He said. "It was exciting to be here. It was a good experience for those of us who probably, won't go on to play at a college."
MASSILLON 21
NORTH CENTRAL 15
M NC
First downs rushing 5 9
First downs passing 7 2
First downs by penalty 3 0
Total first downs 15 11
Yards gained rushing 155 181
Yards lost rushing 29 32
Net yards rushing 126 149
Net yards passing 159 40
Total yards gained 285 189
Passes attempted 19 15
Passes completed 11 6
Passes int. by 0 1
Times kicked off 4 3
Kickoff average 44,5 32.3
Kickoff return yards 25 73
Punts 5 6
Punting average 32.2 40.6
Punt return yards 70 12
Fumbles 3 2
Fumbles lost 1 1
Penalties 4 9
Yards penalized 36 107
Number of plays 61 46
Time of possession 25:43 22:17
Attendance 10,007
North Central 7 0 0 8 15
Massillon 7 7 0 7 21
M – McCullough 2 run (John kick)
NC ‑_Evans, 62 run (Nelson kick)
M – Roth 26 pass from Shertzer (John kick)
M – McCullough 1 run (John kick)
NC – Meyers 9 pass from Black (Mayes pass from Black)
Individual statistics
Rushing
(M) Ashcraft 14-6, McCullough 14-36, McGuire 7-16, Burick 4-31.
(NC) Nibbs 12-45, Evans 9-76, Black 9-46..
Passing
(M) Shertzer 11-18-0, 159 yards.
(NC) Black 6-15-1, 40 yards.
Receiving
(M) Brown 4-66, McGuire 3-38, Roth 2-35, Stafford 1-8, McCullough 1-12.
(NC) Mayes 5-30, Allen 1-10.