Tiger fans respond as their team takes the field in Hoosier Dome Saturday
Tigers in need of home cooking after road trip
By STEVE DOERSCHUK
Independent Sports Editor
INDIANAPOLIS ‑ It was a lazy Saturday at the Indianapolis Motor Speedway, when many visitors from Massillon plunked down a buck to ride the tour bus around the oval made famous by the Foyts, Unsers and Andrettis.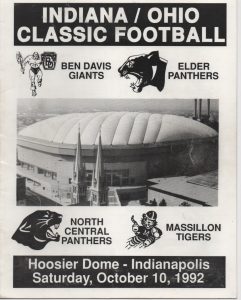 "Speed week" moved to the Hoosier Dome, where Indianapolis North‑Central burned to a 35‑20 high school football victory over the Massillon Tigers.
"We've played a team that has that kind of speed," Massillon head coach Jack Rose said. "But they (the Garfield Rams) don't use it the same way these guys (North‑Central's Panthers) do."
"On one of their touchdowns, our cornerback made a good play. He was in good position to tackle their guy for a loss. But the guy used his speed to turn the play into six points."
North‑Central rode its run‑and‑shoot offense to a 5‑2 record. The Tigers must fight being down‑and‑out in the wake of a fourth straight loss. They will take a 2‑4 record into this Saturday's home game against another Indiana team, Bloomington South. South, ranked sixth among Indiana's big schools, improved to 7‑0 with a 47‑0 blowout over Shelbyville this past Friday.
"One concern is how much our guys can absorb," Rose said. If history repeats itself, there is some of it to consider in terms of the four‑game losing streak. Massillon has had only five such skids in its entire history. Three were in the very early years, 1899, 1917 and 1912. It is the other two that are the most intriguing.
In 1931, a four‑game losing streak and 2‑6‑1 overall record did in fourth‑year head coach Elmer McGrew. McGrew was replaced in 1932 by Paul Brown, whose first team ended the season with a four‑game losing streak.
Naturally, Rose hopes his path in the wake of a four‑game slide more closely follows Brown's than McGrew's.
One Tiger player, talking to his mother after the game at the Mariott Hotel, seemed to think the players would be all right. "The coaches took it harder than the players did," he said.
Many of the players decided to take a deep breath and enjoy the road trip, much as did the 3,000 Massillonians who traveled to Indianapolis for the game. Massillon people swarmed into Union Station, a downtown shopping area. A man twisting balloons into all kinds of shapes was encountered by a Massillon man. "Can you make one in the shape of a Tiger?"
"You mean, like the one (an Obie) on your shirt ?" A crowd gathered. After that, the vendor must have made 400 balloon tigers.
The path of Saturday's game was the fast lane. The first contest in a double‑header witnessed by more than 11,000 set the tone. Defending Indiana state champ Ben Davis scored in the final three minutes to secure a frenzied 28‑21 win over Cincinnati Elder.
In the nightcap, the Tigers simply could not slow down North‑Central's balanced attack.
"I knew it was going to be a shootout," Rose said. It was, and the Tigers weren't dead until the Panthers, leading by 8 points, drove 80 yards in 12 plays for a touchdown with 2:58 left in the game.
"We saw some things in their style of defense that made us think we could move the ball," North‑Central coach Al Harants said. "We weren't sure we'd be able to deal with their offense quite as well as we did."
The Tigers generated far more offense than they had the previous week in a 14‑0 loss at Austintown‑Fitch. After racking up 184 yards in the first half, though, they were held to 110 yards in the second half ‑ North‑Central poured it on in both halves, gaining 219 yards in the first half and 196 in the second half.
North‑Central junior quarterback John Clippinger, who was a sophomore watching from the sidelines when the Tigers tore up the Panthers 41‑0 at Massillon in 1991, completed 14 of 20 passes for 185 yards. Junior Tony Nefouse, taking advantage of the spread‑out defense created by Clippinger's apt operation of the run‑and-shoot, rushed 19 times for 125 yards and scored two touchdowns.
If the Tigers are struggling, Clippinger didn't seem to know it. "They're an awesome team, along the same lines as Ben Davis," he said. "They're much better than the two teams that beat us. When we lost those two games, it was right after we beat Ben Davis. We had big, fat heads, but we got ourselves straightened around."
Massillon's crowd set the tone before the kickoff with a rousing chant of "T‑1‑G … E‑R‑S" that resounded around the Teflon‑topped Dome. The team responded by driving 80 yards in nine plays for a touchdown.
Running back Andre Stinson, who finished with a season‑high 110 yards, set up the TD with a 7‑yard run. Stinson wound up going in from the 1, Jason Brown converted the kick, and it was 7‑0 with 8:27 left in the first quarter.
North‑Central answered by driving 88 yards for a score on its first possession. The mostly running, 11‑play march was capped by Clippinger's one yard plunge and Tommy Keenan's kick. It was 7‑7 with 4:58 left in the first quarter.
A three‑and‑out Tiger possession was followed by a short punt and a 41-yard North-Central scoring drive. Clippinger hit senior split end Arthur Angotti for 20 yards on first down. The TD came on a 8-yard run by Nefouse. After Keenan's kick, it was 14-7 with 1:58 left in the first quarter.
The Panthers' next possession ended quickly with their only punt of the game. Dan Hackenbracht made a daring, running catch on the punt and returned to the North-Central 34. Quarterback Mike Danzy scored on a spectacular 36-yard run, breaking three tackles after dropping back to pass, then outrunning the Panther defense into the left corner of the end zone. Brown's kick made it 14-14 with 8:24 left in the half.
North-Central regained control with a 13-play, 71-yard drive again capped by a 1-yard drive again capped by a 1-yard Clippinger plunge. Keenan's kick made it 21-14 with 3:14 left in the half.
The Panthers got the ball back on a punt but quickly lost it when a big hit by William Shahan caused a fumble covered by Tiger junior Josh McElhaney near midfield. A 32-yard field goal attempt by Brown with seconds left in the half was deflected.
North-Central drove to the Tiger 10 at the start of the second half before a big third-down stop by Hackenbracht followed by an incompletin stalled the threat.
The Tigers then drove 90 yards. Thanks largely to a 51-yard strike from Danzy to Alonzo Simpson. Hackenbracht scored from two yards out, but Brown's kick was blocked and North-Central kept a 21-20 lead with 4:46 left in the third quarter.
The Panthers inflicted the critical blow when they drove 46 yards in 10 plays for a score. Junior Dave Mosley's one-yard run and Kennan's kick made it 28‑20 with 57 seconds left in the third quarter.
Even at that, the Tigers could tie it with a TD and two‑point conversion. Their best chance came midway through the fourth quarter when Danzy reached the Massillon 40 on a scramble. The would‑be first down was wiped out by a holding penalty. Instead, it became third down at the 10. The Tigers had to punt, setting up the clinching North‑Central touchdown, a 6‑yard run by Nefouse with 2:58 left in the game.
NORTH‑CENTRAL 35
MASSILLON 20
M N
First downs rushing 9 13
First downs passing 2 10
First downs by penalty 0 1
Totals first downs 11 23
Yards gained rushing 228 250
Yards lost rushing 14 20
Net yards rushing 214 230
Net yards passing 80 185
Total yards gained 294 415
Passes attempted 11 20
Passes completed 2 14
Interceptions 1 0
Times kicked off 4 6
Kickoff average 41.8 58.0
Kickoff return yards 36 51
Punts 5 1
Punting average 29.2 23.0
Punt return yards 22 9
Fumbles 0 3
Fumbles lost 0 2
Penalties 2 3
Yards penalized 30 31
Number of plays: 48 73
Time of possession 19:33 28:27
Massillon 7 7 6 0 20
North‑Central 14 7 7 7 35
M ‑ Stinson 1 run (Brown kick)
NC ‑ Clippinger 1 run (Keenan kick)
NC ‑ Nefouse 8 run (Keenan kick)
M ‑ Danzy 36 run (Brown kick)
NC ‑ Clippinger 1 run (Keenan kick)
M ‑‑ Hackenbracht 2 run (kick failed)
NC ‑ Mosley 1 run (Keenan kick)
NC ‑ Nefouse 6 run (Keenan kick)
INDIVIDUAL STATISTICS
Rushing
(Massillon) Seimetz 4‑25, Stinson 21‑110, Hackenbracht 5‑11, Danzy 6‑68.
(North‑Central) Nefouse 19‑125, Allen 12‑67, Mosley 6‑24, Perkins 3‑13, Clippinger 11 ‑0.
Passing
(Massillon) Danzy 2‑1‑11‑1 80
(North‑Central) Clippinger 14‑20‑0 185.
Receiving
(Massillon) Peters 1‑21, Simpson 1‑59.
(North‑Central) Allen 4‑59, Angotti 6‑81, Mosley 3‑30, McConnell 1‑15.