Owens aims to turn offense on again
"D" keys Tigers' 41-0 blowout
By STEVE DOERSCHUK
Independent Sports Editor
There were some thorns on the other side of Jack Rose's cartwheel that capped the Mas­sillon Tigers' 41‑0 victory over Indianapolis North Central Saturday night.
After the Massillon defense knocked another opponent head over heels, Rose turned acrobat to celebrate his first shutout as the Tigers' defensive coordinator.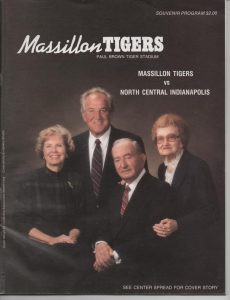 Head coach Lee Owens, though, wasn't waving a pin­wheel over the play of the offense.
"We're very lucky that our defense played as well as it did," Owens said. "I'm really upset with the play of our offense."
"We had turnovers, penalties and missed assignments that should not have been there. We'd play one good series with a lot of emotion and then the next three series would be horrible."
North Central's offense con­sisted of wide receiver Derrick Mayes (six catches, 78 yards).
"He's not that fast." said Massillon's Travis McGuire, who shadowed Mayes at corner­back, while also gaining 99 yards as a running back. "But he's big and athletic and he has good hands."
"He's a great kid," added Owens. "He's the kind of kid who could go to Notre Dame and do well."
Notre Dame and everybody else are after Mayes, a 6‑2, 190­-pound senior.
North Central has another su­perb athlete in junior split end/defensive back Eric Allen, whom the Tigers will see next year when they take on the Panthers in the Indianapolis Hoosierdome.
North Central's top running back Saturday was Adam Evans, who finished the night with seven carries for eight yards. That's 24 feet, for you track and field fans, and happens to be almost exactly what Adam cleared this past spring in winning the Indiana state long jumping championship.
The Panthers' rushing attack went 47 yards ahead and 28 yards in reverse for a grand tot­al of 19 yards.
"We swarmed to the ball and everybody did his job," said Ti­ger defensive end Joey Lococo. "They reminded me of Moeller in a way, because they had big offensive linemen. But we used speed to get the advantage."
Massillon's run defense has probably been the most consis­tent bright spot on the team. Nose guard Carl Hye offered a reason why the Tigers have been sharp against the run all year.
"We get ready to play our best every game," Hye said. "After we played Moeller and lost, we put the game behind us. Now we have to do the same thing. We won. We played a pretty good game. But it's over. We have to treat the next game, and every game, like it's for the state championship."
Youngstown East, a 21‑0 loser to undefeated Youngstown Chaney (7‑0) Saturday, will visit Paul Brown Tiger Stadium Friday.
Massillon's offense was hard­ly a washout Saturday. Falando Ashcraft rushed for 143 yards and now has 798 through seven games. McGuire's 99 rushing yards (he also caught four pas­ses for 28 yards) lifted his sea­son total to 821.
Quarterback Nick Mossides, in his second week back after missing the Fitch game with a sprained knee, threw almost twice as many passes as the previous week. He completed seven of 19 for 69 yards and no interceptions.
But it was things like a first­ half sequence ‑ when the Ti­gers scored on their first pos­session, then punted, fumbled, and punted on the next three possessions ‑ that disturbed Owens.
The Tigers used an eight‑play (all runs), 63‑yard drive to take a 7‑0 lead. Ashcraft's six‑yard run around the right side pro­duced the touchdown and Jason Brown's P.A.T. boot was good with 9:25 left in the first quarter.
Early in the second quarter, a Jason Woullard punt buried the Panthers at the 5. Senior quar­terback Jason Jacobs dropped back to pass on the next play. Ti­ger linebacker Eric Wright shot through on a blitz so quickly that Jacobs never had a chance to react as he was dropped for a safety.
The ensuing free kick enabled the Tigers to drive to the 4 be­fore settling for a 21‑yard field goal by Brown, who seemed to put more oomph behind the ball than usual all night.
It was 12‑0, Tigers, with 6:01 left in the half.
Wright's linebacking part­ner, Brandon Turley, set up Massillon's next score. With the Panthers in punt formation, Turley broke through the line and smothered booter Tom Hadley so closely that he seemed to blocked the boot with his belly button. Massillon took over on the Panthers' 22 and scored in two runs by Ashcraft, covering 9 and 13 yards.
Brown's kick made it 19‑0 with 3:18 left in the half. That became the halftime score.
Early in the second half, the Tigers made it to the 6‑yard line on a 20‑yard pass play from Mossides to McGuire out of a bizarre formation Owens called a 10‑man shift. Ashcraft fum­bled on the next play, but North Central wasn't off the hook.
Weird play spices victory
over squad from Indiana
By STEVE DOERSCHUK
Independent Sports Editor
One if by land, two if by sea, and I on the opposite sideline will be.
No, it wasn't Paul Revere's famous ride. It was Travis McGuire's 20‑yard romp on one of the weirdest plays in Massil­lon football history. It spiced a 41‑0 victory Saturday night be­fore 10,869 amused onlookers Saturday night in Paul Brown Tiger Stadium.
"I don't think I ever did that before," Massillon head coach Lee Owens said. "We just call it the 10‑man shift."
Early in the second quarter, the Tigers broke huddle and approached the line of scrim­mage on first down from the North Central 26. The whole house was shocked when half the Tiger line jogged to the west sideline, and the other half jog­ged to the east sideline. North ­Central's defense played along and were lined up over the Mas­sillon linemen as they assumed their three‑point stances. Cen­ter Scott Chariton and quarter­back Nick Mossides (in shotgun formation) had the middle of the field all to themselves.
Charlton snapped the ball, and Mossides fired a pass to Travis McGuire, who was lined up near the east sideline.
"We thought there might be a lane for Travis down that side­line," Owens said.
There wasn't. North Central had jammed up the play, but the crafty McGuire saw an opening back the other way and cut across the right side of the field, nearly breaking free for a touchdown before he was caught at the 6‑yard line.
"I was looking for a little wrinkle, a little something to add some fun to practice during the week," Owens said. "When we drew up the play a couple of our coaches looked at me like I'd flipped."
Word leaked out of the prac­tice field that the Tigers might be cooking up a strange, new trick play to use on North Cen­tral.
"You can't keep a secret in this town," Owens said. "Some­body asked me at a gas station what we were up to."
Team doctor Robert Erick­son, Owens said, was ques­tioned about the rumored trick­ery during surgery this week.
"I wasn't sure what was going to come of the play," Owens said. "The guess was that we'd force them to take a timeout, and that would have burned a timeout they didn't want to burn. But the play went off."
What's in store for this week Is foe, Youngstown East. A double fleafficker, triple‑reverse with two‑and‑a‑half twists?
Maybe not.
"I think that will be the last you see of the 10‑man shift," Owens said.
During the second half, Dr. Erickson was happy to note from the sideline that safety Dan Hackenbracht had entered the game. It was Hacken­bracht's first game action in nearly two months. he suffered a broken leg two days after a preseason scrimmage against Cleveland St. Ignatius.
"Hack is back! " Erickson crowed.
Hackenbracht, who started last year as a sophomore, said he's not sure if he'll be able to regain all his speed by the end of the season.
"Right now, I'm getting my timing back," he said. "But I feel good … real good."
***
Derrick Mayes, North Cen­tral's star senior receiver, said the Tigers were in the same class as Ben Davis, last year's Indiana state champion and the favorite to win the title in '91.
"Massillon had all the ingre­dients you see in a very good team," Mayes said. "They're one of the best teams I've seen."
***
Nick Vrotsos and Ducky Schroeder, both of whom served for many years as Tiger assistant coaches, each drew a warm standing ovation when they were recognized at half-time for their contributions.
***
North Central head coach George Pappas was dis-appointed in his team's offensive line play.
"We have good size on the line, but not much quickness," Pappas said. "Still, our people should be able to do the kind of things we're asking them to do. We had a second and one (near midfield with Massillon leading 7‑0) and failed to make a first down' That hurt.
"They forced us to pass, and you can't throw the ball all stinking night. You just can't do it.
"Of course, you can't over­took the fact we did play a pret­ty good team."
Pappas was fairly happy with his team's ability to throw the Tigers' offense out of rhythm.
"They had a great defensive scheme and that made it a chal­lenge," Owens said. "They played a lot of man to man and a lot of sets we seldom see."
Pappas praised the Tigers' defense and running game.
"They don't do a whole heck­uva lot of things with their de­fense and they don't have to," he said. "They're fundamental­ly sound, and they buckle up the old chinstrap and come at you.
"On offense, they run some very basic plays … the buck, the cross, the belly, the boot. But when you execute them well and in the proper sequence they can be really quite devas­tating. "
Jacobs was carried off the field at the end of the first half with a sprained ankle but was back in at quarterback, and again drop­ping back to pass in the end zone. This time, he was press­ured by Woullard and tackled by Jonathon Jones for another safety. It was 14‑0 with 9:13 left in the third quarter.
McGuire returned the en­suing free kick 44 yards to set up his own 12‑yard touchdown run. The kick was no good but Mas­sillon's lead had swelled to 27‑0 just 63 seconds after the safety.
The Tigers drove 56 yards for a TD, McGuire going in from the 2, and Brown's kick made it 34‑0 with 1:06 left in the third‑quarter.
Mike Danzy came on at quarterback and directed an 84‑yard scoring drive capped by Dan Seimetz's 16‑yard TD romp. Brown's kick made it 41‑0 with 6:36 left in the game.
The contest ended with North Central on the march and the Panthers trying to lob the ball to Mayes in the end zone. Dana Wofford leaped high to break up the last attempt and preserve the shutout.
MASSILLON 41
NORTH CENTRAL 0
M NC
First downs rushing 17 3
First downs passing 6 7
First downs by penalty 2 1
Totals first downs 25 11
Yards gained rushing 330 47
Yards lost rushing 10 28
Net yards rushing 320 19
Net yards passing 103 150
Total yards gained 423 169
Passes attempted 19 31
Passes completed 10 10
Passes int. by 0 1
Times kicked off 7 1
Kickoff average 52.9 32.0
Kickoff return yards 67 136
Punts 4 7
Punting average 43.0 27.7
Punt return yards 27 14
Fumbles 2 3
Fumbles lost 2 1
Penalties 5 4
Yards penalized 35 44
Number of plays 69 56
Time of possession 24:31 23:29
Attendance 10,869
North Central 0 0 0 0 0
Massillon 7 12 15 7 41
M ‑ Ashcraft 6 run (Brown kick) 11
M ‑ Safety, Wright tackles Jacobs in end zone
M ‑ FG Brown 21
M ‑ Ashcraft 13 run (Brown kick)
M ‑ Safety, Jones tackles Jacobs in end zone
M ‑ McGuire 12 run (kick failed)
M ‑ McGuire 2 run (Brown kick)
M ‑ Seimetz 16 run (Brown kick)
Individual statistics
Rushing
(Mas) Ashcraft 19‑143, McGuire 17‑99, Copeland 4‑37, Danzy 3‑12, Seimetz 2­22, McVeen 3‑9.
(NC) Evans 7‑8, Morgan 3‑1, Jacobs 12‑11.
Passing
(Mas) Mossides 9‑17‑0 69; Danzy 1‑2‑0 34.
(NC) Jacobs 10‑31‑1 150.
Receiving
(Mas) McGuire 4‑28, Hawkins
3‑23, Merchant 1‑5, Ashcraft 1‑13, Holland 1‑34.
(NC) Mayes 6‑78, Evans 3‑55, May 1‑17.