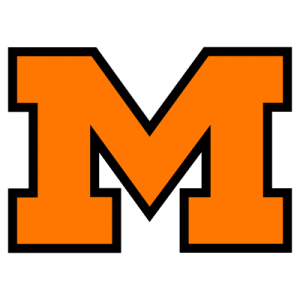 Tigers roar in the rain
45‑7 win good practice for St. V, McKinley wars
By STEVE DOERSCHUK
Independent Sports Editor
Last year's hit played just fine on the P.A. last night at Paul Brown Tiger Stadium.
"Don't worry … be happy.
This was no night to fret about a win.
The Massillon Tigers knew one was coming.
Turned out to be a come‑from‑behind (if you want to get technical) 45‑7 high school football victory over Youngstown East before about 6,500 in rain‑soaked (but sand‑turf dry) Paul Brown Tiger Stadium.
The Tigers are 6‑2. East is 0‑8.
No surprises.
This was a night for fun.
"Ga‑ree! Ga‑ree! Ga‑ree! fans sang in the rain, hoping human cannon­ball Gary Young would get a touchdown. His only one, a 60‑yarder, was called back by a penalty. Still, "Air Gary" made a spectacular somersault on a TD try from the 2. He didn't score, So what?
It was a night to prepare for the big ones. Akron St. Vincent‑St. Mary. McKinley. Teams the Tigers probably must beat to make the playoffs.
Another Gary, Miller, the Tigers' starting center, said Friday amounted to "more or less a practice game for St. V."
It was good practice.
"We did pretty well," Miller said. "Everything seemed to fit together."
It vas a night to build confidence.
"We have a good chance to go to state," said Brandon Turley, the outside linebacker.
Turley is a junior. Senior Ron Humphrey did a double take when he heard his younger teammate talking so.
"It's not time to talk about that yet," he said.
Humphrey looked at Turley and laughed.
East is a playoff albatross. It paid next to nothing (2.5 computer points) to defeat the winless team. But the night could have been worse. The Tigers gained points from these Friday winners: Stow (26‑0 over Spring­field), Covington Catholic (35‑14 over Kentucky Scott), Akron Garfield 20‑0 over Ellet) and even Nordonia (13‑7 over Cuyahoga Falls ‑ not bad for a team that lost 70‑0 here two weeks ago).
It was a night to learn about respect. You may have nukes to their pistols, but you lose unless your finger and mind are on the trigger.
East drove 62 yards in 10 plays and scored on the game's first series. That wasn't supposed to be in the cards.
"One thing we got out of tonight," junior linebacker Jason Woullard said, "was learning never to take any team lightly.
"We came out in a trance. We were lackadaisical. They scored on us. After that I don't think we were in a trance any more."
East was little.
East was playing a dozen sophomores.
East even used two freshmen.
But East led 7‑0 when junior quar­terback Darnell Bracy hit diving senior end Leo Hudson for a 12‑yard touchdown, and Hudson added the extra‑point boot.
There was 8:15 left in the first quarter when East scored. There was 6:37 left in the first quarter when it became apparent it didn't really matter. That was when Tiger senior James McCullough blasted 10 yards for a touchdown one play after his running mate, Falando Ashcraft, weaved 31 yards.
Ryan John made the first of his six P.A.T. kicks and it was 7‑7.
Brian Cole snared an interception moments later, setting up a 12‑yard touchdown run by Ashcraft. The score came with 4:25 left in the quarter. The Tigers led 14‑7 less than four minutes after they had trailed.
Ashcraft proceeded to amass his second‑biggest game of the year ‑11 carries for 142 yards and three touchdowns. The man who dented Covington Catholic for 190 yards in the Buddy LaRosa Classic now has rushed 127 times for 764 yards and 12 touchdowns.
McCullough, a transfer from McKinley, had his biggest night with 83 yards in 11 carries, Usually starting in his position is junior Tra­vis McGuire, who didn't dress be­cause of an ankle injury. McGuire said he has been jogging and will play against St. Vincent.
Also skipping Friday's game were tight end Chris Roth (separated shoulder), guard Dan Sciury (sprained ankle) and defensive tackle Mark Murphy (bronchitis), Head coach Lee Owens said all are expected to Play against St. Vin­cent.
Friday was even night to practice kicking field goals. The Tigers had yet to attempt one this season until John delivered a 26‑yarder with 5:23 left in the game.
Backup quarterback Troy Burick rushed for touchdowns on two short runs.
Senior receiver Steve Brown caught three passes for 54 yards and now leads the team in recep­tions (26) and receiving yards (779).
Owens was unhappy about East's early success. But he couldn't be too displeased.
"It was a chance to work on some different sets," he said. "It was nice to get a big win."
The Tigers didn't give away too many secrets for scouts from St. Vincent and McKinley.
"We were awful basic," Owens said. "At the same time we got to try out a couple of different plays and a couple of different combina­tions of players we may use in the future."
The future?
It most surely was a night to think about that.
MASSILLON 45
EAST 7
M E
First downs rushing 18 1
First downs passing 4 7
First downs by penalty 2 1
Totals first downs 24 9
Yards gained rushing 370 53
Yards lost rushing 15 32
Net yards rushing 355 21
Net yards passing 73 106
Total yards gained 428 127
Passes attempted 15 23
Passes completed 6 7
Passes int. by 1 4
Times kicked off 8 2
Kickoff average 47.1 39.0
Kickoff return yards 33 122
Punts 1 3
Punting average 35.0 25.7
Fumbles 0 2
Fumbles lost 0 2
Penalties 4 5
Yards penalized 34 56
Number of plays 70 43
Time of possession 28:32 19:28
East 7 0 0 0 7
Massillon 14 14 14 3 45
Rushing
(M) Ashcraft 11‑142, McCul­lough 14‑83, Young 12‑58, Roberson 8‑28, Burick 3‑29, Slicker 1‑9, Mossides 1‑10.
(E) Johnson 7‑38, Perdue 10‑7.
Passing
(M) Shertzer 5‑14‑1, 67 yards; Burick 1‑1‑0, 6 yards.
(E) Bracy 7‑23‑4, 106 yards.
Receiving
(M) Brown 3‑54, Ashcraft 1‑16, Stafford 1‑13.
(E) Hudson 4‑50, Ortiz 3‑56.
Scoring
E ‑ Hudson 12 pass from Bracy (Hudson kick)
M ‑ McCullough 9 run (John kick)
M ‑ Ashcraft 13 run (John kick)
M ‑ Burick 2 run (John kick)
M ‑ Ashcraft 60 run (John kick)
M ‑ Burick I run (John kick)
M ‑ FG John 26