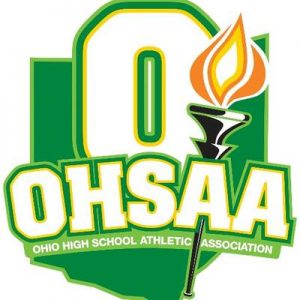 Two down two to go for Tigers
By STEVE DOERSCHUK
Independent ‑ Sports Editor
Did Dame Destiny and the Fickle Finger of Fate conspire to stop Lee Hurst and Craig Turkalj Saturday?
There stood Hurst on one side of a water bucket in the Akron Rubber Bowl. There stood Turkalj on the other side. There ticked the clock 0:08 … 0:07 … 0:06 ‑ on a scoreboard that read Massillon 43, Garfield 7.
"Let's do it," the two Tigers yelped at 0:01.
And away they ran with their sloshing cargo. But when they got there, the sideline was bare. Their head coach, Lee Owens, had been absorbed by a sea of celebrants.
.
"Where'd he go?" the quarterback yelled.
"I don't see him," the linebacker replied.
They scrapped the mission and joined the fun.
And maybe that's the way it's supposed to be.
Maybe the cards have it that (attention Coach Owens ‑ do not read this and spoil your surprise) the grand dousing is to take place in Columbus two games down the playoff highway.
As for Owens, he went that‑a‑way ‑ the way that leads to the Division I state semifinals and from there to the state championship.
It's two playoff wins down and two wins to go for the rampaging Tigers, who came home Saturday night to another frenzied moonlight celebration downtown.
Massillon will oppose defending state champion Cleveland St. Ignatius at 7 p.m. Saturday in the Akron Rubber Bowl.
It won't be all fun and games.
"This turf is terrible," said Tiger guard Jim Goff as he walked off the field following Saturday's Garfield game. "Our sand turf is so much easier on the body. I'm really sore."
Many Tiger fans thought their team, first in the Region 3 computer rankings at the end of the regular season, should not have had to play against No. 4 Garfield where the Golden Rams saw action in five regular‑season games this year.
But there is a flip side.
The Tigers now have had a game in which to get the hang of the Rubber Bowl (winning by 35 points against a team whose only other loss this season was by 1 point in overtime).
Ignatius has not played at the Rubber Bowl this year.
Still, expect to hear plenty of talk this week painting Ignatius as the favorite. The Wildcats won it all last year, the talk will go, and they have one of the best quarterbacks in the nation in Joe ‑ Ohio State wants him bad – Pickens.
"I hope we do play Ignatius," Massillon senior Todd Porter said before he knew Ignatius advanced by outlasting Euclid Saturday night. "We beat them in a scrimmage, but people will say it was just a scrimmage. We want to beat them in a game."
The Tigers' first opportunity to commence beating on someone other than their own teammates came Aug. 12 in Lakewood, when they beat Ignatius in a practice game.
Three months later, after 12 "count 'em" games, Ignatius owns a 12‑0 record. The Tigers are 10‑2.
In Saturday's other semifinal battle, Cincinnati Moeller (10‑2) will take on Lima (10‑2) in a 7:30 p.m. clash at Dayton's Welcome Stadium.
Ask around the Massillon locker room and you'll find a whole lot of folks who want to face Moeller again ‑ the Tigers lost to the Cincinnati kids 41‑7 Sept. 16.
They may get the chance.
And maybe they're within striking distance because they had things in the right perspective all along.
This was co‑captain Ryan Sparkman talking shortly after the Tigers beat Ignatius in August:
"It was all right to go up there and practice against the defending state champions, but we still have a long way to go."
It's not so long anymore.
Massillon makes Garfield pay dearly for its errors
By Ralph Paulk
Beacon Journal staff writer
The Massillon Tigers stepped boldly into the Garfield Rams' backyard ‑ the Rubber Bowl ‑ then proceeded to manhandle the Rams.
What was supposed to be a grueling battle of defense quickly developed into a Massillon blowout Saturday night before a crowd of 13,607.
The Tigers, racing off to a 29‑7 halftime advantage, advanced to the state Division I semifinals with a convincing 43‑7 victory.
The Rams got out of the blocks in good shape, scoring on their first possession to take an early 7‑0 lead.
After that the Rams' faithful sat in stunned silence for 3 1/2 quarters. The Tigers whipped Garfield at every phase of the game.
The Tigers' defense harassed Rams quarterback Marcus Sims, sacking him five times and intercepting two passes. They also recovered four Garfield fumbles in the second half.
As Massillon continued its onslaught the Rams lost their confidence and poise. They were flagged for three unsportsmanlike conduct penalties and a rash of other penalties.
Garfield's coach, Bill McGee, paced up and down the sideline in search of an answer. All McGee and his Rams could find was misery, misery and more misery.
Massillon's coach, Lee Owens, adjusted his orange cap occasionally and put his hands in his pockets.
What else could he do? His team's victory already had been put on ice.
"We just got on a roll and were executing very well," said Owens. "We felt we had to execute well if were going to win.
"This team was playing with extreme confidence. The kids know they can go all the way (state title game).
"I thought we had to get off to a better start than we did last week. We couldn't wait until the second half."
Massillon (10‑2), which overcame a 24‑6 deficit to defeat Walsh 42‑24 in the regional semifinal last week, again rolled out of the gate slowly. This time, however, the Tigers started their scoring flurry late in the first quarter.
Massillon halfback Ryan Sparkman ignited an awesome first‑half scoring explosion with a 44‑yard run to the Rams' 2. Two plays later, Sparkman bounced off left tackle for a 1‑yard touchdown, making it 7‑6.
Gary Miller's conversion kick was blocked by Thomas Lewis. It was the only thing the Tigers didn't execute perfectly.
Quarterback Lee Hurst who threw for three touchdowns and ran for another, ripped apart the Rams' secondary like a master surgeon.
"We knew there were some things in there defense that we could exploit," said Hurst, an All‑NEO Inland Region first‑teamer.
Massillon, which made its last appearance in the state ‑ title game in 1982, took a 14‑7 lead with 8:35 left in the second quarter.
Doug Harig, who caught a 45‑yard pass, capped off a 7‑play, 61‑yard scoring drive by catching a 4‑yard touchdown pass from Hurst.
There was still hope for Garfield. That was until Tigers safety Keith Rabbit intercepted a Sims pass at the Garfield 37.
It took the Tigers six plays to get the hall into the end zone. Hurst bootlegged around left end for an 11‑yard touchdown scamper and tossed a 2‑point conversion pass to Rameir Martin to put Massillon ahead 21‑7 with 5:17 left in the second quarter.
The Rams, marched to the Tigers' 46. But Kevin McCue intercepted another Sims pass at midfield.
Hurst wasted little time in making the Rams pay for their mistake. On first down. he rifled a 50‑yard touchdown strike to Martin with 2:31 left in the first half.
Martin's touchdown, Owens said, is what really burst the Rams' bubble.
"The touchdown to Martin probably sealed the game," Owens said. "We were doing every thing right, and we knew we were in good shape."
Hurst, catching Garfield's defense off‑balance, bootlegged left for a 2‑point conversion to give Massillon its 29-7 lead at the half.
"I thought at the half we would play a strong second half"' said McGee, whose team lost to Cincinnati Princeton in the 1983 championship game.
"I think once they scored to begin the third quarter, I realized it wouldn't be our night. It was frustrating for us because it was always something.
The Rams began the second half by fumbling the ball away to Massillon. Again, Hurst rewarded the Tigers' defense by directing the offense into the end zone.
Hurst threw a 20‑yard touchdown pass to Harig with 6:42 left in the third quarter, giving Massillon a commanding 36-7 lead.
The Tigers got their final points a 3‑yard touchdown run by Lamonte Dixon ‑ which also was set up by a Garfield fumble.
"This doesn't happen to its very often." McGee said, "Massillon was very excited about playing.
"We weren't overwhelmed physically, but I think emotionally we were never in it. It was hard getting our kids' confidence back."
Massillon will play Cleveland St. Ignatius in next weekend's state semifinals.
Individual Statistics
Rushing
(Mas) Sparkman 10‑70, Ashcraft 10‑34, Dixon 12‑21, Hurst 4‑17, Slicker 2‑5.
(Gar) McGhee 9‑62, Martin 10‑28, Sanky 3‑21, Lewis 1‑9, Sims 7‑(minus 41).
Passing
(Mas) Hurst 10‑14‑0 175, Shertzer 1‑1‑0 10.
(Gar) Sims 4‑16‑2 66, Conley 3‑6‑0 36.
Receiving
(Mas) Martin 4‑77, Harig 3‑68, Manion 2‑21, Carpenter 1‑11, Sparkman 1‑8.
(Gar) Lewis 3‑41, Harrison 2‑42, Martin 1‑14, Keller 1-5.
Kickoff returns
(Mas) Dixon 1-20.
(Gar) Martin 4‑83, Lewis 2‑37, Sankey 1‑19.
Punt returns
(Mas) Blake 1‑17, Manion 1‑0.
(Gar) None.
Massillon 6 23 14 0 43
Garfield 7 0 0 0 7
G – Sims 3 run. Williamson kick
M – Sparkman I run. Kick failed
M ‑ Harig 4 pass from Hurst. Martin Pass from Hurst
M ‑ Hurst 11 run. Miller kick
M ‑ Martin 50 pass from Hurst. Hurst run
M ‑ Harig 20 Pass from Hunt. Miller kick
M ‑ Dixon 3 run. Miller kick
MASSILLON 43
GARFIELD 7
M G
First downs rushing 9 3
First downs Passing 7 5
First downs Penalty 0 4
Total first down 16 12
Net Yards rushing 142 79
Net Yards Passing 185 102
Total net yards 327 181
Passes attempted 15 22
Passes completed 11 7
Passes intercepted 0 2
Fumbles/lost 1‑1 5‑4
Punts 2 3
Punting average 14.5 34.7
Penalties 6 6
Yards penalized 59 47
All‑around dominance
Massillon's offense, defense click in 43‑7 rout
By MARK CRAIG
Repository sports writer
AKRON ‑ If' you're a fan of high‑powered offenses, the Massillon Washington High School football team has the fix you've been looking for.
That's not an earth‑shattering statement. Most people know that.
But what's becoming more evident each week is the Tigers have plenty to offer you fans of defense ‑ quick, hard‑hitting, in‑your‑face defense.
Massillon had both its units working to near perfection Saturday night against Akron Garfield at the Akron Rubber Bowl.
Of course, the results of the Tiger explosion of power wasn't pretty for Garfield fans, as their Rams lost this Division 1, Region 3 championship game 43‑7 in front of 13,637 fans.
The win raised Massillon's record to 10‑2 and placed the Tigers in a state semifinal game next weekend. The site, date and opponent will be determined later today. Garfield, meanwhile, ended its season at 9‑2.
"I get the strong feeling these kids want to go all the way," said Massillon head coach Lee Owens.
"They're playing with extreme confidence right now. They're getting better and better each week, which is what you need to do."
Massillon's confidence began to soar last week against Walsh Jesuit when the Tigers scored 36 unanswered points to erase a 24‑6 halftime deficit. Massillon's confidence never wavered Saturday, not even when Rams' quarterback Marcus Sims capped a 46‑yard seven‑play drive with a four‑yard TD run to put Garfield ahead by a touchdown with 6:58 left in the first quarter.
The Tigers calmly reeled off 29 points before the half was over. Ryan Sparkman scored on a one-yard run, and quarterback Lee Hurst threw TD passes of four yards to tight end Doug Harig and 50 yards to Rameir Martin, and even ran for an 11‑yard score.
Martin's TD reception came one play after an interception when Hurst layed a beautifully thrown pass on Martin's fingertips. Gary Miller added the PAT to make it 29‑7 with 2:31 to go in the half.
"The pass to Martin is probably what sealed it," Owens said "That play just shows how" balanced our offense is."
"Before that, we were able to score with our running back, our quarterback and our tight end." Owens added. "You can't concentrate on any one weapon when you play us."
Harig will attest to that. After catching just 13 passes all season, he caught three for 68 yards Saturday, including a 20‑yard TD pass in the third that extended Massillon's lead to 36‑7 and convinced Garfield head coach Bill McGee that, "This maybe wasn't going to be our night,"
"We can do anything we want to do," Harig said "You can't shut down just one guy and expect to beat us."
Massillon tacked on another TD when Lamonte Dixon scored from three yards out with 29 seconds left in the third.
The Tiger defense didn't let up in the second half. It added another four takeaways, giving itself six for the game.
"This is the best we've played defensively as a team all year," said Massillon defensive coordinator Dan Boarman. "You have to say everyone played well. The main thing is we needed to control the line of scrimmage, and that's exactly what we did."
Massillon's defense also threw gasoline on Massillon's red‑hot offense in the first half. Safety Keith Rabbitt set up Massillon's third score with an interception at the Garfield 37, and linebacker Kevin McCue set up the fourth score by returning an interception 12 yards to the 50.
Rabbitt also set up the first score of the second half when he recovered a fumble at the Garfield 48. Other players to recover fumbles in the second half were Eric Wright, Chad Tharp and David Whitfield.
Massillon out gained Garfield in total offense, 327 yards to 181. Massillon led in rushing, 142‑79, with Sparkman picking up 70 yards on 10 carries.
Hurst again was efficient at throwing the football. He completed 10‑of‑ 14 passes to five different receivers for 175 yards and no interceptions.
Martin led all receivers with four catches for 77 yards. He also caught a two‑point conversion on pass.
Owens tried to sum up just how bad his team beat Garfield, but somehow he didn't come as close as a sign that was held Up by one of the younger Massillon fans.
The sign read, "Massillon kicks …" Well, uh, you know the rest.
Akron Garfield 7 0 0 0 7
Massillon 6 23 14 0 43
Garf ‑ Sims 3 run (Williamson kick)
Mass ‑ Sparkman 1 run (kick failed) I ‑
Mass ‑ Harig 5 pass from Hurst (Martin pass from Hurst)
Mass ‑ Hurst 11 run (Miller kick)
Mass ‑ Martin 50 pass from Hurst ( Hurst run)
Mass ‑ Harig 20 pass from Hurst (Miller kick)
Mass ‑ Dixon 3 run (Miller kick)