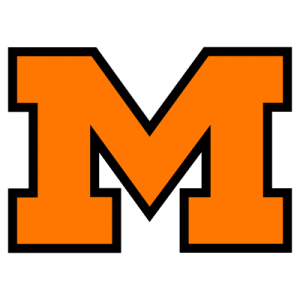 Tigers roar back for 42-19 victory
By CHUCK HESS JR. Independent Sports Editor
A strange monster isn't the only thing throwing scares into Massillon these days. The Red Devils got in their bid Friday night at Tiger Stadium.
But the Tiger sloughed off the 13-7 Columbus Marion-Franklin first quarter lead and came back to hand the red Devils a 42-19 defeat before 10,741—the seasons smallest crowd here.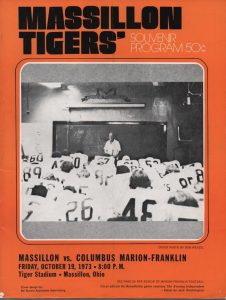 "I NEVER lost confidence in our kids or our ability to win the football game," Tiger head coach Bob Commings said. "I was a little bit upset that Marion-Franklin got the go-ahead touchdown the way they did."
Commings added, "Charles Danzy took the initiative in the second half as a captain should and led us on to victory." The senior tailback scored a touchdown after the intermission and racked up 145 yards in 19 carries — losing none —during the game.
Marion-Franklin skipper Jim Harper thought the turning point came in the second quarter after Devil Wayne Hagwood's diving try at an end zone pass interception was ruled no possession by head linesman Henry Mastriann. Back judge Warren Jones had ruled an interception but Mastriann's decision stood because he was closer to the scene of the action.
The Tiger's go-ahead TD followed.
"I didn't think a team rated as Massillon is and which has the powerhouse they have would have to have homer officials," Harper said.
"On the first fumble they didn't have an official on the ball. I'm not taking anything away from Massillon because they can move the football."
TIGER FULLBACK Bill Harmon fumbled and recovered on the Marion-Franklin 22 and the Tigers went on to their first TD.
"Massillon has 505 wins and we never beat anybody," said Commings. "People come up with a once in a lifetime performance that they're going to have, but the only way we ever beat them is by the officials, bad breaks or bad field position and I'm sick and tired of that."
The latest win saw Harmon scoring twice, split end Jeff Huffman and quarterback Greg Wood combining for two more TDs and wingback Mark Streeter running for one to add to Danzy's effort. Allan Binks kicked five conversions and Brad Limbach one.
Streeter got the Tigers started with a 34-yard punt runback and six plays later went over left tackle from the 11 with 6:53 left in the first quarter.
Marion-Franklin marched 52 yards in seven plays after Mickey Horn's 15-yard kick runback and a facemask penalty. A Tiger offside infraction and quarterback Rocky Roddy's 14-yard end run to the one were also thrown in.
RODDY SCORED from the one through the center with 3:02 left. Virgil Carreker booted the conversion.
Horn pounced on Harmon's fumble on the Tiger 38 one play after the ensuing kickoff. On third down Roddy tossed to halfback Kevin Woods for 38 yards to the one and Roddy went through the center after a half-yard offside penalty with the clock showing 53 seconds. Carreker's kick was wide right.
The Orange and Black rolled 49 yards after a punt for their next six-pointer. An 8-yard blast through the center by Harmon and a 20-yard power-pitch sweep around left end by Danzy made it first down on the seven.
Three plays later – after a half-yard unsportsmanlike conduct penalty by Harper for being on the field to argue about clock operation – Harmon bulled through the middle for six points with 2:52 left in the second stanza.
End Vince DiLoreto recovered Hagwood's fumble on the Marion-Franklin 27. Danzy's nine-yard pitch-sweep run to the left and Woods boot keeper to the right for 11 yards to the three set up a Wood to Huffman three-yard touchdown pass with 45 seconds left.
A 61-YARD, five-play drive after the second half kickoff started by John Mayor's 13-yard runback and finished by Danzy's 27-yard power pitch right end sweep with 10:13 left accounted for the next score. Danzy added nine and eight-yarder.
Harmon had the misfortune of having the ball bounce into the air from his hands on the 50 and end Robert Keyes scored a Devil TD, nullifying a DiLoreto fumble recovery. Time left after Roddy's unsuccessful conversion pass to Woods was 4:31.
Streeter's eight-yard kick runback, a face mask step off and another Danzy sweep – this one 15 yards to the six were included in the next scoring sequence. The drive covered 64 yards with 12 plays. Harmon carried through the middle again – from two yards out – to put on the clincher. Time left was 11:57 of the fourth quarter.
Danzy recovered Woods' fumble on the Devil 26 one play after the ensuing kickoff. Wood threw a 26-yarder to
Huffman to complete the scoring with 11:04 left.
The Tigers are 6-0-1 and the Devils 3-4.
MASSILLON—42
Ends-DiLoreto, Huffman, T. Gutshall, McCauley, Rolland, Venables.
Tackles-Lee, George, Csonka, Rich, Chapman, Goff.
Guards-Schumacher, Bricker, A. Lemon, Fenton,Graber.
Center-Studer.
Quarterbacks-Wood, D. Gutshall.
Halfbacks-Swann, Streeter, Danzy, Pifer, Mayor, Dailey, Henderson, Herring, T. Lemon.
Fullbacks-Harmon, McGuire, Waldrop.
PlaceKickers-Binks, Limbach.
Holder-Bickford.
Punter-Keller
MARION-FRANKLIN-19
Ends-Brown, Mosley, Keyes, Walters, Mathis.
Tackles-Hunter, Goode, Jones, Engleman, Blount, Oates, Flemmings.
Guards-Douridas, Scior, Lanier, Brams, Jordan.
Center-Robers, Washburn, Johnson.
Quarterbacks-Roddy, Carse.
Halfback-Byrd, Hagwood, Woods, carter, McCoy, Billingslea.
Fullback-Williams, Miller, Horn.
Placekicker-Carreker.
Marion-Franklin 13 0 6 0-19
Massillon 7 14 7 14-42
M-Mark Streeter 11 run (Allan Binks kick); MF-Rocky Roddy 1 run (Carreker Kick); MF-Roddy 1 run (kick failed); M-Harmon 1 run (Binks kick); Huffman 3 pass from Greg Wood (Binks kick); M-Charles Danzy 27 run (Binks kick); MF-Robert Keyes 50 fumble recovery (pass failed); M-Harmon 2 run (Binks kick); M-Huffman 26 pass form Wood (Brad Limbach kick).
Officials: Referee James Keffer; umpire-Ted Deutsch; head linesman-Henry Mastriann; field judge-Fred Vicarel; back judge-Warren Jones.
M
MF
First downs rush
15
6
First downs pass
1
2
First downs penalties
1
0
Total first downs
17
8
Yards gained rushing
268
138
Yards lost rushing
4
10
Net yds. Gained rush
264
128
Net yards gained pass
37
46
Total yards gained
301
174
Passes Completed
3-13
2-4
Passes interception by
0
0
Kickoff average
7-46.6
4-29.7
Kickoff returns (yds.)
28
72
Punt average
1-46
2-33
Punt returns (yds.)
34
0
Had punts blocked
0
0
Fumbles lost
3-4
4-4
Yards penalized
5-45
3-20
Touchdowns rushing
4
2
Touchdowns passing
2
0
Miscellaneous
0
1
Total number of plays
57
51
Elapsed time
23:29
24:31