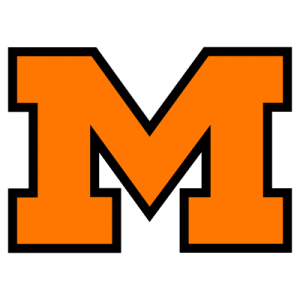 Tigers get it together for 51-0 win.
By Chuck Hess Jr., Independent Sports Editor
The Tiger faithful must be as happy as near-sighted man who has found his spectacles.
The Orange and Black offense came out of hibernation Friday night, rolled up seven touchdowns, 550 yards, 22 first downs and literally clawed the Steubenville Big Red apart before 7,900 at Harding Stadium in the River City. Final score was 51-0 as the Tigers scored all but two times in which they had the ball.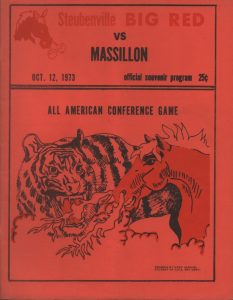 The All American Conference's defending champions continued to hold onto first place, along with archrival Canton McKinley and Warren Harding, stretching their regular season unbeaten streak to 16, their loop win skein to nine, their wins over Steubenville to 11 straight, their 1973 record to 5-0-1 and their league record to 2-0. In breaking their previous AAC victory streak of eight, the Tigers also set a league scoring record.
The previous record was 40 points set by Massillon against Steubenville in 1967, and a like total by the Steubers against Warren Harding in 1967. Friday's score was the fifth highest Tiger point production in the Big Red series which stands 32-3-2 in the Orange and Black's favor, including 13 shutouts (five straight).
The Big Red, which had won its first three games under rookie coach Tom Gardner, has now lost three in a row and dropped into the AAC cellar with Alliance and Niles, also 0-2.
AAC STANDINGS
Massillon 2-0, Canton McKinley2-0, Warren Harding 2-0, Niles McKinley 0-2, Alliance 0-2, Steubenville 0-2.
Tiger senior split end Jeff Huffman and junior and quarterback Greg Wood, who had previously had trouble making connections, go together for TD pass plays of 5, 40 and 26 yards. Wood ran 73 yards for another TD after being seemingly trapped on a pass play.
Senior wingback Johnny Mayor scored on a nine-yard off-tackle effort, senior tailback Charles Danzy on a 23 yard end run and sophomore quarterback Todd Keller on a half-yard sneak. Pifer had an aerial TD called back by a penalty as did sophomore right end Mark Matie.
SENIOR ALLEN Blinks kicked two conversions, senior Brad Limbach one. Junior wingback Mark Pifer, junior wingback Mark Streeter and senior tailback Terry Henderson ran two-pointers. Keller was corralled by Joe Brancazio when trying for the final points after.
"We've been saying for a long time we were going to put it together," Tiger head coach Bob Commings said. "We had a great game against Niles now I want to see us go the rest of the season this way. Then we'll know if we've got a great football team."
Commings was extremely happy with the passing game.
"The protection was great," he said. "We always knew we had the passer and receivers. It was a question of getting good protection and confidence and I think we accomplished that. Steubenville got behind and it was a son of a gun. We hit those bug plays on them. If we had been without out passing game, it would have been a dogfight.
"The passing game and Bill Harmon (fullback) will bring back out tailback game which is still the core of out offense."
With the passing game going, the Big Red could not play its backers and secondary up tight, allowing the running game to function properly. Receivers ran such good patterns that they were as alone as a man who had done battle with a skunk and lost.
HARMON NETTED 73 yards on the ground in 10 tries and Danzy 55 in 11, losing only two before both left in the third quarter when Commings started to clear the bench.
The defense put in another great night, allowing only 68 yards rushing.
"We got behind and Bob got his offense going," Gardiner said. "Your backs did a great job, broke tackles and that's the story of the game. We knew you could throw, but we didn't cover and you caught us with out pants down."
M
S
First Downs- rush
16
3
First Downs- pass
6
1
First Downs-penal
0
1
Total first downs
22
5
Yds gained rush
388
96
Yds lost rush
5
28
Net yds gained rush
383
68
Net yds gained pass
167
54
Total yds gained
550
122
Passes com
9-12
6-12
Passes inerc by
2
0
Yd on passes interc
28
0
Kickoff ave (yds)
8-37.0
1-39.0
Kickoff ret (yds)
16
79
Punt ave (yds)
1-40.0
6-32.3
Punt ret (yds)
4
0
Lost fumbled ball
0
0-1
Yds Penalized
13-115
5-43
Touchd rush
4
0
Touchd pass
3
0
Total num of plays
Elapsed Time
61
28:24
44
19:36
MASSILLON—51
Ends — Huffman, T. Gutshall, Bell, Matie, Nestor, Robinson, Venables, DiLoreto.
Tackles — Csonka, Lee, Gresham, George, Nicewander, Rich, Chapman, Goff.
Guards — Graber, Fenton, Schumacher, A. Lemon, Lightfoot, Bricker, Moore.
Centers — Studer, Brand, Nagle.
Quarterbacks — Wood, Keller.
Halfbacks — Streeter, Danzy, Pifer, Dailey, Mayor, T. Lemon, Swann, Pfeiffer, Grizzard, Herring, Henderson.
Fullbacks – Harmon, McGuire, Waldrop, Snell.
Placekickers – Binks, Limbach.
Holder – Bickford.
Punter – Keller
STEUBENVILLE – 0
Ends – Williams, Jones, Price, Mavromatis, Medley, Jarvis.
Tackles – Shell, Quattrone, Brancazio, Cramblett.
Guards – Ossio, Moncilovich, Carney, Rohrey, Snyder.
Center – Sarap.
Quarterbacks – Repella, Bryan.
Halfbacks – Fletcher, Thuchowski, Edgar, Kunkle, Robinson.
Fullbacks – DeFrances, Christian, Runkel.
Placekicker – Medich,
Massillon 7 23 15 6 51
M – Jeff Huffman 5 pass fdrom Greg Wood ( Binks kick); W—Wood 73 run (Mark Streeter run); M – Huffman 40 pass from wood (Mark Pifer run); Mayor 9 run (Binks kick); Huffman 26 pass from Wood (Limbach Kick); Danzy 23 run (Henderson run); Todd Keller one-half, run (run failed0.
Officials: Referee – Charles Hinkle; Umpire – Wilson Murray; Head linesman—John Curenton; Field judge – Bill Paolisso