Tigers Gain Sole AAC lead
By CHUCK HESS JR., Independent Sports Editor
The Tigers didn't forget about a letdown the last time they played a team with a non-impressive record, took charge form the start and rolled over a hapless Alliance Aviator squad 54-0 on a windy, rainy Friday night at Tiger Stadium.
The score was the largest of the season the 32-0 halftime bulge and 9,905 fans—the season's smallest crowd—witnessed the Orange and Black move into undisputed possession of first place in the All American Conference and put the Aviators in the cellar all alone.
THE WASHINGTON High squad upped its league record to 4-0 and its overall mark to 8-0-1. Alliance is 0-4 in league play and 2-7 overall.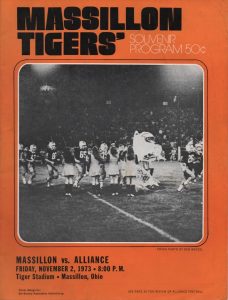 The Tigers increased their league win streak to 11 and their regular season unbeaten mark to 21 and now must face arch-rival Canton McKinley, which lost 19-7 to homestanding Warren Harding Friday night, next Saturday afternoon in the season finale at Fawcett Stadium in Canton for the right to advance to the Class AAA state playoffs for a second consecutive year.
The Bulldogs' loss gave the Tigers some vitally needed third-level points in their race to overtake leader Youngstown Cardinal Mooney and runnerup Akron Garfield in computer Region 3.
So devastating was the Tigers' win that they amassed 475 total yards while holding Alliance to 38, throwing the Aviators for 52 yards in ground losses, allowing a net four yards rushing. The Carnation City team got out of its own territory only twice.
Three of the Tiger touchdowns were of the big-play variety which had hurt Alliance all season. Tailback Charles Danzy took a pitch and went 27 yards around right end off fullback Bill Harmon's block in the first quarter. He rolled 62 yards around right end in the second quarter and wingback Mark Streeter took a pitch around the right side for 53 yards in the third period.
DANZY TOTALED 127 yards in nine carries, losing none. Quarterback Greg Wood started the scoring off in the first quarter, sneaking two yards through the middle, after he had passed 30 yards to split end Jeff Huffman to set up the tally.
Harmon went one yard through the middle after the Tigers had taken over on a bad punt snap which Keith Herring recovered on the Alliance eight-yard line. Later in the period Wood throwing from the three, hit his favorite target, Huffman again, in the right corner of the end zone, for their seventh TD effort in four games.
Fullback J. J. McGuire bulled his way over from the two in the third period and tailback Ted Dailey raced over right tackle from the five in the last stanza.
Only once did the Tigers start behind their 40-yard line in driving for scores and only twice did they fail to get one.
Punter Todd Keller was used for the first time in the last three games. Wood, wingback Johnny Mayor and McGuire ran conversions. Wood also passed to Huffman for one. Allan Binks kicked a PAT but also missed one, breaking his string of 11 straight.
"I'M VERY pleased that our kids understood what they had to do and did it," Tiger head coach Bob Commings said. "We're thrilled that we got a chance to play everybody."
"There are better things to come," Graham said. "We got beat by the little mistakes that have plagued us all year."
M
A
1 st downs—rushing
17
3
1 st downs—passing
3
1
1 st downs—penal
0
2
Total 1 st downs
20
6
Yds. Gained rush
407
56
Yds. Lost rushing
8
52
Net yds gained rush
399
4
Net yds. Gained pass.
66
43
Tot. yds. Gained
475
38
Passes completed
5-8
3-11
Passes inter. by
0
0
Yd. on passes inter.
0
0
Kickoff ave. (yds)
9-42.1
1-50
Kickoff returns (yds)
19
83
Punt ave. (yds)
1.33
7-26.7
Punt returns (yds)
6
0
Had punts blocked
0
0
Fumbles lost
0-1
1-1
Yards penal.
10-90
4-33
Tds rushing
7
0
Tds passing
1
0
Tot.no.plays.
60
45
Elapsed Time
26:32
21:28