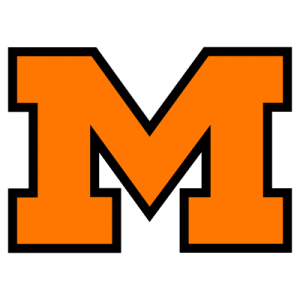 Tigers win offensive battle 34-18 over Warren
Could be key computer victory
By CHUCK HESS JR. Independent Sports Editor
If the Tigers get into the state football playoffs next month for the second consecutive year, it may be because they had the upper hand in one of the greatest two-fisted offense football shows ever seen at Tiger Stadium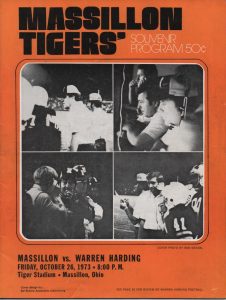 Before 13,659 Friday night the Orange and Black combined three offensive elements to spell 34-18 victory. The devastating combination running attack of senior tailback Charles Danzy and sophomore fullback Bill Harmon and the passing and receiving wizardry of junior quarterback Greg Wood and senior split end Jeff Huffman helping Washington High School up its regular season unbeaten streak to 20.
JUNIOR MARK Streeter's spot offense running effort and his long kick runback also played an important part.
Neither Danzy, running off tackle, nor Harmon, always carrying live men with him through the middle or over guard, lost yardage. Danzy carried 17 times for 142 yards and Harmon 19 times for 138.
Harding's junior fullback Kelton Dansler also didn't lose any yardage, building off tackle and through the middle, picking 138 yards in 13 carries.
"They had a good offense. We had a great one!" tiger Head Coach Bob Commings said. "Our passing was great, the running was unreal, and we were firing off the ball well. I don't think any place we attacked that we didn't get good results.
"We didn't play as good a defense in the first half as we like to. The second half we though we played a pretty good defense with the exception of a couple of plays. When the kids had to go play defense, they hung in there. The defense concept apparently was good but the execution wasn't."
THE TIGERS-after Streeter's 25-yard runback-took the opening kickoff and went 68 yards in seven plays. The drive included a key eight-yard, third-down pass from Wood to Huffman and a 45-yard touchdown pass by the same combo with Huffman carrying the last 22 yards. Senior Allan Binks kicked the first of his four conversions.
Harding came right back after Ron Collins' 24-yard runback-to go 64 yards in six plays, including Jimmy Richburg's 43-yard aerial to split end Jackie Hudson. Both are juniors
Dansler went off right tackle from the three for the score. Kevin Henderson and Vince DiLoreto hauled down Richburg on a boot run on the conversion try.
The Tigers marched 59 yards in nine plays after the ensuing kickoff, with Streeter sprinting over right tackle from the five to complete the nine-play drive. Danzy and Harmon did the bulk of the running with Danzy springing 15-yard run through the center on second and 17 from the Tigers' 34.
Richburg intercepted a Wood aerial in the second quarter, tackled in the second quarter, tackled on an 11-yard run and the Black Panthers went on a 57-yard, four-play scoring soiree. Dansler scampered 22 and 24 yards and capping things by scoring through the center from the nine
JUNIOR TAILBACK John Ziegler was stopped by Diloreto on a left side run over tackle trying for the conversion.
Intercepted passes by brothers Tim and Denny Gutshall on the Tigers' 30 and six-yard lines halted other second period Warren scoring thrusts.
Charlie Swann intercepted a Richburg aerial in the third period and the Tigers went on a 60-yard, eight-play scoring romp. Wood passing nine yards to Huffman on third down. Harmon Sherman-tanked down his 22-yards to the one and dove over center on the next play for the score.
Following a punt, the Tigers drove 69 yard in seven-play. Included was better running by Danzy and Harmon and a 30-yard Wood to Huffman aerial with a jumping catch by Huffman. Harmon went over right guard from the three early in the fourth quarter for six points.
Cullins ran the succeeding kickoff back 16 yards to start a 70-yard, 11-paly scoring drive. Richburg went back to pass from the five on third down and got away to score.
Dansler's 27-yard run through the center, after bouncing off the pack, and two Richburg to Dansler passes one a 17-yarder to the tree, helped set up the six-pointer.
STREETER'S 36-YARD runback of the ensuing kickoff staring a 61-yard, 10-play scoring march. Harmon's 18-yard charge through the middle and Danzy's 16-yard run, also through the middle, but on a counter trap, were the key efforts.
Danzy raced over right tackle from the five for the final score. Brad Limbach was wide right with the conversion try.
"I haven't seen an offensive show like this in awhile," rookie Harding Coach Ed Glass said, "but you just can't beat a team when they have two backs over 100 yards. Their size and inexperience compared to our lack of size and inexperience was probably the key factor."
The Tigers (7-0-1 and 3-0) knocked Harding (4-4, 2-1) out of a three-way tie for the All American Conference lead and share the top spot with archrival Canton McKinley.
M
W
First Downs rushing
15
10
First downs passing
4
3
First down penalties
1
0
Total first downs
20
13
Yards gained rushing
321
209
Yards lost rushing
7
22
Net yards rushing
314
187
Net yards gained passing
90
74
Total yards gained
404
261
Passes completed
4-6
4-9
Passes intercepted by
3
1
Yardage on passes inter.
11
8
Kickoff average
5-44
4-46.5
Kickoff returns
77
82
Punt average
0
2-36.5
Punt returns
0
0
Had punts blocked
0
0
Fumbles lost
1-4
1-1
Yards penalized
2-20
3-30
Touchdowns rushing
4
3
Touchdowns passing
1
0
Total number of plays
55
52
Elapsed time
26:26
21:34
Warren-18
Ends-Shunkwiler, Hall, Hudson.
Tackles-Angelo, Ahladis.
Guards-Rubesich, Butler, Zambelli, Yarvorsky.
Center-Day.
QuarterbackRichburg.
Halfbacks-Ziegler, Cullins, Hall, Hicks, Sassudakis.
Fullbacks-Dansler, Valentine.
Massillon-34
Ends-Diloreto, Venables, Huffman, T. Gutshall, T. Lemon, Robinson, Rollard, Venables.
Tackles-Rich, Chapman, Csonka, Lee, Bunting, George, Goff.
Guards-Schumacher, Fenton, Lightfoot, A. Lemon, Graber, Waldrop.
Center-Studer
Quarterback-Wood
Halfbacks-Danzy, Streeter, Swann, Mayor, Pifer, D. Gutshall, Lentz, Daily, herring, Henderson.
Fullbacks-Harmon
Placekickers-Binks, Lambach.
Holder-Bickford
Warren 6 6 0 6-18
Massillon 14 0 7 13-34
M-Jeff Huffman 45 pass-run from Greg Woods (Binks kick); W-Kelton Dansler 3 run (run failed); M-Mark Streeter 5 run (Binks kick); W-Dansler 9 run (run failed); M-Bill Harmon 2 run (Binks kick); W-Jimmy Richburg 5 run (pass failed).
Officials: Referee-Hugh Davis; Umpire-Art Cirelli; Head linesman-Laverne Haidet; Field judge-Warren Jones; Back judge-Dr. Henley Freeman.